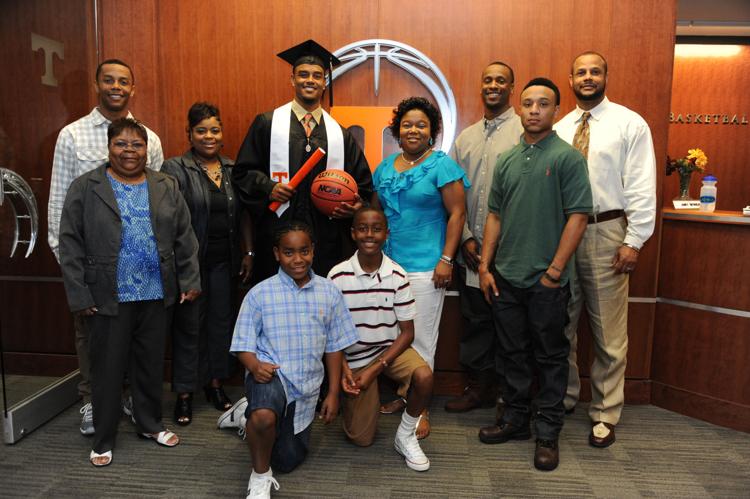 During the ESPN network's Feel Good Friday broadcast, former UT basketball player Jordan Bone was joined by his mom Karen Bone to share the story of a Mother's Day surprise.
After playing basketball for three seasons at UT, Bone was drafted 57th overall in second round of the 2019 NBA Draft and ultimately ended up with the Detroit Pistons before graduating from college.
Bone explained his decision to move on to the NBA.
"I had a really good support system. It wasn't an easy decision to make, but I worked hard and I believed in my work that I was putting in. I believed that I had a good enough season to put myself in a position to get drafted. ... I was really confident during that process so I knew it was time to take that leap of faith, but I always had to remember to get my degree when I was a kid, instilled by this amazing woman right here. ... I always knew that I was gonna get that job done for sure."
Although Karen Bone was thrilled at her son's accomplishments, Jordan knew how badly his mom desired for him to complete his college degree.
"It was exciting, because I knew he'd put in the hard work," Karen Bone said. "But the most important thing was school was first, and at that point I knew he would be leaving early and that was leaving something unfinished, and we always instilled in our boys you have to complete every assignment ... That was the one thing he said to me and his father, I will complete that degree, and I was like okay, but I know it's a lot of hard work once you make it to that next level, and I'm like but when?"
However, to Karen Bone's surprise, Jordan Bone had been simultaneously working to complete his college degree while also playing in his first NBA season. Bone hadn't informed his mom that he was still working toward his degree in sport management and surprised his mom with the news of his graduation on Mother's Day.
Jordan Bone explained that he has always had a strong desire to graduate from college, which stems from his parents' advice.
"That was just something that was instilled in me as a child. When you go to school, you finish school. Whatever you start, you must finish, and that's something that my parents have instilled in me ever since a young age," Bone said. "What I started, I finished. I've kind of lived by that through the years, and it's allowed me to be successful."
The Bones appeared on ESPN's Feel Good Friday to share the story of the surprise on television, but little did they know, two more surprises were in store for the entire family.
First, UT surprised Bone by mailing a box of graduation materials to his home in Nashville, which he received during the segment. Jordan's older brother Josh, who also graduated from and played basketball at UT, brought the materials in to Jordan and Karen.
Bone donned the black graduation cap with an orange and white tassel for the remainder of the interview.
And moments later, the antics only increased as UTK Chancellor Donde Plowman and UT men's basketball Head Coach Rick Barnes appeared onscreen to wish Bone a happy graduation.
"We are all so excited that you finished what you started. We're really thrilled for your family. Remember that we're always here for you. You're a Vol for Life. Love you and God bless," Barnes said.
Plowman shared similar sentiments and also led Bone in a virtual graduation ritual.
"Jordan, you pursued your dreams of both playing at the highest level and of graduating from Rocky Top. Good for you and congratulations, and Karen, here's the moment you've really been waiting for. Graduates, you may move your tassel from right to left," Plowman said.
Bone obliged, and both Plowman and Barnes revealed that they were sporting basketball jerseys underneath their graduation robes. Plowman wore one for the Vols, while Barnes represented Bone's Pistons.
After hearing the two's messages to her son, Karen Bone began crying in response. Jordan Bone expressed his gratitude for the moment he shared with his mom, as well as to ESPN and UT for arranging the graduation surprise.
"It's beautiful. It's a great feeling. I know she's so proud of me as well as my other brothers. It just means a lot. This is a very special moment that I'm gonna always remember," Bone said. "It's something I'm gonna tell my kids. Instill in them whatever you start, you must finish, This is beautiful."
Bone shared his advice for achieving one's dreams.
"This is beautiful because it just allows kids that are looking at this and people that look up to me to just keep pushing," Bone said. "You can do whatever you want to do in life. Just believe in yourself and put in the work that it takes to get there."