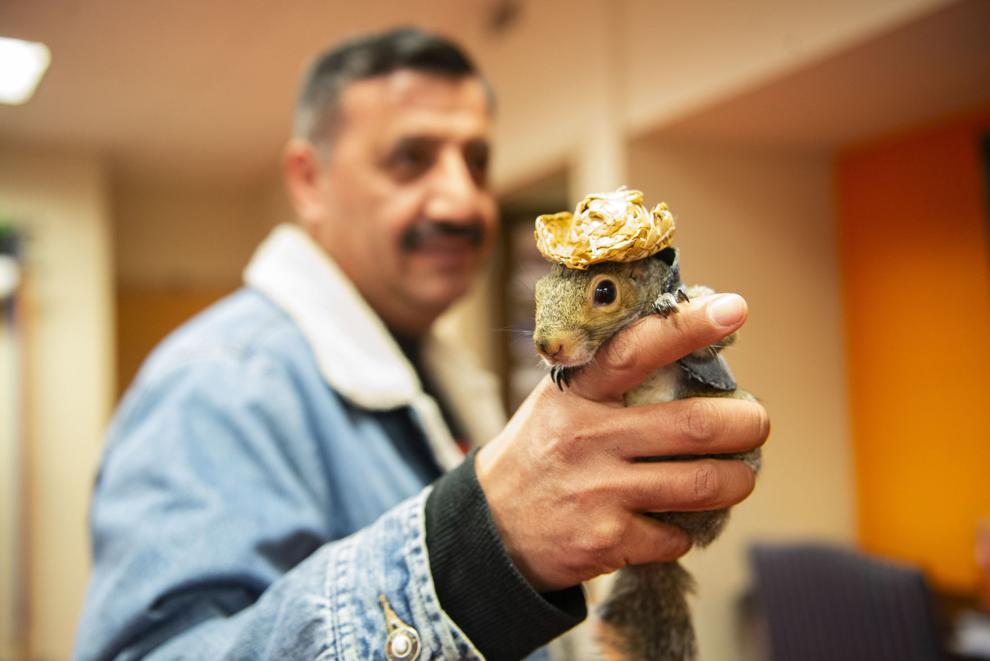 If you've been to a Neyland tailgate, you've most likely seen or heard of the Volunteers' tiniest fan, Sinan the squirrel.
His unbreakable bond with owner Saed Awad began nearly three years ago when Awad's friends asked for his help with a baby squirrel they found in their backyard. His friends knew that he often built structures outside of his house for squirrels to play on, and although he had never dealt with baby squirrels before, Awad's love of animals inspired him to help Sinan.
Even though he did not originally intend to keep him for a long period of time, Awad decided to name him Sinan after a cartoon squirrel from a television show he watched as a child.
He did not then know that his kindheartedness would end up with an internet sensation in the University of Tennessee community, with nearly 75,000 fans and 1.2 million likes on TikTok and nearly 32,000 followers on Instagram.
An Oak Ridge local, Awad was originally inspired to recreate the UT rowing team outfit for Sinan after seeing the team practice while on a fishing trip. In the following years, Awad continued to create adorable outfits for Sinan, including his most popular attire of UT orange vests and game day helmets.
He explained the first time he took Sinan to Neyland to take a photo in the outfit and how quickly news sources began to pick up on the team-spirited squirrel.
"I took him to take a picture with his new outfit next to Neyland and one of the reporters took a picture and put it on the news the next day," Awad said.
Sinan is now three years old and has become a key part of game day culture at UT, with over 100,000 followers between his social media accounts and a variety of coverages in local news.
Tennessee fans have grown to love meeting and taking pictures with Sinan, and he has been tagged in hundreds of Instagram posts. Awad said Sinan loves meeting people but he can sometimes become uncomfortable when the weather is too cold.
First-year student Regan Musick, who met Sinan just last weekend at the UT game against Georgia, elaborated on just how important the Tennessee-loving squirrel truly is.
"He's a unique Tennessee tradition — kind of like a scavenger hunt on game days trying to find him — that the whole volunteer community just loves," Musick said. "He brings smiles and laughs for everyone that gets to meet him and it's honestly the coolest thing ever to see a pet squirrel dressed in a Vols jersey wearing a helmet."
Sinan is truly unlike any other member of the UT fanbase and has quickly become another Volunteer tradition. Although Sinan's rapidly growing popularity has been a surprising change for Awad, he is making the most of it and greatly enjoys being a part of the game day atmosphere at UT.
Awad mentioned various ways that he utilizes Sinan's growing popularity to help other animals in need.
"Sometimes we raise money for local animal shelters and two years ago we raised money for the wildlife in Australia," Awad said. "We always try to use it in a good way. Sometimes we go to schools to teach kids about wild animals."
Awad has big plans for the pairs' future endeavors, the biggest of which includes saving enough money to travel through all of the states and take pictures and videos in each one. By popular demand, Awad is currently working to create a UT Pride of the Southland Marching Band costume for Sinan.
He also plans to begin producing Sinan merchandise such as t-shirts, hats and earrings. To find more information about Sinan or to simply view some cute, Vol-friendly content, fans can follow his Instagram or TikTok account.