Before Ilyasah Shabazz attended college, she did not know the Malcolm X that her classmates knew. To her, he was her storied father who was killed when she was young, a man who loved his children and had a passion for reading, poetry and philosophy. To her classmates, he was a civil rights icon and the fiery, globally-famous spokesperson for the Nation of Islam.
Speaking to UT students over Zoom Wednesday night as part of Vol Success Week, Shabazz, an activist, award-winning novelist, professor of criminal studies and daughter of Malcolm X spoke on the misconceptions that her classmates had about her father.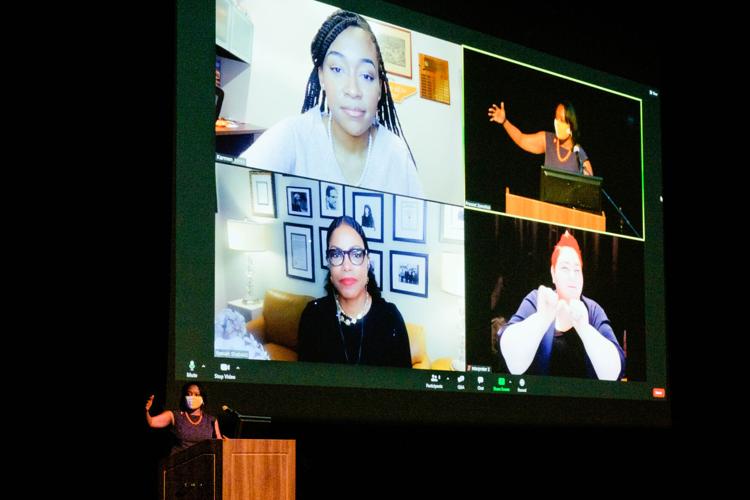 "When I first went to college, most people were misinformed, miseducated about who Malcolm was. And so, you know, they thought that Malcolm was always angry," Shabazz said. "They didn't realize that Malcolm was filled with love and compassion and responsibility and accountability, and it was his reason for having such passion around his reactions to injustice."
Shabazz has dedicated her career to preserving and furthering the legacy of her parents, Malcolm X and Dr. Betty Shabazz. This work has included writing four books about the lives of her father and mother and serving as chairwoman for the Shabazz Center, which seeks to promote civil rights and social justice across the globe.
In his introduction of Shabazz before a small crowd of in-person attendees in the Student Union auditorium, Provost John Zomchick noted Shabazz's deep connection to her mother as well as her father.
"[Shabazz has] made her life's work helping others, especially youth, women and girls, find inner strength and purpose," Zomchick said.
"While she is frequently asked to speak about the legacy of her father, Malcolm X, she eagerly shares that she finds her own inspiration and guidance in the wisdom, courage and compassion of her mother, Dr. Betty Shabazz."
Indeed, Shabazz cited her mother's influence on her more than her father's, perhaps because she was not yet three years old when her father was assassinated. According to Shabazz, her mother, educator Dr. Betty Shabazz, taught her and her five sisters that they had intrinsic value and were worthy of love.
Those who attended Wednesday night's event may have been surprised that the central message was not explicitly political or religious, but was rather about self-love. 
Shabazz expressed gratitude that her parents instilled in her a knowledge of her worth and the importance of loving herself, and her work now reflects a belief that self-love is a necessary antecedent to social change.
"If we don't learn to love ourselves, how are we going to love others, how are we going to make a contribution back to society which … is our purpose for being here?" Shabazz said. "My mother used to say 'just as one must drink water, one must give back,' but you're not going to give back if you don't love yourself, let alone others."
Though Shabazz says that she grew up with a healthy and rich sense of her identity as a woman and a child of the African diaspora, she also shared that she inevitably underwent a crisis of identity when she left home.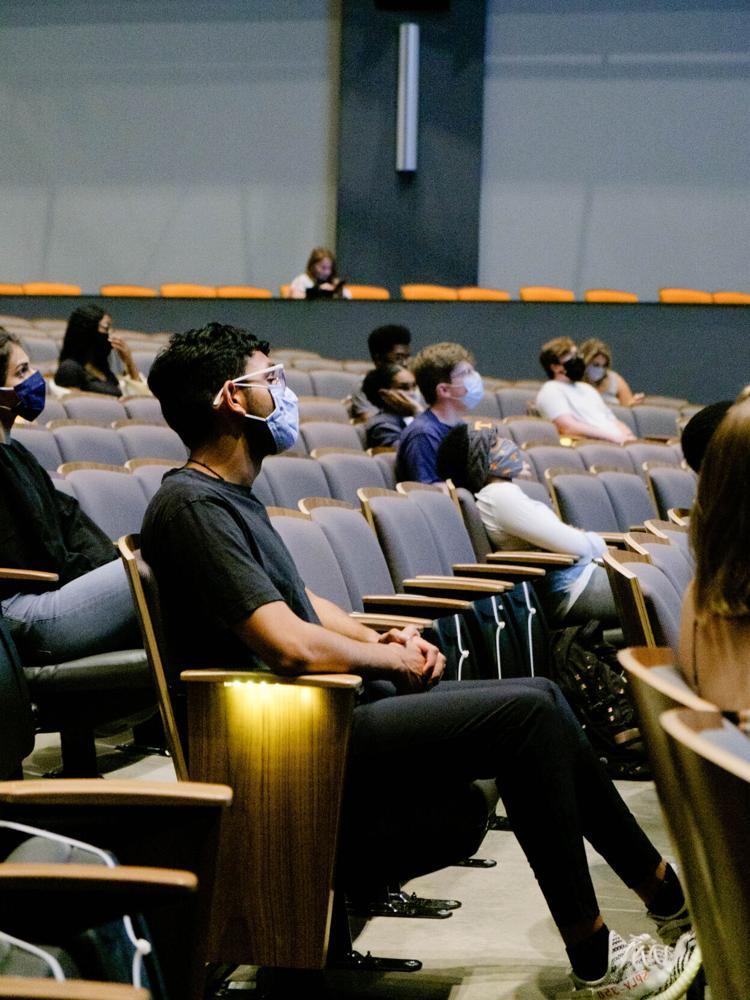 "I remember asking my older sister, 'who am I supposed to be, what am I supposed to do?' And she said, 'You don't have to pass a test to be Malcolm X's daughter, you already are.' And so I say the same thing to young people, that you never have to pass a test to be anything," Shabazz said. 
"You are who you are, and it's important to love how God created you, to know that you are worthy of investing in yourself."
Shabazz's refusal to be defined by anyone else is something that she wants to pass on to the next generations who will learn of her father through history textbooks. But it is also something that she had to learn herself.
"I always wanted to be a passionate, fiery orator like my father, but I had to come to the realization that I was not my father, and his experience was his experience," Shabazz said. 
"I'm so honored that he was my father. I'm so honored that my mother was my mother. I'm so honored that they gave me these specific values so that I could live my life, love who I am, and be very balanced, you know, with my spirit and others and not ever feel inadequate or incompetent."
The discussion was moderated by Karmen Jones, UT's 100th student body president and the first woman of color to hold that role. An especially impactful moment came when Jones and Shabazz discussed the protests over racial injustice that have roiled the nation since May. 
Shabazz said that she was very touched to see so many young Americans in the streets, fighting the same fight that her father dedicated his life to. Jones shared the experience of seeing a diverse group of students participate in an anti-racism rally organized by student athletes in August.
"That was the first time I've ever seen black people in a predominately white campus with white people coming out and saying 'Black lives matter' and say that in this unapologetic way, so it's just crazy how the same conversations are happening decade to decade," Jones said. "But what an amazing feeling."
Throughout the discussions of identity and justice and self-love, the importance of narratives arose as a central theme of the night. For Shabazz and other Black Americans, whose plights have long been downplayed or erased from historical records, stories are a thing that can be stolen and told incorrectly.
"We have to control the narrative," Shabazz said. "We can't rely on anyone to tell our story … we have to be the authors of those stories."
Tying the idea of narratives and social change to Vol Success Week, Amber Williams, the Vice Provost for Student Success, gave an unexpectedly stirring closing address to students.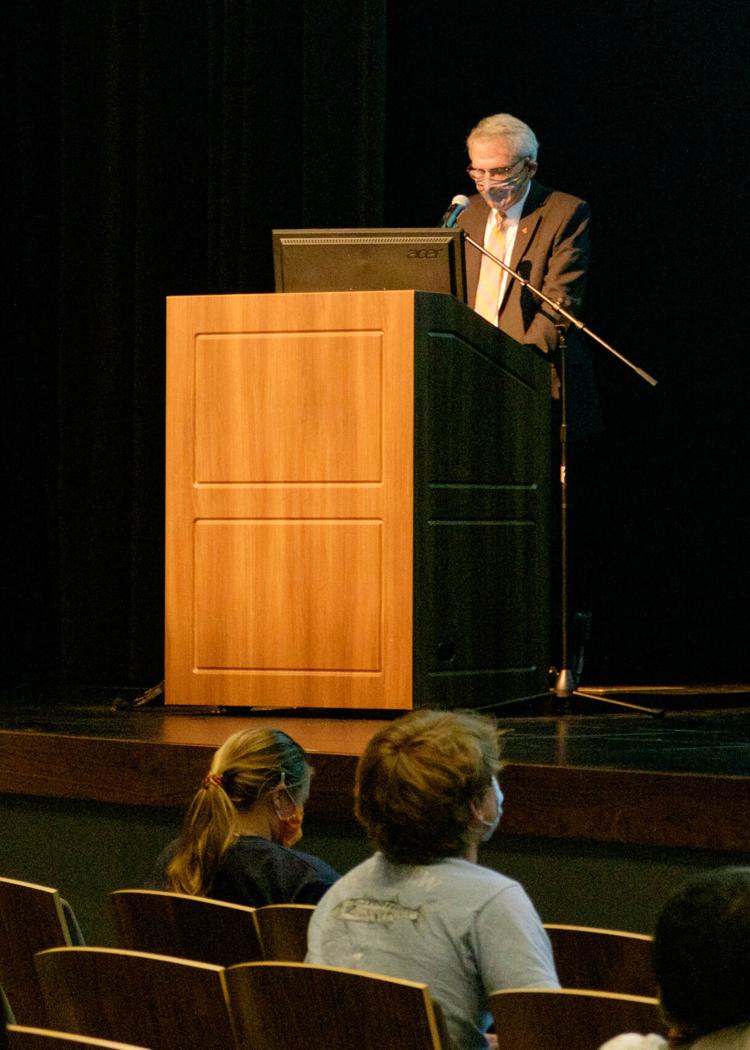 Standing on stage before a large projection of the Zoom window where Shabazz, Jones and an ESL interpreter sat smiling and nodding, Williams encouraged students to use their stories to create change, just like Malcolm X did in his time.
"Your story doesn't stop with the University of Tennessee … the great thing about this chapter is that you have this opportunity to change your story, to modify your story, to edit your story, because you're the author," Williams said. "You have an opportunity to change the world, not just change with it."