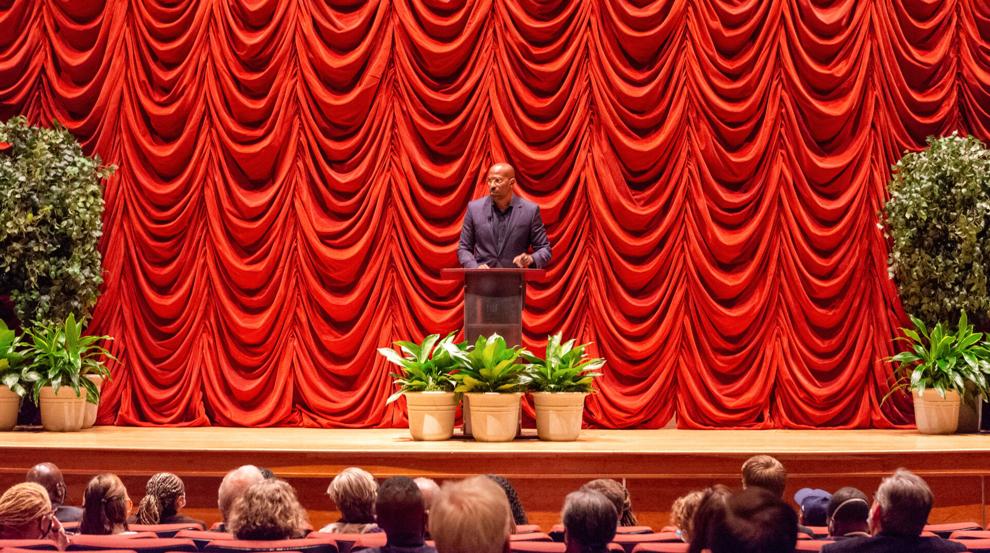 CNN host and Emmy Award-winning producer Van Jones delivered the seventh annual Mossman Distinguished Lecture on Tuesday at the James R. Cox Auditorium.
Jones, an alumnus of UT Martin, has been an advocate of transforming the criminal justice system for more than 25 years and has won several bipartisan legislative efforts under Clinton, Bush, Obama and Trump.
His lecture, titled "Rebuild the Dream," centered on the importance of being selfish, partnering with people across lines of difference and focusing on the future rather than the past.
Jones began the lecture by telling a story about how he did not understand all the law terms that his classmates knew during his first week at Yale Law School. He called his father and told him that it was going to be a tough time because he didn't have the fancy things that those students had.
"I called my dad … he said, 'Let me tell you something son. Those kids are rich folks kids. They've got a bunch of tutors. They know stuff you don't know. But what they know, they read that out of a book and you can read those books and catch up. But what you know, they can never, because you grew up around real people. They will never be able to learn and know and understand what you know,'" Jones said.
He expressed to students that even if they think that they will not be able to succeed or if something appears to be too challenging, they can and will make it with hard work.
"I started suing police departments at 24. Young people tell me I'm not woke enough. I was woke before y'all had alarm clocks," Jones said.
Jones was able to get 17 young people jobs in Oakland installing solar panels. House Speaker Nancy Pelosi recognized his work because Jones found a way to fight poverty and climate change simultaneously. She was inspired by what they did, and he got to testify to all of her committees and the Green Jobs Act of 2007 was implemented.
Jones said that the new and current generation needs to be more selfish when thinking about their futures.
"Please be more selfish. You are not being selfish enough. You don't get it … this isn't about charity. You are in the 21st century," Jones said. "Every morning you wake up, there are a billion people in China who want your position … there are a billion people in India, they want your position … there are a billion Africans, they want your position."
Jones stressed how important it is to work together across lines of difference.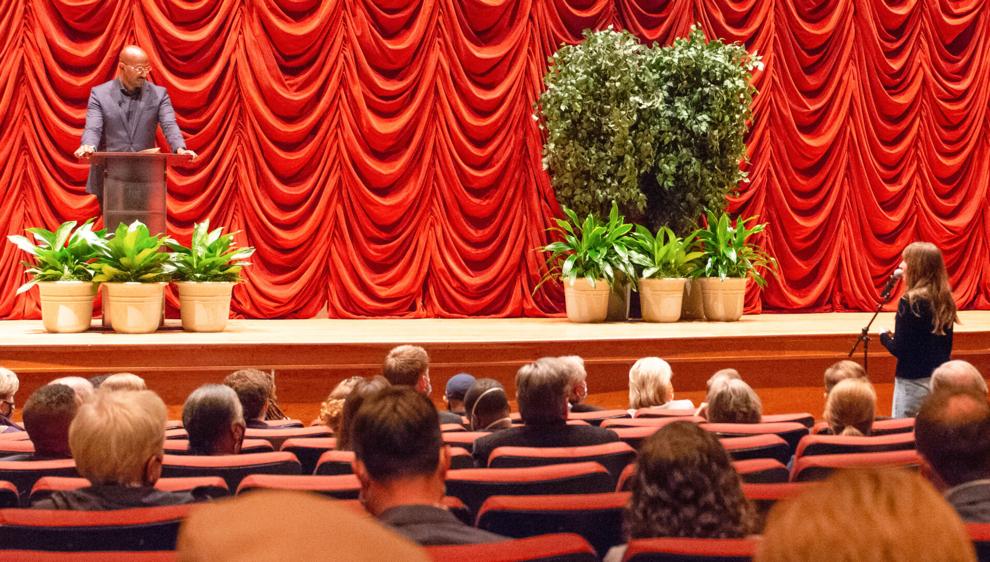 "I want you to win more … I'm telling you I want you to win more. I'm telling you, that the superpower in the 21st century for you and everyone else is, can you partner effectively and authentically across lines of difference? If you can, you will win," Jones said.
Another point that Jones made was that the future for African Americans needs to be more important than the past.
"The one good thing about being African American is that we love our history. We can tell you things about this country that you don't know or don't want to know," Jones said. "I would go as far to say that African Americans have too much history, not enough future. Sometimes I think the mainstream groups have too much future, not enough history."
Jones said specifically to students that when people start focusing on the future, they realize how much they need each other, but when people fight and argue on Twitter, they are tearing their generation apart.
"We need you. Black, white, Brown, republican, democrat. We need you … We need you guys to work together like no Americans have ever worked together before, period," Jones said.
When Jones was asked about climate change, he explained what students who feel passionately can do.
"Whatever lights you up inside. If it's writing a poem, write a poem. If it's not eating meat, don't eat meat. There is no one thing, that's the point. When you have a systemic crisis, there is no one thing. So do the thing that you like, that you believe in," Jones said.
Citing climate oddities, such as Texas freezing and Portland frying in the same six-month period, Jones argued that the future is more important than the past.
"You don't live on the planet you were born on," Jones said.
Jones reflected on his time spent working in the White House, the highest level of government. He got four administrations to do what he asked them to do, which is challenging.
"You can sit there and feel victimized and discouraged because the government doesn't want to help you win your movement," Jones said. "That's bizarre … Anything your opponent does to you, if you are a part of the nonviolent struggle, to destroy you, will only develop you."
Jones said that UT is a campus where students should be challenged with their beliefs and ideas, and it is the one place where people can say stuff and not get in trouble.
With Jones's experience in the news, especially for a media giant like CNN, he understands how the media can make tensions rise and often tear people apart.
"I'll tell you why we're fussing and fighting all the time. It's profitable to have people fussing and fighting all the time. I don't want to say anything bad about cable news because they pay my salary, but I heard somebody said that the ratings drive a lot of decisions and becomes more about money and outrage gets the eyeballs," Jones said.
Jones further explained the meaning of algorithms and how they are trying to give people endorphins, not information.
"You think you're programming the phone. The phone is programming you. If you click two pro-Trump posts, if you're not careful, within six months, your whole brain chemistry could be different," Jones said. "If you're a racial justice activist, or a social activist, you could click two posts on police brutality, and six months from now you might think a white police officer is killing a Black person every day, which is not true."
Senior and SGA President Claire Donelan said she was very glad that she, alongside her peers, got to hear Jones speak.
"I think Van Jones' talk was motivating to our generation in a way I personally have never seen. The rawness of what he was saying will stick with me for years," Donelan said. "Specifically, about advocacy and social justice work being hard, admitting that our generation has helped progress the movement for equity forward and being transparent about what it means to work across the aisle."