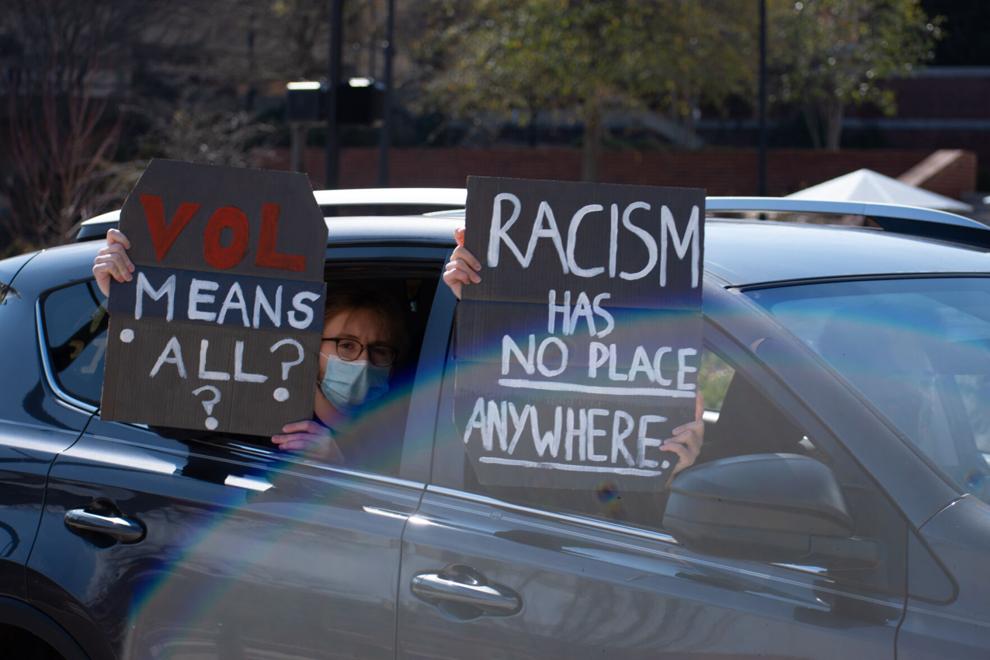 Student activists and leaders have pushed administration for various forms of social change in recent years and have had a major impact on creating an inclusive environment on campus. For one example among many, as a result of student leader and 2021 Torchbearer Maria Urias's advocacy, Orange and White Halls were recently renamed after Black trailblazers and alumni Rita Sanders Geier and Theotis Robinson, Jr.
However, some current student activists and past leaders think that the university is not giving student activists the support or recognition they deserve.
Karmen Jones, UT's 2020-2021 student body president, explained her thoughts on the university's role on student activism, specifically on the renaming of the halls and what she sees as the reduction of Urias's work to a footnote within the university's celebration.
Jones described her experience on UT's renaming committee and the importance of giving credit where it is due. She said that recent graduates like herself have seen the progressive change they initiated while students but have been sidelined as the university administration centers itself.
"Student representation should always be present. I was on the renaming and building committee that they have, and they didn't bring it up one time that they were going to rename those halls," Jones said. "After Maria graduated, that's when they said we're good to go and we are going to go ahead and do this ceremony. They didn't even invite her to the ceremony. That's the part that's upsetting because she advocated for that."
Jones said that the halls that were renamed are the smallest dorms on campus and that it is a simpler process to rename a hall than it is to approve a discrimination policy, like the one she worked on as student body president.
When creating plans for the school year, the Student Life departments will submit a departmental program on what they want to do for the year, and then the programs will be turned in to the Vice Chancellor of Student Life. After that, the programs go straight to the Chancellor, who decides which programs will be implemented.
Sometimes a program can go from Multicultural Student Life (MSL) and end up in the Division of Student Success, because it is more connected to the work of the Chancellor. Jones said that ideas are being taken from students and faculty members that are part of these departments.
"You have students that are coming up with these ideas and the administration is claiming that they did it, or not giving credit or support, ever. Then on the other end, you have departments that are overlooked, like MSL or the Pride Center, that are coming up with amazing ideas," Jones said. "My main point is that the great ideas that the university is taking credit for is not coming from them going through brainstorming sessions, or experiencing racism or homophobia from first-hand experiences."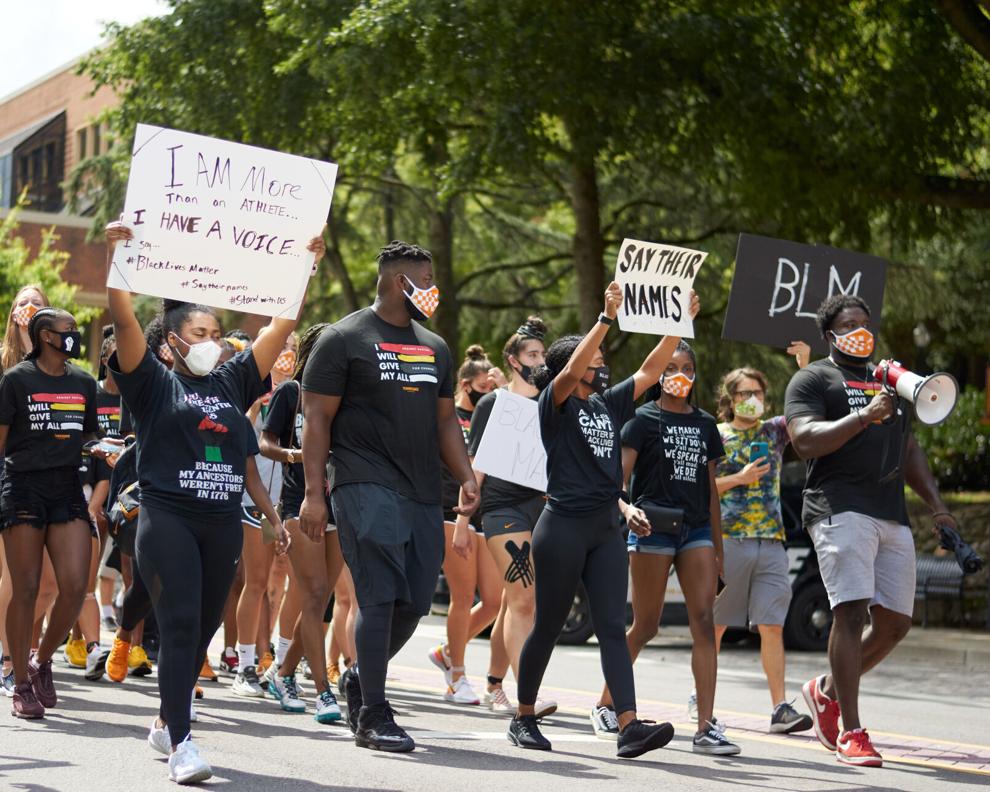 UT senior and SGA Cabinet Advisor Kendall Flores was a major part of leading last year's protests against Melissa Hargrove, an Africana Studies professor who wrote a racial slur from the title of a song on a whiteboard during class. Both Flores and Jones said they experienced feeling overworked during this time.
"Last semester was my worst semester academically, I definitely was skipping classes for meetings and to make sure what had to be done was done," Flores said. "You have to decide if you're going to go to your class where cis-gender white males are always going to be able to go to because they don't have to worry about attending these meetings."
Student leaders who are looking for change on campus report having to make a decision between prioritizing academics or fighting for change.
"For those of us that may pick activism or programming, whatever our passion projects are, those of us that picked that over our academics, you're going to pick going to a meeting on diversity and inclusion over 'let me sit in somebody's English class,'" Jones said.
Jones said that for the few nonwhite and LGBTQ+ students that are able to have a seat at meetings, they are genuinely overworked. She talked about her mental health struggles during her term as student body president.
"I've been very open about my mental health struggles during my presidency and my suicide attempt last year, because of the amount of work it takes," Jones said. "I don't think people understand how serious it is, but all this was happening with the professor while the Chancellor was doing nothing to make sure this woman would not return."
In 2019, when a blackface incident happened on campus, a committee was put together to review the student code of conduct. Jones was one of a handful of students that had to work for free to revise UT's student code. She said it was work that an attorney or law student would do.
During Jones's time as student body president, she was running a department that oversaw between 300 and 500 students at any given time. She said that student leaders are having to work multiple jobs because the university provides little pay for the work they are doing.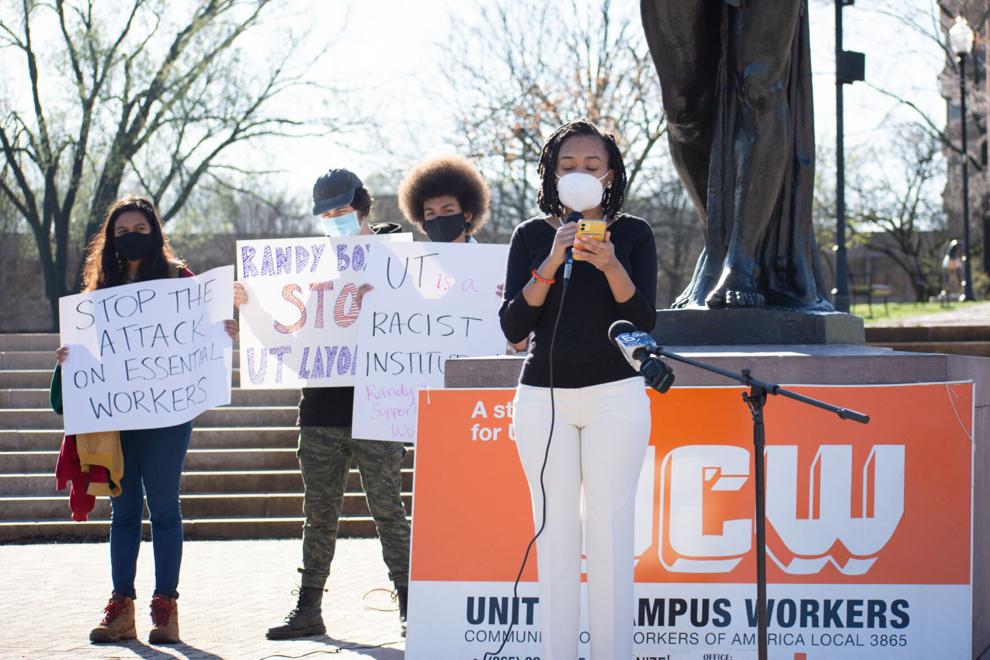 "I was the first student body president to ever get a scholarship where my tuition and fees were covered, and that only happened in the spring semester after I had to literally beg for it," Jones said. "In the fall, I was not even able to register for spring classes on time because we were not getting paid properly ... We are sacrificing our academics and our future to make sure that the university is progressive in its thinking."
UT senior and student leader Dom Green also feels like they are being overworked by the university.
"Once you're out in the student leader/activist spotlight, you're worked to the bone because of two things. One of them being that there's so much work to be done. Two, the university does not want to change because in their eyes, there's no such thing as anti-blackness, transphobia or homophobia," Green said. "On top of all that, the marginalized people that do the work, specifically Black students, never get the recognition they deserve."
Green felt as if they were pushed into this role because of the university's unwillingness to progress in terms of social justice. They said that it is challenging as a queer, Black person to sit there and watch their marginalized peers be ridiculed or cast aside in meetings with campus officials.
According to Flores, the university does not truly want change on campus.
"The university will try to keep up appearances, but the university will never take a big step without seeing another SEC school doing it. The change that the university will make is like baby steps; here's a crumb from this cookie that you want, maybe this will keep you quiet," Flores said.
Similarly, Jones said that from her experience as president of the student body, the university cares more about how they are perceived by other institutions and by media outlets than their own students.
"They don't care how the student leaders that work with them everyday view them, but when we start making noise about it, then it's an issue," Jones said.
Jones stressed the importance of accounting for history correctly. She also hopes that the university will give credit to student leaders and activists in the future, which will inspire incoming students, because they will know they can achieve a certain level of reform.
"You have to demand the best out of the university, you cannot sit and wait for them to do it," Jones said.
Moving forward, Flores hopes to see the university implementing events and programs that are more specific towards different cultures, different races and different backgrounds. She recently started the initiative of opening a garden for students of color this fall to provide a safe space where minority students feel welcome.
"You have to stand up for each other for anything to get done. We have to support each other and speak up for each other, whatever we can," Flores said.