Now that the carefully-crafted spheres of our lives are melting into one huge glob of laundry, Zoom calls, emails and dishes, every new challenge of online schooling can seem fresh and personal. But for professors, lecturers and graduate students with young children, the already strenuous task of teaching from home is fraught with an entirely unique set of everyday quandaries.
These include such dilemmas as whether and when to let a child sit on your lap as you lead class, how to find time to teach both your students and children who are home from school and how to explain the crushing weight of a pandemic to a child who just wants to play with their toy trucks.
As their home life and work life collide like never before, professors and couple Drew Steen and Karen Lloyd have decided to err on the side of including their daughters Clara and Mary Jon in their work.
Directly involving his daughters in his work is nothing new for Steen, an assistant professor of environmental geology, who brought 10-year-old Clara along with him on a class field trip a few years ago with great success. For him, the difficulty of being a professor at Zoom University is not keeping home life and work life completely separate, but rather finding time to dedicate to both.
"It's not so much having the kids make an appearance in online lectures as it is just generally the competing demands of being with my kids and also trying to prepare lectures," Steen said. "We try to be at home when we're at home, be mentally present as well as physically present. But that's kind of out the window."
Lloyd, an associate professor of microbiology, does not worry about making her family visible to her students or colleagues either and even delivered a keynote address for the Southeastern Biogeochemistry Symposium, which was moved online due to coronavirus concerns, with 6-year-old Mary Jon on her lap.
According to Lloyd, the thing she tries most to avoid is making her children feel as though they are secondary to her work, an effort made much more difficult in the total absence of childcare or school.
"In our normal lives ... I make my work times when I'm not physically with them, so they don't feel shoved away," Lloyd said. "But I can't do that anymore. Like, there's literally no one who can come take care of my children."
As students are beginning to understand more and more each day of quarantine, the very act of being at home can pose serious threats to productivity. Why work on homework when you can test out new recipes or watch Netflix's binge-worthy docuseries "Tiger King" from the comfort of your own bed?
The struggle to stay focused on work while sitting on the couch at home is much the same for professors and lecturers, especially those who are parents of young children.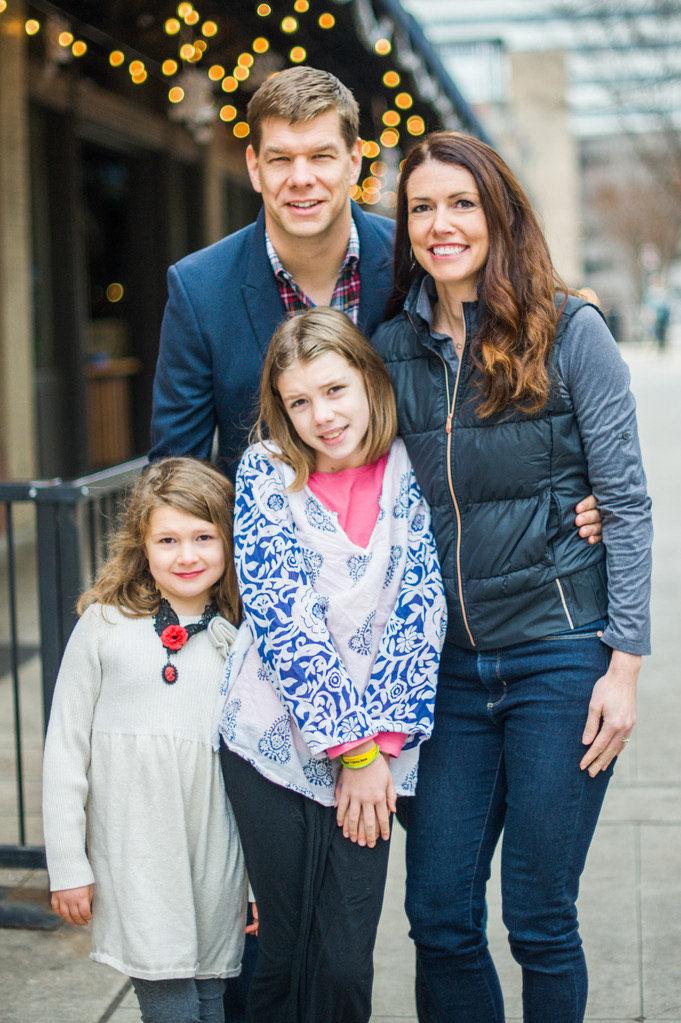 "When I'm sitting in my house, I'm thinking about doing the laundry or cleaning something or hanging out with my kids," Lloyd said. "It's not just that the kids themselves are a barrier to getting work done, it's that there's mental barriers by being in my house."
But while Steen and Lloyd have had difficulties in finding balance between working and parenting in this new age of isolation, they acknowledge that their jobs are flexible in a way that allows them to include their daughters in their work. Steen says that some of his friends working in the legal or financial fields are not so fortunate.
"I feel a lot more comfortable about lecturing with a 6-year-old on my lap than if I were trying to make an oral argument to a judge with a 6-year-old on my lap," Steen said.
Like professors Steen and Lloyd, Savannah Collins-Key, a PhD student and graduate teaching associate in the Department of Geography, has also experienced leading a class with a child in her lap. Last week, during a Zoom review session, her 4-year-old son Wyatt showed off a cupcake he had found in the kitchen before a class full of wonderstruck students.
Thankfully, she says, the Department of Geography, and the university in general, have been supportive of professors, lecturers and students with young children who like to participate.
"My department is really encouraging of, if you have a family, being able to involve them because they know that it's impossible not to," Collins-Key said. "Actually, they probably prefer that because it kind of shows we're all stuck at home and have to deal with whatever we have going on at home ... we all have things we can't really control at home."
Because her son is not yet in formal schooling, Collins-Key does not have to face the compounding stress of homeschooling her son and leading classes online. But, like all parents of young children during this uncertain time of lockdowns and self-isolation, she still has to figure out a way to communicate the sad realities of a pandemic to her unwitting son.
For many parents, especially those with social kids who want to be with friends and play like normal, it is a challenge that may just be the most difficult to overcome.
"He doesn't understand. He knows a lot of people are sick right now," Collins-Key said. "I try to explain it to him so that he doesn't think he did something wrong and that's why he's being kept home, or why he can't go to friends' birthday parties."
Though the challenges of online schooling look different for every parent and faculty member, there is one point on which they all seem to agree: UT faculty, staff and students have handled the situation with grace and patience.
Administration has helped parents by encouraging them to invite their small children into the adult world of the university, which has never been so tangible for them, and students have largely been able to refocus when children appear in the background of the Zoom screen, asking their parent — your previously intimidating psychology professor — if they can have a cookie.
With the unexpected, sometimes deeply personal look into the home lives of their professors and teaching assistants, some students are actually finding something to enjoy about online classes.
"Everyone seems to enjoy ... seeing their TAs and their professors as real people with things that they have to manage," Collins-Key said. "I guess it makes us more human."