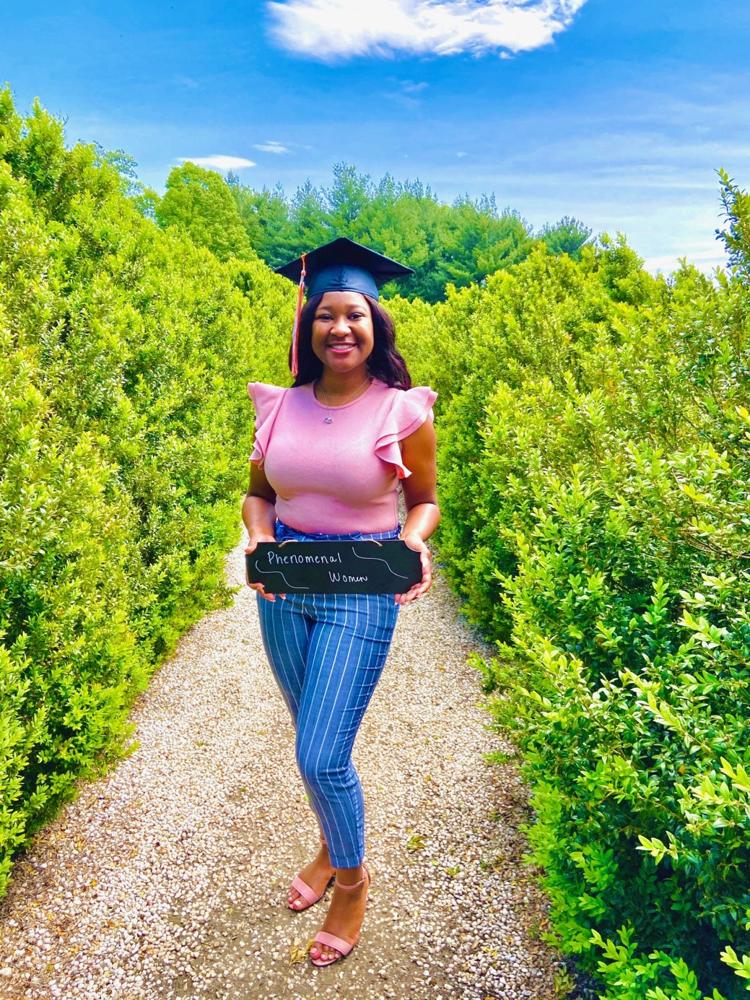 2020 commencement ceremonies across the world have occurred very differently than originally planned, or perhaps not at all. Students who have spent years of their lives slaving over academia and preparing their futures lost the chance to walk across the stage and share their achievements with their peers, family and friends.
Uriah Richey is one such 2020 UT graduate who not only led an extremely successful academic career, graduating with degrees in Africana Studies and sociology, but also overcame significant struggles to become the scholar she is today.
A Knoxville native, Richey attended Fulton High School and graduated as valedictorian prior to attending UT. Fulton is located in a lower-income area, and many of its students are unable to attend college due to financial situations.
Richey, however, was determined to prove her adversaries wrong and become the first in her immediate family to attend college. With the help of programs for students from lower-income households, such as Project GRAD, and additional support from Fulton itself, Richey was able to achieve her dreams of enrolling at a university.
"[The support] reminds us that we are not that stereotype, that statistic that society predicts us to be or makes us out to be. We're not limited in what we can accomplish, so knowing that, having that mindset especially, is what helped me be successful at UT, because I was not going to let anyone tell me that I did not deserve to be there because too many people and too many experiences tried to tell me that before, and I had to learn that I deserve to be there as much as any other student," Richey said.
But, once arriving at college, Richey found that she was still faced with several obstacles. As a first-generation college student, Richey could not turn to her parents with the traditional questions about school, dorm life and more.
Additionally, Richey found another challenge in UT's diversity, or lack thereof. An African American woman herself, Richey was accustomed to the diversity she was surrounded by at Fulton High School and so greatly values. She found UT to be much less diverse than her alma mater and had to learn to navigate the new environment while also learning just how important diversity truly is.
Although her transition into college was a difficult one, Richey eventually found mentors, such as her Resident Assistant in Massey Hall, who were able to guide her along her collegiate way.
"Asking for help, it can be so embarrassing ... it shouldn't be, but it can be embarrassing. It can be scary, and I had to learn how to get over that because closed mouths do not get fed, and if you do not reach out for help you're less likely to get it. Being a first generation college student was difficult, but I'm very proud of it, not ashamed of it whatsoever, and I hopefully can be inspirational to other first generation college students, especially those from my own high school," Richey said.
After settling into her place as a Vol, Richey went on to procure many accomplishments. She was a member of the Pride of the Southland band — where she served as squad leader her junior and senior year— a member of the National Society of Collegiate Scholars, a 1794 scholar, the vice president of fundraising for and co-founder of Apples for Kids, a Fulbright candidate, an employee at Publix for five years and more.
And, inspired by her own RA, Richey also became a Resident Assistant, with the hope of helping other students — especially freshmen, first-generation students and out-of-state students — transition into college the way her RA had helped her.
"Being an RA's one of the most rewarding experiences that I've ever had. ... People who have helped me and guided me when I needed it, I wanted to pass that on and make sure that my residents were receiving the same thing, especially because most of them are incoming freshmen," Richey said.
Among those great mentors Richey speaks so highly of is Michelle Brown, professor in the department of sociology. Richey explained that Brown greatly helped her to determine her major and hone her passion for law.
Brown attests to Richey's dedication to her studies.
"Uriah is the kind of student you hope to have in any class: engaged, prepared, committed, supportive of her classmates and there to really, really dig deeper into the topic in order to move out into the world and her community with usable knowledge," Brown said. "Her intellectual curiosity and commitments to social justice were visible every session and she pulls people in the classroom into the conversation, not away, through her engagement."
She expressed how impressed she has been not only with Richey's academic achievements, but also her dedication to selflessly helping the community.
"Uriah's contributions to the University of Tennessee are many and they begin before she even arrived at college. She has a passion for service on behalf of her community. She truly recognizes her importance as an actor across generations and community legacies," Brown said. "And she does that work as if it is simply her life, pushing through the fatigue and exhaustion of the day and our times."
Brown added that Richey's dedication to raising awareness about the importance of diversity, despite the dangers associated with such action, is indicative of her altruism.
"It is important to acknowledge that Uriah has obtained her degree — and so much more — while the University of Tennessee has continued to be under attack for its commitments to promoting diversity. She is among the most directly impacted in terms of those threats and also the most committed to social justice and transformation. There is a real cost for our students who express their voices, take stands for equality and persevere on behalf of the excluded and a real way in which they flourish," Brown said. "Uriah is among a long line of students who challenge us to be better as a Vol community.
When reflecting on her time in college, Richey says that amid the good and bad, one of her favorite memories is participating in the Tennessee Waltz that the Pride of the Southland plays at the end of every Tennessee football game.
"I always, always, always love the Tennessee Waltz after every game because if you stay — because Tennessee football sometimes makes you not want to stay, but if you do stay the band plays the Tennessee Waltz at the end of every game, and actually being in band and playing that, it's a different level, and it's so emotional. especially getting older and finishing my time at UT," Richey said.
Now, as a UT alum, Richey is set to attend graduate school at Howard University to study social justice and education law. Her desire to understand and eliminate societal inequalities inspired her to pursue the degree.
"Living it and learning about it, I wanted naturally to do something about it, because I can't describe what it feels like sitting in a sociology class and seeing your entire life on a board, and everybody in that class is learning about it. That is such a terrible feeling, it really is, but at the same time, it lights a fire for me wanting to do something about it," Richey said.
Richey encourages other ambitious students to pursue their dreams without worry about others' negative expectations and preconceived notions.
"Do not let societal expectations limit you ... okay, take advice, but do not pick a trajectory for your life because someone else thinks that that's what you should be doing or someone else has expectations or limitations for your own life because you are in control of your own life," Richey said.