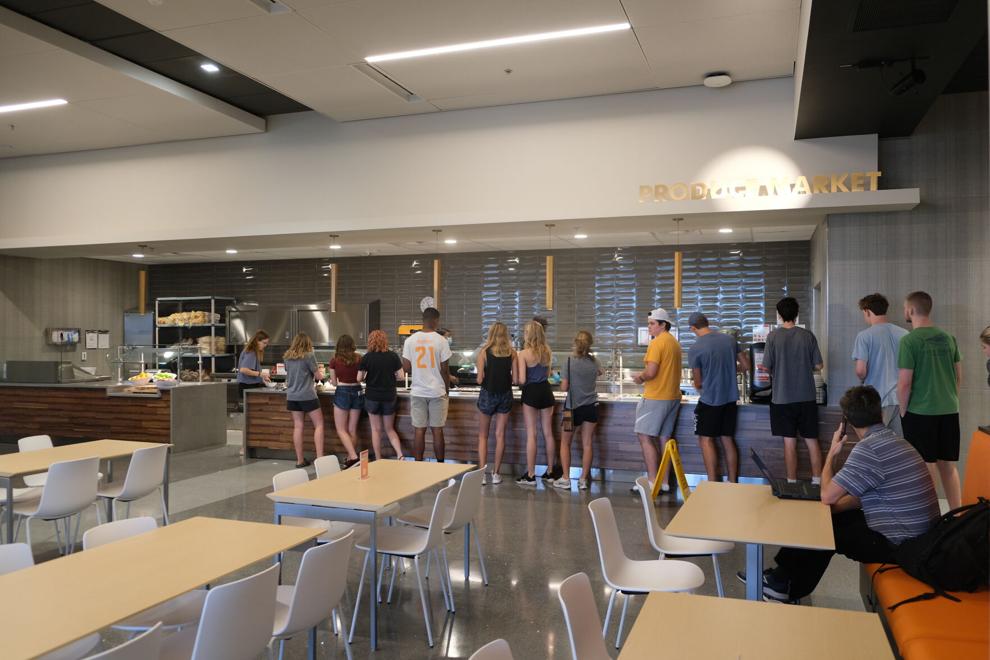 On any given day, students might grab a quick bite from one of the POD markets or from one of the Chick-Fil-A locations on campus in between classes.
Recently, however, it has been much harder. Lines are long and some locations only have two or three people working. Another issue that some students have had is time related.
On the dining website, it will show a location closing at one time, but students arrive and the location would have closed a couple of hours earlier. And by the time someone is able to order, there might not be certain food items.
So, what's going on with dining this semester?
Vol Dining does seem to have a plan in place, as there are hiring fairs going on every single day in PCB from 9 a.m. until 7 p.m. In the fairs, students can submit their applications in the building and have their interview before they leave.
According to Mary Peterson, the senior district marketing manager of Aramark, they are hiring as quickly as possible and they are hiring at least 10 people a day. With the hiring of more people, this will allow dining locations to extend their hours and this will make grabbing food easier for faculty and students.
They are also looking into hiring people from the Knoxville community and have been advertising via Handshake and other job-based platforms, such as Indeed.
Patterson also suggested that students "refresh their browser" when it comes to location hours as they do try to keep the hours of operation as updated as possible in real time.
Dining has also changed the starting pay from $11 an hour to $13 an hour, and they are advertising and marketing heavily all over campus so that they can get the attention of students.
They are also working on increasing POD and Grab-and-Go deliveries a few different times a week to keep up with demands and to make sure they are fully stocked as much as possible.
Last Friday, they provided food trucks on campus. Big-O-BBQ was near Brown and Hess Hall and Bayou Bites was at Burchfield. These food trucks will also be available periodically on campus.
"Food trucks are now on campus and accept Dining Dollars, Flex Plan and Vol Card Dollars," Patterson said. "We have added a Meal Swipe option for lunch and dinner at the national brands and introduced Good Uncle in the POD Markets."
Chris Cimino, the senior vice chancellor for finance and administration, said that dining will be adding a "full meal deal" as well as some extra dining dollars in hopes that it can help some students grab a meal at all retail locations.
"We are offering a full meal deal by allowing students to use a meal swipe at all retail locations so students get more for their plans," Cimino said in an email to the UT community. "This will enhance the traditional meal equivalency program. In addition, we will be giving each meal plan holder an additional $300 in bonus Dining Dollars, and each flex plan holder and additional $50 in bonus Dining Dollars."
For people with food allergies, one of the changes on campus is the new True Balance location in dining halls, which doesn't have eight of the major food allergens on its menu. Taylor Koenigs is the Vol Dining dietitian, and she is able to meet with students one-on-one and give them a tour of the True Balance location.
While everyone uses the different dining facilities on campus, the group that is hurting the most from the lack of dining availability is freshmen. Fewer upperclassmen have meal plans or live on campus, so freshmen are more directly affected by the dining issues than they are.
Aarushi Khanna, a sophomore majoring in microbiology, reiterated this by saying that she and most of her friends aren't affected by this but she has some friends that it affects.
"They're okay," Khanna said, "I mean it does affect them since they can't go to Stokely, and PCB is kinda far."
Most students seem to go to the dining locations that are closer to them, as Khanna suggested, so another downfall with dining right now is that many students may have to go out of their way to grab food for lunch or dinner or may have to resort to going on the Strip later that day and delaying meals.
Patterson also suggested that students follow Vol Dining on social media to get updates.
"I would recommend that students and the campus community follow us on our social media sites @voldining. We will be making announcements on these sites as well as updating our website, ut.campusdish.com," Patterson said.
Students are hopeful that dining will be back to normal sooner rather than later and that these changes will be seen once more people are hired on.