On Sunday afternoon, students began pitching tents, setting up chairs and inflating mattresses on the pavement outside of The Standard apartments in hopes of securing a lease for the 2023-2024 school year. Leasing for next fall opens Tuesday at noon.
By Monday, dozens of students had spent the night outside on the corner of 17th Street and White Avenue and planned to spend a second night. Many had come with friends and were taking shifts to go to class or get food. Some students had their parents wait for them while they went to class.
Two weeks before students began camping outside The Standard, another group had already camped out at the TENN apartments on the Strip. Shortly after, talk began circulating about lines for The Standard, a building that markets its close proximity to campus and luxury amenities to students.
Word spread quickly on Yik Yak, Snapchat and a Facebook group for parents of UT students that a line was forming outside of The Standard's leasing office.
While the TENN's line started the night before in-person leasing opened, the line at The Standard began almost 48 hours ahead of time.
Gabriella Meletiou, a freshman biology major on the pre-med track, was eating sushi on Cumberland Avenue when she first heard that a line had already formed outside The Standard. She and her friends rushed to the scene, but the line was already around the corner from the complex's front door.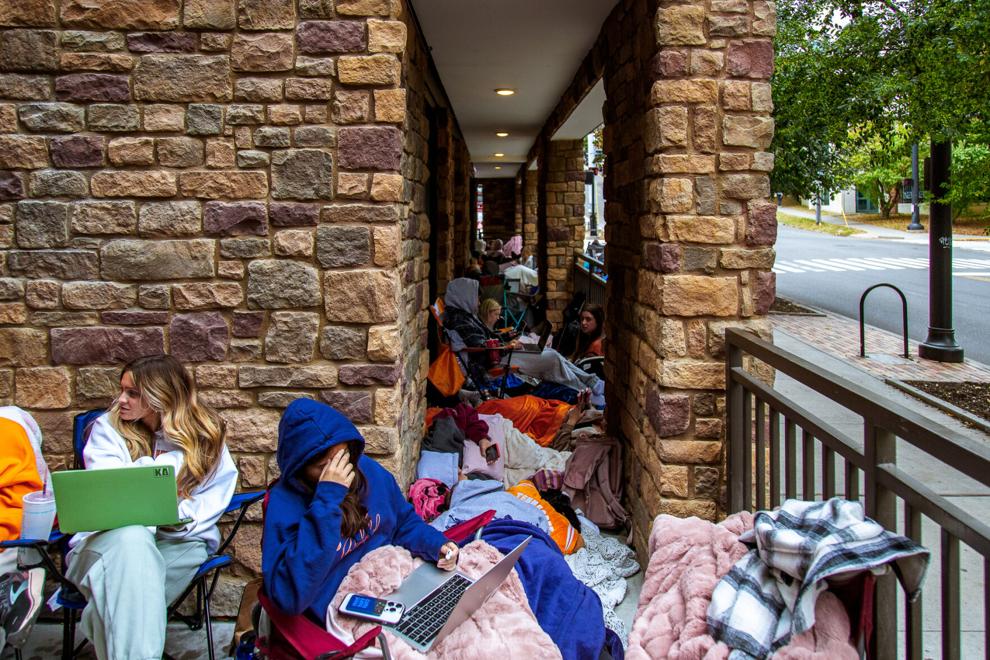 "If you want it, if you want a place, this is just something that you have to do because everybody else does it," Meletiou said. "Since there's so many of us out here, it kind of makes it a little less humiliating and demoralizing … We're not in it alone."
The tent city, populated mostly by freshmen stressed about housing, reflects a broader panic about rental shortages as the population of both UT and Knox County see growth.
In the last year alone, the size of UT's freshman class grew 15.1% – or around 900 students – making the class of 2026 the largest ever admitted. For freshmen, this increase shows up most in competition for housing and parking spaces.
Chancellor Donde Plowman told The Daily Beacon in a taped interview that the scale of the growth outpaced the university's predictive models.
In August, reports showed that 99% of Knoxville apartments were full. According to a May report by Advance Knox, the population of Knox County will increase by around 79,000 people by 2040, a growth expected to make the housing shortage more acute.
Students waiting in line said they felt like they didn't have a choice and that spending two nights outside had become the price for getting ideal housing.
The line included several parents taking shifts. News of the line had initially spread to parents through Facebook, where parents expressed shock that their children might have to set up a makeshift shelter to get an apartment.
Dave George, a financial analyst from St. Louis, sat in a soccer chair in line with college students. He made a stop on his business trip to the Carolinas to help his son keep a spot in line without missing class.
"I feel like as freshmen, they just got here a month ago and now they're being told they need to find housing immediately for next year," George said. "They obviously seem like they're well-adjusted and they're fine, but their focus should really be on having fun, meeting people, getting integrated in school, getting going on their academic journey here and this is a seemingly unnecessary distraction in what's supposed to be a fun freshman year."
George sat next to two 18-year-olds who were strangers a few hours before. A community quickly formed in the line, as students commiserated over the prospect of spending two cold and loud nights on the pavement.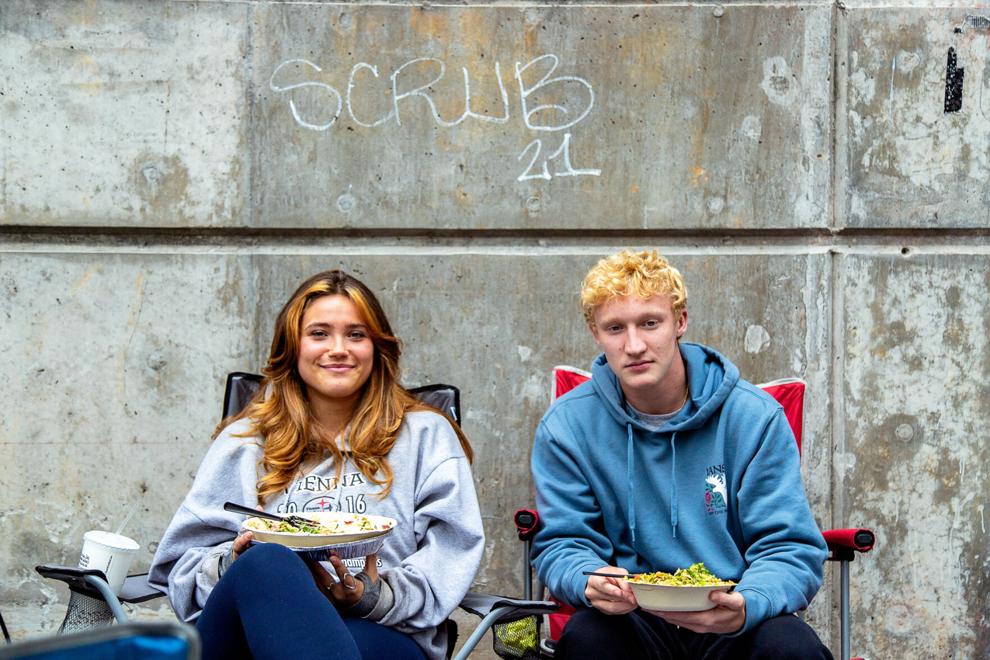 Some students noticed graffiti on the side of the building which read "SCRUB" and chose to name the pop-up community "Scrub City" in a group message.
Rachel Peachey, a sophomore kinesiology major, pointed to the rapid growth of the student body as an explanation for the line. A current resident of The Standard, she sat in line to hold the place for her new roommates. Nearby, a cluster of girls planned to spend a second night on cots.
"The reason why housing is all so messed up and that we have to wait in these lines is because UT always lets in too many freshmen. They did this last year too," Peachey said, referencing last fall's freshman class, which held the previous record for size.
In a statement to The Daily Beacon, a spokesperson for Landmark Properties, the company that manages the apartments, said the group would try to accommodate as many students as possible.
"The Standard's team is working to help prospective future residents apply and secure their preferred unit type on a first come, first served basis," the statement said. "We look forward to delivering a great living experience to as many students as we can."
Landmark Properties also owns Society 865 and Tradition Knoxville. Society 865 opens leasing Wednesday at noon, but its leasing will be completely virtual.
All three properties promote a VIP waitlist for potential residents where they can get exclusive information about property updates.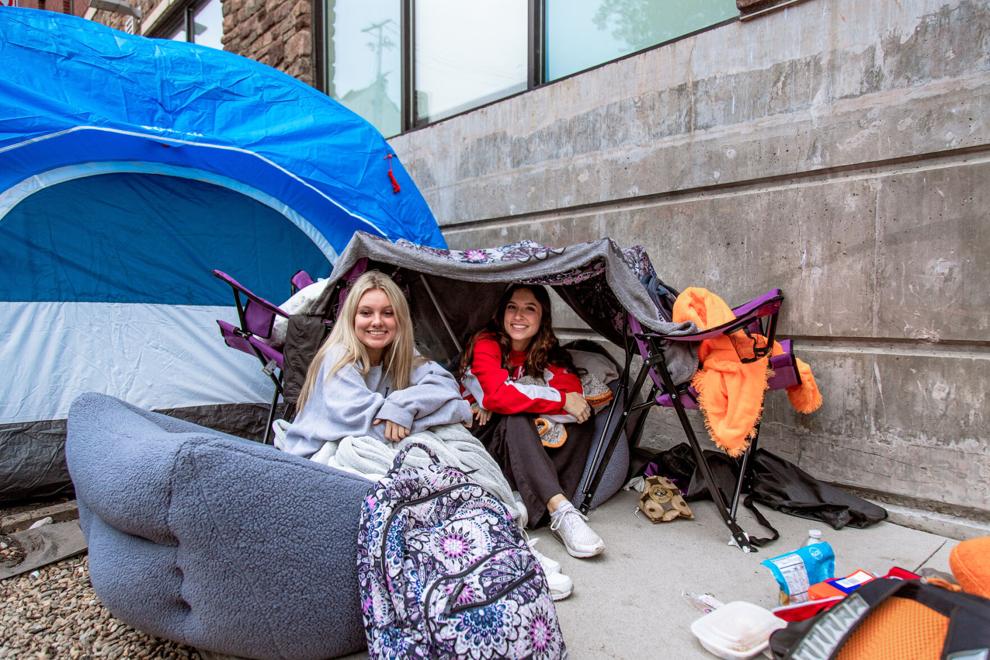 Last year, The Standard did not have in-person leasing, but they will return to this system Tuesday. However, students can also lease online after the in-person event. Despite this, many are concerned the building will fill up in the few hours after leasing opens.
Students waiting in the line have worked out shifts with their future roommates. Most groups coordinate schedules to help keep others from missing class or to spare their friends a second night spent in the cold. But some have missed class and are stressed about upcoming exams and classwork.
Sarah Mee, a freshman nutrition major, had to contact professors to say she would miss class.
"They think it's stupid. But we have no other option," Mee said. "There's maybe one other place, but what are the chances we are gonna get that?"
For most students, the prospect of not getting a lease in this one-day, in-person race to sign means finding another apartment and potentially setting up camp again somewhere else.
Lindsay Miller, a freshman on the pre-law track, believes it might all be worth it in a year's time.
"We'll laugh about it next year when we're up there in an apartment," Miller said.
Correction: A previous version of this article included an incorrect date for the beginning of leasing at Society 865.