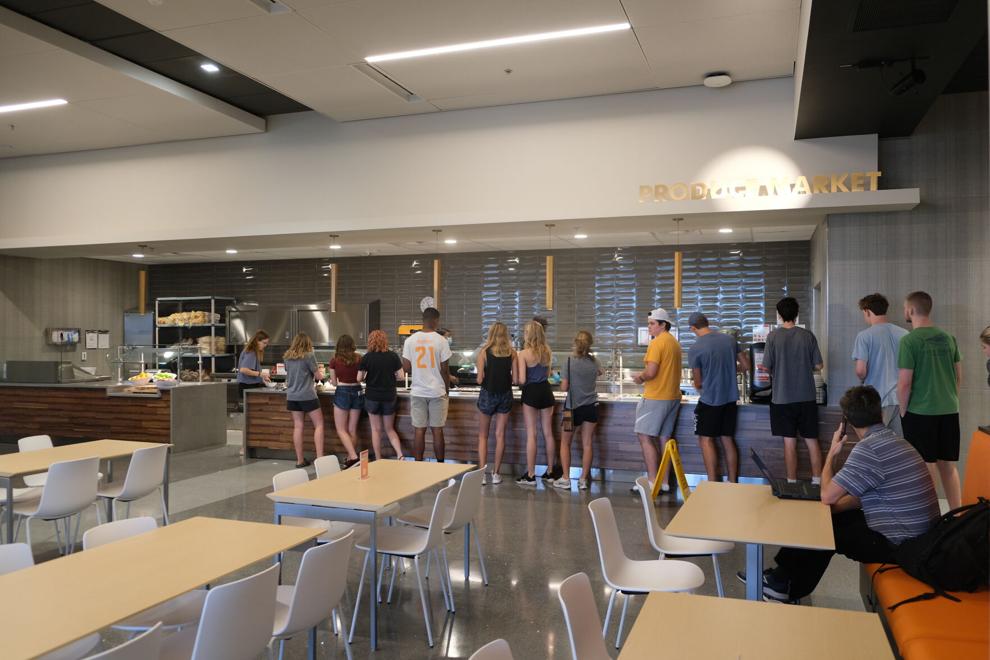 Food insecurity has been an immense issue for students across campus, specifically on weekends since the beginning of the COVID-19 pandemic. With staff shortages, earlier closing hours and capacity limitations, it is harder than ever for students to get food on campus.
Most dining halls and on campus restaurants that accept dining dollars, flex dollars or meal equivalency swipes are open seven days a week, but close at 8 p.m. or earlier on weekdays, making it hard for students who work late, off-campus jobs to get food at night.
These locations also limit their hours on weekends making it difficult for students who live on campus, the majority of whom are first-year students, to access the food they need. Another concern is that students with meal plans could be unable to afford to pay for off-campus food in the event that food is not accessible to them on campus.
Freshman Alexa Buskirk lives in university housing on campus and takes advantage of the seven day meal plan provided by the university. Buskirk described how food insecurity is seen throughout campus.
"Food insecurity is seen on campus through the lack of dining options, the long lines — it makes it really hard for students to get food," Buskirk said.
"People need more healthy vegan, vegetarian items in the dining hall because honestly, I don't feel like there are a lot — there are not enough things to fit everyone's dietary needs and I think this contributes to the problem."
Buskirk said students feel the impact of food insecurity specifically on weekends.
"I think that I am especially food insecure on weekends when the P.O.D markets are closed and the dining hall hours are very limited — I can't go eat at the time that I want to," Buskirk said.
Freshman Owen Brooke also believes that food insecurity on campus heightens during the weekend.
"Food insecurity is more present on campus on the weekends because kids don't have as many opportunities for meals as they do throughout the week," Brooke said.
Buskirk and Brooke agree that COVID-19 has had a big impact on food insecurity across campus, specifically because of labor shortages.
"Food insecurity is just an effect of COVID — people are either scared or not motivated to go back to work in that environment," Buskirk said.
The students made several suggestions for how the campus can attempt to combat this issue.
"I think campus can help to solve this issue by first assessing the population of food insecure people, asking them what their immediate needs are and then working from there," Brooke said.
At a time when Vol Dining has increased their starting salary and has offered access to free food in an attempt to attract student workers, Buskirk said that more could be done to entice students.
"They could try to motivate students to work at the dining locations so that more can be open, they can have longer hours," Buskirk said.
Both students also suggested educating more students on the locations of food pantries like the Big Orange Pantry and programs like Food4All, which are available to all students, as well as making those options available on weekends. Currently, Big Orange Pantry operates on every weekday afternoon except Tuesday.
Food insecurity on campus is a small part of a much bigger problem, but the students agree that assessing one problem at a time is a good place to start.
On campus resources for food insecure students include Big Orange Pantry, which works with the Culinary Institute on the Food4All program to offer ready-made meals to students, as well as Smokey's Pantry.
*This article was edited to correct an earlier version which incorrectly stated that P.O.D. markets are closed on weekends. Additional information concerning food insecurity was also added.