When the University of Tennessee's campus shut down because of COVID-19 and concerns of safety for students and staff, the Clarence Brown Theatre shut down with it. But production didn't stop there for Melissa-Caldwell Weddig, Elizabeth Aaron, Kyle Schellinger, Amber Williams, Margo Birdwhistell, John Merritt and Lauren Roark.
Together, the seven of them make up the "CBT Mask Squad," and they have been making their own masks since March 23 to help with shortages at UT Medical Center and in the Knoxville community.
Caldwell-Weddig realized in January that there were no more masks in stores. After a discussion between costume shop manager Melissa Caldwell-Weddig and costume shop cutter Draper Kyle Schellinger, the two decided to make the first prototype of their masks.
Schellinger explained what drove the costume shop's decision to help out with the supply shortages.
"There are lots of Facebook groups that costume professionals belong to, and people in those groups started talking about the possible need for masks," Schellinger said. "We took one day, and I started by cutting out as many [masks] as I could out of fabric we had in stock. I cut them all out in two layers of fabric, as well as the elastic for them to be put on."
While Schellinger began to pin the elastic onto the fabric, co-workers in Caldwell-Weddig, Williams and Liz Aaron started sewing them together. Schellinger noted that in just two hours, they had made 60 masks.
The CBT Mask Squad has also used their own patterns to add a different look to masks than is usually seen.
"There's no reason that they have to be institutional grey or green or something like that," Schellinger said. "I went to Walgreens and three people asked me where I got my mask. They're eye-catching and different."
Following social distancing recommendations, Senior Costumer Aaron noted that while the theatre is still open, most of their work is done at their homes, and they have a system in place when they head out to Clarence Brown.
"Our masks are very simple and they really are a four step process. We're just now getting the routine down really well of Kyle going in to make the stacks, and the rest of us going by to pick them up and coming back home to sew," Aaron said.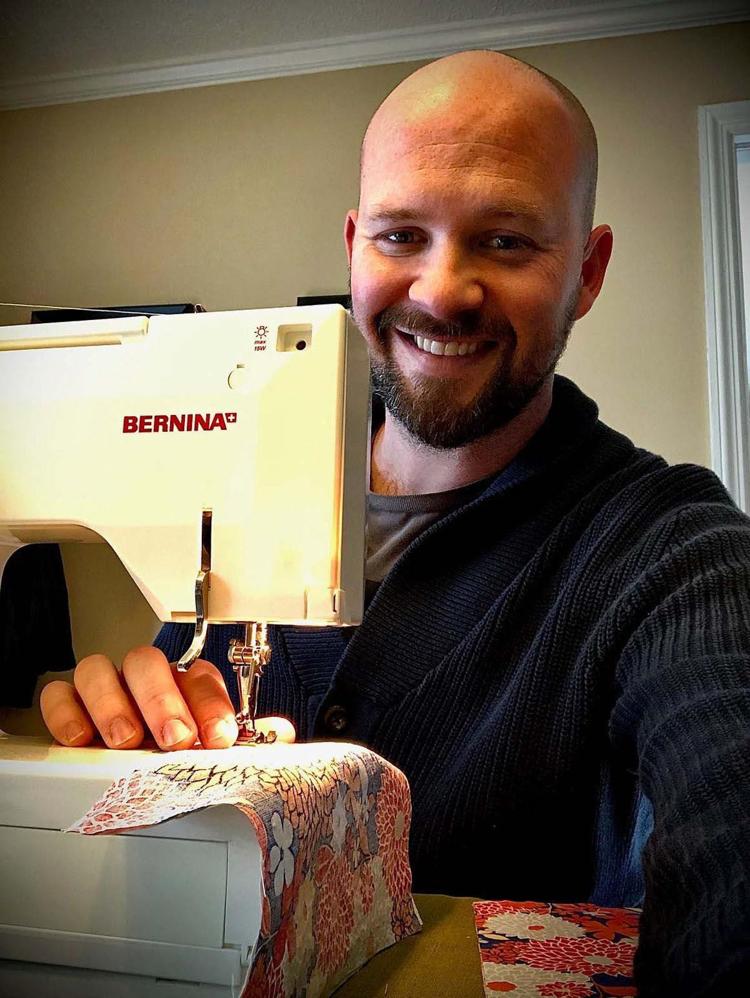 She joked about her own bedroom turning into sewing studio amidst the process.
The CBT Mask Squad has made over 200 masks, and Aaron noted that she can complete around 20 masks a day. Schellinger also stated that he will spend the entirety of some days cutting out a few hundred sets, then washing, cutting and prepping each set of fabric.
Working with the Knox County Department of Health, the masks are ensured to get to places where they are most needed. In addition, Caldwell-Weddig stated that some individual requests have been made and that she dropped off masks to the UT Veterinarian School.
"We're trying to help out the university community where they need it as well," Caldwell-Weddig said. "What we're doing is so small, but it's what we can do with what we have. I will be happy to look back and know that we were doing something."
Aaron and Schellinger are also proud to be coming together to make small differences in the Knoxville community and are already looking ahead to what's next.
"I miss being at the Clarence Brown Theatre. It is as much home to me as my actual home is," Aaron said. "But we have to use the skills we have and this is what we have to do. We've talked about moving on to other things and sewing gowns and headbands and all kinds of other things."
For Schellinger, he believes coming together to make masks with his co-workers is a reminder to be of purpose to people around him.
"It's important when you're faced with something that's kind of scary and outside of your comfort zone, that you find a way to be of purpose and of service in any way you can. We need to be of purpose to each other right now, and I think that will help us all to feel a little better and not so isolated and alone," Schellinger said. "Just by taking a few hours everyday and making these masks, I know that they're going to go somewhere that will help people feel more at ease and help people feel like the world is not ending."