This past Thursday marked the five year anniversary of Smokey's Closet, an on-campus service that provides students with professional clothing for various work environments. To commemorate the occasion, members of SGA, the Center for Career Development & Academic Exploration and the UT National Retail Student Federation Association came together to host an open house to give Volunteers a taste of what this store has to offer.
Upon entering Smokey's Closet, visitors could view multiple racks lining the walls, adorned with a variety of lightly used attire including suits, dresses, shoes and more. Students have a broad range of material and sizes to choose from, but the most beneficial factor is that all of the provided clothing is free.
Five days a week, graduate and undergraduate students alike are given the opportunity to get one free outfit by signing into Smokey's Closet. Besides this, students also have the added luxury of accessing this service on the third floor of the Student Union.
This has not always been the case, though. At the time of its outset, Smokey's Closet was initially located in Greve Hall. With its move, the shop has undergone many changes not just in location, but in production as well.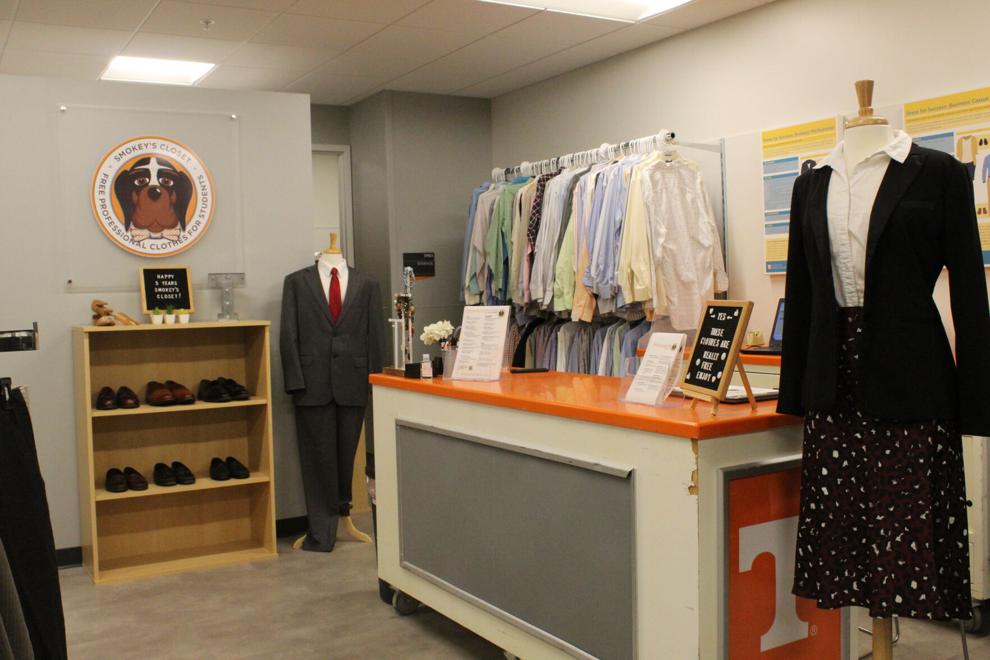 Alexis Andershock, a career coach in the Center for Career Development, credited the increasing popularity of Smokey's Closet for the new permanent location.
"It originally started as pop up shop, so we just had storage and would bring out racks about two times a year around job fairs, but the location changes and just word of mouth really helped raise awareness and make it much more publicized," Andershock said.
With this growing popularity, Andershock also remarked that the shop had collected a lot of partners in recent years that have been willing to help further this cause. One notable partner includes JCPenny, which, earlier this month, helped sponsor a "Suit Up" event that granted all UT students a 30% coupon for any professional clothing brands.
To cater to this growing variety of incoming customers, Smokey's Closet administration has also made efforts to upgrade their store by providing more inclusive opportunities. On its official UT webpage, Smokey's Closet provides tips for business casual and professional attire for transgender students, as well as resources so they can research how open and accepting a company is beforehand.
Michelle Murry, a graduate assistant in the Center for Career Development, discussed upcoming plans to further enhance the shop's services.
"We try to be as inclusive as possible and provide adequate sizing options," Murry said. "We are trying to be more selective and make sure it is contemporary clothing as well, so it's something that people would actually like to wear."
When looking back over the five years, Smokey's Closet attendants were overall pleased to be a part of the experience and see how the shop has transformed and accomplished so much in such a short time. Though they have made immense strides since the shop's commencement, assistants of Smokey's Closet urge students to donate and spread the word when they can so that the store can continue to give back to Volunteers in the community.