According to UT's Office of Institutional Research and Assessment, or OIRA, there has been a decline in Black students attending the University of Tennessee in comparison to other racial or ethnic categories.
Within the last six years, the number of Black students attending the university has dropped by over 200 — from 1,845 to 1,597 students. This number does not include the more than 1,300 students who identify as two or more races, however.
In the fall semester of 2021 there were 100 fewer Black students in enrollment, the largest decline in over a decade. According to Knox News, this school year represented the first time that Hispanic students had replaced Black students as the second largest group in the race/ethnicity category.
With its decline in Black students, UT is part of a nationwide trend in higher education. According to University World News, since 2011, the percentage of Black students attending college dropped almost 11%, a reversal of a trend since 1976 of increased Black enrollment.
This decline of the Black population attending universities nationwide can suggest the domino effect causing rising dropout rates, lack of representation and the racial disparity that is seen at UT.
With the student population composed of 76.6% white students and the lack of cultural representation in the administration, where does the University of Tennessee stand on diversity? The University of Tennessee's Diversity homepage expresses their pledge to combat racial injustices.
"We are committed to supporting the creation of equitable and inclusive spaces for students, faculty and staff, with a focus on removing structural barriers and fostering an atmosphere in which every member of the campus community matters and belongs," the page said. "We work to advance access, accountability, an inclusive campus climate and equity while combating racism, bias and discrimination."
Although the university has stated their intent, many Black students feel that the steps in place have not made the changes they felt necessary. Students believe that the true steps towards progress would be representation in the administration that adheres to their needs, responding to hate crimes in a way that is not negotiable and making their community feel heard within the campus body.
The university admitted its largest freshman class in fall 2021, topping 5,900 new students. Now, over 31,000 students are on campus, and the Black community makes up around 5% of that population.
The disproportionately low Black student population on campus has led to a lot of adjusting for some students upon arrival. Rickisha Rodgers, senior and president of Collegiate Black Christians, spoke about the culture shock she found on campus.
"Although I am grateful for the ways I have learned and grown and expanded my perspective as a student here at UTK, I would say that one big thing that I still to this day battle and grapple with as a Black student is feeling excluded, and being a minority and realizing how much you stick out on campus," Rodgers said.
Rodgers also included how being a part of a small minority takes a toll on her mentally, and said that white students experience the "rare gift" of seeing themselves represented in classrooms, in faculty and in administration.
"That's something that has had an affect on my mental health, and just my perceptions of myself, it is kind of discouraging going to class and being the only Black student in your class, and being a Black women as well I feel like there are already two strikes against me in a world where 'whiteness' is basically like professional or deemed as top tier," Rodgers said.
"Outside of multicultural organizations, I feel like I am not always seen as a Black student on campus, and I have to fight against negative perceptions of myself."
When asked about the declining number of Black students attending UT, Vanessa Jackson, alumna and former president of the Black Student Union, said students do not always get the campus experience they were expecting.
"For one, I think it's a false advertisement, if you see on the website or the brochures, you'll see like Black students and everything. My sister did a photoshoot with UT right before I came in and she's still on the website for housing and that's been like over five years," Jackson said. "So to have an advertisement that's not accurate, is not really great because I know a lot of people and they'll come but then they leave because it's not at all what they thought it would be."
Jackson said that even before the racial tension would escalate in some situations, she and many others would try to reach administration to address some of these issues. She said the university would often ignore her and her organization. Jackson also admitted that it is frustrating to see the university make public statements about the issue but fail to communicate with students involved.
Since the beginning of the Black Lives Matter movement in 2013, and as it gained renewed national attention in 2020, some students questioned their decision of attending the university.
Junior Jorby Kimble noted what he sees as a lack of support for Black students, even in times when racial issues landed at the center of conversations on campus.
"During movements like that, especially as a Black person, you realize that there are a lot of people who don't think that Black lives matter or think that there are a lot of people that really don't care about you, so people are often driven away from white institutions because they know they are going to get faced with the same harassment," Kimble said.
Kimble also said that many Black students feel that attending a historically Black college or university (HBCU) is a better option than attending a predominantly white institution like UT.
"I think that most Black students have stopped attending primarily white institutions because of the upgraded pride of attending a predominantly Black college," Kimble said. "I feel like as a Black student more inclined and more exposed to HBCU's especially after already being in college, because we see more on social media now and they are more talked about."
The administration has taken actions in recent years which a large portion of students have found to be unsatisfactory. Racial tensions have periodically risen on campus for decades, most recently involving one of the faculty.
In the spring semester of 2021, Africana Studies lecturer Melissa Hargrove caught public attention for writing an acronym for a racial slur on the board in her classroom. Many students and organizations rallied against the instructor, urging the university to take action.
In response, the University of Tennessee offered therapy for those involved and resolved the issue by Hargorve herself enrolling into the Teaching and Learning Innovation organization.
While these issues take a toll on the entire student body, some Black leaders believe this could be the reason Black students feel more of a disconnect with the administration.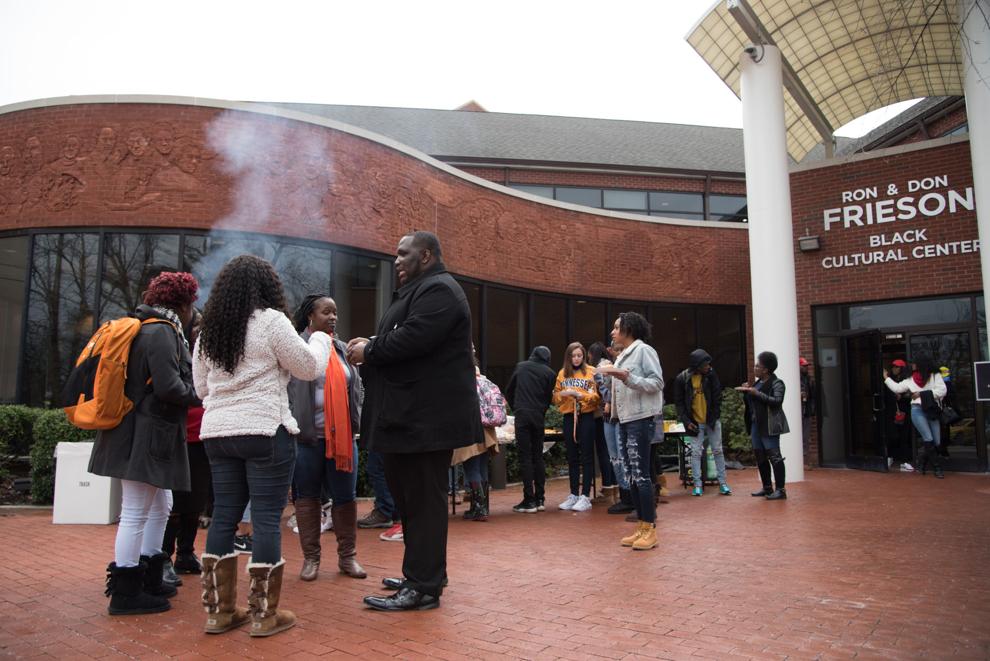 Rodgers shared her view on the administration's response and why these issues may have contributed to a decline in the Black student population.
"I think the big part of the Black experience is being disappointed but not being surprised by situations like this. Especially at this institution, I think it just goes back to the majority and minority. I think the administration is not prioritizing the needs of minority students, I would say or at least in a way that is beneficial or helpful," Rodgers said.
Rodgers believes that in her time at the school there has been no real progress that has helped her and her community. She also believes that since the summer of 2020, when many injustices were brought to light and conversations were being had, returning to UT was difficult because there were no steps in place to lead these issues into monumental moments of progress. The conversations ceased and the underlying tension began to build again.
"They are doing surface level things that don't really help us in our root and in our core. I think the reason for that is because in itself there is a lack of representation in the administration and so I don't think we have enough voices on this campus that can truly advocate for Black students specifically or people that understand our needs and depth in the way we know that we need those things," Rodgers said.
With the decline of Black students, combined with the increase of white students admitted, the lack of representation is evident and has created an uncomfortable atmosphere for some students. Kimble spoke about how this decline has affected him personally.
"I see a lot of microaggressions, it's either subconscious or subtle, all of these actions play the same role," Kimble said. "In my own experience, I have seen an increase in these actions, every year I experience more and of the same thing. I think that's just because there are less Black students attending. And there's people that don't share the same values as me or experience the same issues."
Marcel Brouwers, senior lecturer in the English department, has been with the university for 16 years and has noticed a shift in the social climate of the classroom.
"I have noticed a decreased interest in discussion of issues surrounding race and inequality," Brouwers said. "No one wants to say something that might offend, which suggests an overall lack of knowledge/awareness of what might actually be offensive or not."
Brouwers believes that the state's policing of race issues in education may also affect Black enrollment at UT.
"The university's response is, in part, part of a larger context, Tennessee legislature and its paranoia about race issues being considered within an academic environment, that wishes to diminish the role that race plays in the daily lives of its citizens," Brouwers said.
Madisien Howard, care manager in the Dean of Students offices, spoke on her experience helping Black students adjust to being in the minority at UT. Howard explains how she empathizes with these students, since her move to Knoxville was also a rocky transition.
"I remember moving to east Tennessee and going to a restaurant with my husband and being the only Black people in the establishment, and it does make you uncomfortable at times and it takes a lot of adjusting," Howard said.
As far as the next steps that should be taken for the campus community, Howard said that allyship from non-Black students, staff and faculty should play a large role.
"I think so often it is expected that the person who is being marginalized is the one that always has to speak up and they are the only one speaking up in those spaces, so allyship is very important," Howard said. "It is a hundred percent understandable that students are frustrated, there are a lot of faculty and staff who are also frustrated with different things that have happened."
The decline of the Black student population has given further context to why Black students may feel unheard on campus. Without the unification of leadership and the student body, Howard said resolution will be out of reach.
"I think it's important that we all recognize the power of each of our voices. I think that some people think, 'well someone else is going to do it or this person spoke up or who am I to say something on the topic?' But when we all kind of come together with that collective goal, that's when change happens," Howard said.
Howard also noted that there are a lot of open forums and organizations for students to discuss these issues on campus, that may help with educating students.
Brouwers shared how he thought the student body could become more aware of the reality of this racial disparity.
"My sense is that this primarily comes from students themselves engaging with the larger world more and recognizing that the issues facing other parts of the country also exist here," Brouwers said. "The overall complacency is reflective of an acceptance to the status quo. When students engage, universities listen."