When the nonprofit news site ProPublica launched The Repatriation Project in January, UT landed on a top-10 list that does not come with bragging rights. Out of all universities, museums, societies and agencies in the nation, UT ranked 7th among institutions that hold the most Native American ancestral remains not yet made available for return to federally recognized Tribes, or Native Nations.  
The key to understanding the ranking is a landmark piece of federal human rights legislation passed back in 1990 called the Native American Graves Protection and Repatriation Act, or NAGPRA for short. Under the law, government agencies, museums, universities and historical societies are required to keep inventories of all ancestral remains or cultural artifacts that lie in their holdings, including objects that were once buried with ancestors.  
Native Nations, such as the Eastern Band of Cherokee Indians or the Muscogee (Creek) Nation, can then use these inventories to submit repatriation claims to institutions like UT, kicking off a years-long process of returning ancestors and their belongings back to the Tribes and to the Earth where they, by rights, belong.  
ProPublica's wide-ranging investigative project, which calls institutions to account for the ways they have dragged their feet on NAGPRA work for over 30 years, publicly declared what had been known to faculty and staff at UT, particularly in the Department of Anthropology and at the McClung Museum of Natural History and Culture, for years: that the university's collection of southeastern Native American material culture, widely considered one of the finest in the world, includes the bodies and sacred belongings of thousands of ancestors.  
As of April 26, the university held close to 4,000 ancestral remains that had not yet been made available for return, as well as over 57,000 funerary objects. 
The university has increased its commitment to NAGPRA work in recent years, a shift perhaps best reflected in the hiring of anthropologist Ellen Lofaro as UT's first director of repatriation in 2020. Lofaro, who also serves as curator of archaeology in the Department of Anthropology, said that ProPublica's data, drawn from the National Park Service and the Federal Register, focuses on one step of the lengthy repatriation process. 
Under the federal law, the first step of returning ancestors home is the creation of inventories and summaries of all ancestral remains and funerary objects, which are submitted to the national NAGPRA office. 
Then, the process of consulting with Native Nations and receiving claims from them begins. Once Tribal and institutional representatives have met and consulted, a repatriation notice is drafted and published in the Federal Register. Only once these steps have been completed can the process of physical return begin.
ProPublica drew data from notices published in the Federal Register to determine how many ancestral remains had been made available for return. 
If the institutions who have moved slower than UT – including the University of California, Berkeley, which sits at the top of the list with over 9,000 ancestral remains still unavailable for return – have an excuse, it's that the NAGPRA process is notoriously delicate and demanding.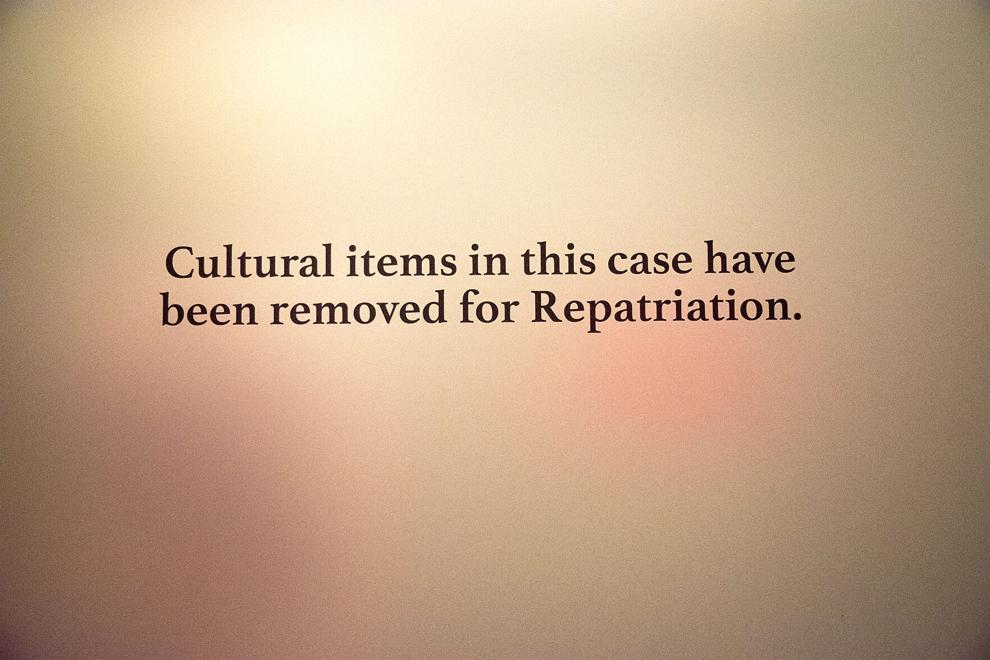 Repatriation work takes years and relies on the careful development of relationships between museums and universities and Native Nations, which are sovereign entities akin to separate countries. 
Anytime UT has hosted NAGPRA-related meetings, Lofaro said the university has invited all 21 Nations with ancestral land ties to Tennessee, where the vast majority of ancestral remains and objects in UT's holdings were sourced. 
Because Tennessee is a so-called "removal state," or a state with no federally recognized Tribes, these meetings require travel over long distances for Native representatives, as well as cross-cultural communication inflected by centuries of broken promises and theft of land and resources.
Shortly after Lofaro took over the university's repatriation efforts, which includes non-NAGPRA and international work, UT received several large claims from Native Nations, which alone represented around 15 years of work. 
"The scope of the work is a challenge," Lofaro said. "We still have decades of work to complete these repatriations due to several factors, including Tribal consultation, the number of claims, and the formal paperwork process. Often, Native Nations will delay placing a NAGPRA claim until they have a suitable reburial area, which can take years, sometimes decades, to obtain."
Despite the challenges of working at the fraught intersection of the sacred and the scientific, Lofaro and other UT leaders have greatly advanced UT's repatriation efforts. Since 2016, the university has repatriated more than 2,100 ancestral remains and 15,000 funerary objects to Tribes, increasing the university's repatriation claims from 4% to 37% complete. 
"We will continue to build relationships and consult with Native Nations every step of the way," Lofaro said. "The work is important, and we are dedicated to continuing to make progress."
Alongside staff and faculty at the McClung Museum, Lofaro and the Department of Anthropology are currently working with four Tribes: the Cherokee Nation, the Coushatta Tribe of Louisiana, the Eastern Band of Cherokee Indians and the Muscogee (Creek) Nation, all of which have ancestral land ties to Knox County.
McClung Museum has never displayed ancestral remains in its exhibits, according to its staff. However, hundreds of objects that once sat in cases in the museum's long-standing "Archaeology & the Native Peoples of Tennessee" exhibit have been removed from display as the museum advances its repatriation work in consultation with Native Nations.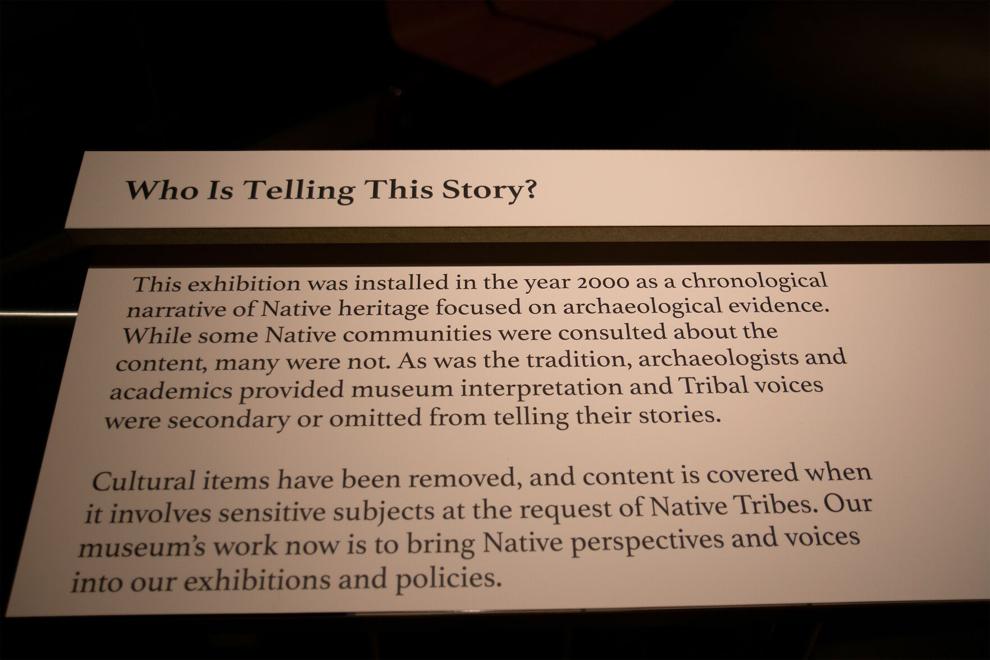 Renamed the "Repatriation of Archaeology & the Native Peoples of Tennessee," the exhibit space, which is open to the public until December, now features quotes from Tribal representatives and many empty display cases which once housed hundreds of funerary and sacred objects. 
"We're essentially putting that emptiness on display, which I think is actually kind of radical," Cat Shteynberg, assistant director and curator of arts and culture collections, said. "Most museums I don't think put the messiness of their practice on display. That's something that we really deliberately wanted to do."
The space is markedly candid in its presentation of the NAGPRA process, which typically happens behind walls and sealed archival doors. The commitment to engaging the public in rethinking Native representation is one reason why the museum was awarded the Dr. Marva Rudolph Diversity and Inclusion Unit of Excellence Award at this year's Chancellor's Honors Banquet. 
Shteynberg, who did work with the Smithsonian Institution and the Ashmolean Museum in Oxford, England before coming to McClung in 2012, said the museum has committed itself to telling a broader range of stories, especially since the arrival of Executive Director Claudio Gómez in 2019.  
"This is what the Tribes want and what they've told us that they want," Shteynberg said. "So this is an opportunity for us to try and practice in a more ethical and meaningful way, to learn how to work with our source communities in a better manner."
The current exhibit tells the story of how the ancestral remains and cultural artifacts came to UT and to the museum. It's a complex story in which the Tennessee Valley Authority, which has remarkably made 100% of its claimable ancestral holdings available for repatriation, dug up sacred Indigenous sites before damning large swaths of the state for hydroelectric power in the 1930s.
The university held a contract with the agency as a repository of exhumed remains and objects, though these contracts and the arrival of ancestors to UT happened before McClung Museum was opened in 1963. The museum has also received Native artifacts from private donors. 
To understand the current state of NAGPRA is to understand how radically the field of archaeology has changed in the last century. TVA did not consult Tribal representatives before destroying sacred sites and shipping ancestral remains off to sit in UT's holdings. Now, the agency is setting the standard in returning what was stolen to the Tribes and to the Earth. 
To say that the field has changed is not to say that all archaeologists or curators are enthusiastic about NAGPRA work. Rather, skepticism towards the return of Native ancestors and objects has underpinned the slow pace with which many museums and universities have moved. 
Lisa King, an associate professor of English at UT and an expert in Indigenous museum spaces, is charged with the conviction that working with Native Nations from the ground up is a key step not only towards repairing generations of harm against Tribes, but also to telling better stories about them. 
She is putting her scholarly work to practice by leading the development of a new exhibit which will occupy the space that "Archaeology & the Native Peoples of Tennessee" held for 22 years.
"A Sense of Indigenous Place: Native American Voices and the Mound at the University of Tennessee," which will highlight the significance of the university's oldest monument, a Native American burial mound on the Ag Campus which dates back to as early as 600 C.E., is scheduled to open in January 2025.
The project will include a digital exhibit space that will push the boundaries of digital humanities to make the work of the museum more available to Native and non-Native people alike. Already, King's work has garnered nearly half a million dollars in grant funding from the Henry Luce Foundation and the Terra Foundation for American Art. 
At stake in the development of the exhibit are several big questions that have animated scholarship on Native American history and museum work for decades, notably about the storytelling role of museums and the provenance, or origins, of the Indigenous artifacts they hold. 
McClung's re-imagination comes at a time when cultural institutions around the U.S. and the world, historically led by and catered to white people, reckon with the forces by which the once-buried bodies of Indigenous people and the objects that were buried with them came to sit in their archives.
Perhaps the biggest question at play is, what sacred knowledge are non-Indigenous people allowed access to and who decides?  
King, a scholar of rhetoric, tied her work with McClung to a larger movement (and a popular hashtag) in the museum field.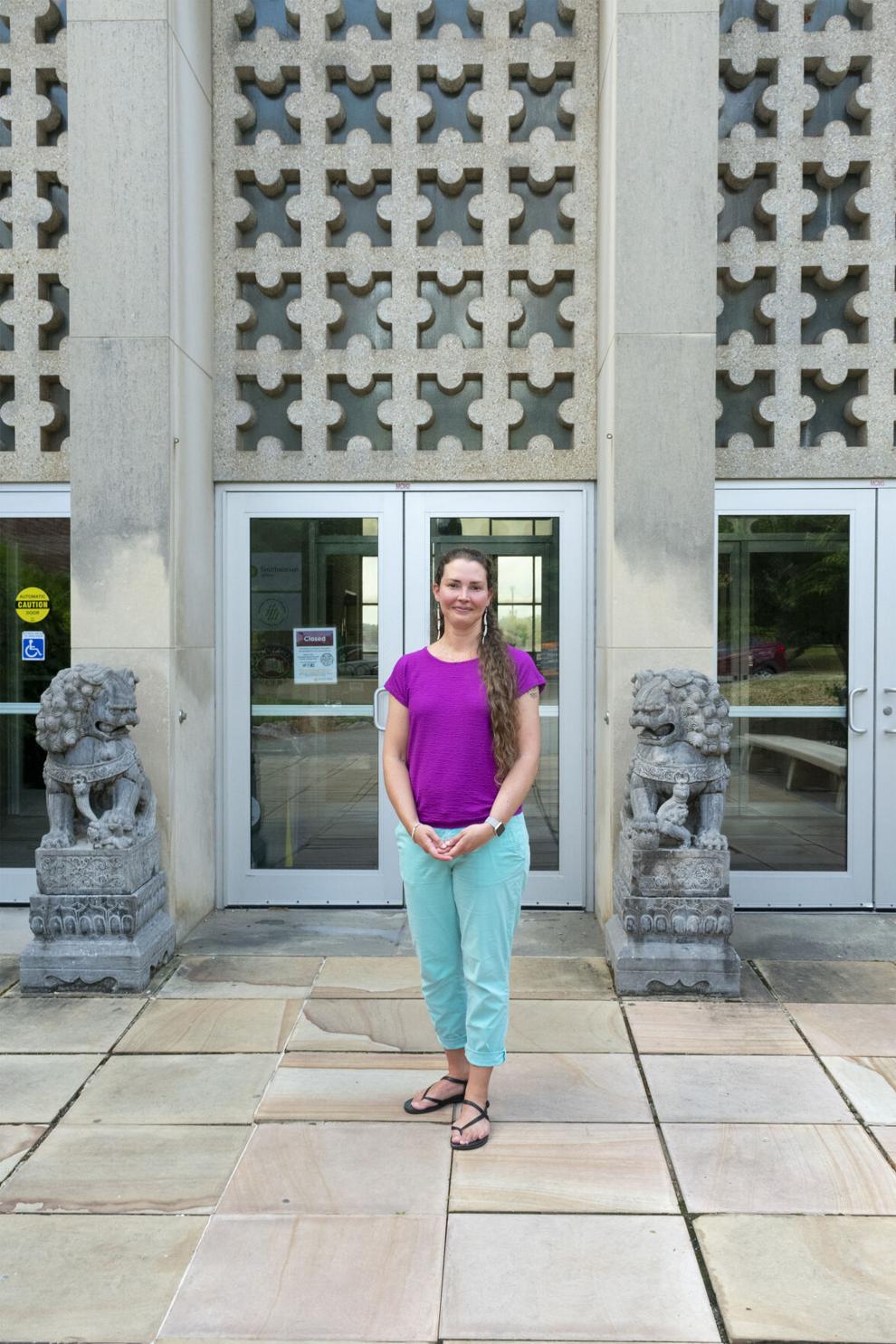 "Museums are not neutral," King said. "They're not, they never have been. They simply provide one story and call it 'The Story' and it's not … You can't include all the collections. You can't put everything in an exhibition. So you always have to be selective, which means you're always making choices, which means it's always rhetorical in some way. It's never neutral. It never was, and it never will be." 
While some mainstay artifacts of the original exhibit – notably the too-large-to-move, 32-foot-6-inch canoe from the 18th century  –  will stay in the new mound exhibit, many parts of the space will be updated.
A visitor to the original exhibit may have left with the sense that Native peoples' history ended at colonization. In fact, timelines in the exhibit which compared historical periods in Tennessee to major world events ended at Columbus's arrival in the New World. Murals on the walls, which will be removed in the upcoming exhibit, depict scenes of prehistoric Indigenous life in North America, tableaus that include woolly mammoths and the production of arrowheads.
The popular exhibit did not present factually inaccurate information, but King said it told a curated story of Native peoples that did not include their continuance into the present day. She hopes the new space will tell a different story. 
"Rather than having a visual representation of a frozen past, or an end, instead, you see culture coming in to the present, that Tribal Nations are alive and they're thriving and they're still very much connected to culture, to practice and to land," King said.
Miranda Panther, NAGPRA officer for the Tribal Historic Preservation Office of the Eastern Band of Cherokee Indians, lives in the EBCI's territory of the Qualla Boundary in western North Carolina. Her job is to submit all repatriation claims and to work with institutional partners, some of whom hem and haw for years, to bring ancestors back home. 
"It's a human rights issue," Panther said. "I think everyone should feel emotional about it, just imagining boxes upon boxes of people and their belongings just sitting on shelves waiting … for someone to care enough or be patient enough to be able to get them back."
Panther works closely with King, Lofaro and the staff at McClung – who she says actively demonstrate their commitment to the work – to organize meetings with EBCI representatives and process the many rounds of paperwork NAGPRA generates. 
What she does not have access to as a non-member of the Tribe are the ceremonies of reburial that complete the return of ancestors back into the land which gave them life. These are the final, secret and sacred moments that symbolize for many the closing of a wound. 
"We don't have a specific ceremony for NAGPRA reburials because, you know, Indigenous people could have never imagined that their graves would be desecrated or robbed in the future, so they didn't have any kind of ceremony set aside for that type of event," Panther said.
Back in Knoxville, repatriation work and the mound exhibit are set to make visible the physical marks of the region's deep Indigenous history which largely go unnoticed.
In the picturesque neighborhood of Sequoyah Hills, located a 5-minute drive west of UT's campus boundary, a central greenway attracts hundreds of walkers and runners on beautiful days. It also runs directly over an Indigenous burial mound, a sacred site believed to date back well over 1,000 years. 
At the request of the Knoxville city government, UT Professor of Anthropology Kandace Hollenbach, along with student researchers Stella Takvoryan and Jordan Schaefer, submitted a 62-page report to the city in March which utilized archival research and ground-penetrating radar to study the Sequoyah Hills mound. The report concluded that the mound is part of a "larger cultural landscape" along with the mound on UT's campus. 
The report recommended that the city and the Kingston Pike-Sequoyah Hills Association, the neighborhood homeowner's group, initiate relationships with the 11 Native Nations with ancestral ties to Knox County to better assess how the space should be managed. 
This future may include the relocation of historical markers and the bench on the mound, as well as the gravel walking path which directs thousands of runners, walkers and pets to step directly on the sacred ancient burial site.  
In addition to helping develop the report, Takvoryan, a December 2022 graduate who majored in English, also served as research assistant to King on the mound exhibition at McClung. She also grew up in Sequoyah Hills, and came to recognize after studying at UT the "strange and perverse constructed history with indigeneity in the neighborhood." The suburb was developed in the 1920s with ample Native American names and symbology, yet without any Tribal collaboration.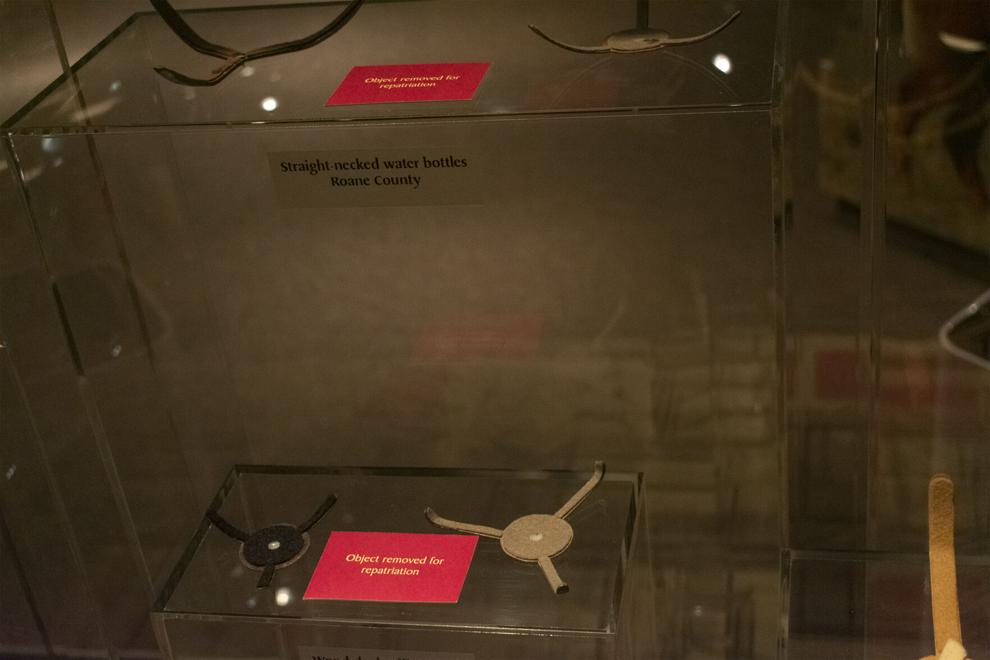 For her, the work on the Sequoyah Hills mound and the McClung exhibit are a means of making classroom discussions and personal reckonings actionable. 
"You can't take this apart forever," Takvoryan, who is currently at work on several research projects alongside UT faculty, said. "You actually have to build something out of it. So what are the tools that you can use to move this forward as opposed to just leaving a bunch of rubble?"
Standing beside an empty display case in McClung, marked only with small signs reading "Object removed for repatriation," Takvoryan addressed a common objection to NAGPRA work.
"Even though these objects are no longer on display, the past is not being erased because there is an acknowledgement of harms and wrongdoings, but also an acknowledgement that steps are being taken to try to right these wrongs," she said. 
It may come as a surprise that students and faculty from the Department of English have been at the forefront of UT's repatriation efforts, traditionally the purview of archaeologists and anthropologists. But Takvoryan, who studied rhetoric with Prof. King and other faculty, believes the discipline is central to the work. 
"An education in rhetoric is not an education in arguing or reading someone, it's really an education in listening," she said. "It's really important to get the people who are trained in listening first and foremost to help build bridges between communities."
Another group that has played a central role in making Indigenous history and issues more visible on campus is the Native American Student Association, or NASA (pronounced "nay-suh"). The group does not use the title "president," which UT's student organization website requires, but it is led by senior Pilar Garcia, an English major with ancestral ties to the Santa Ynez Band of Chumash Indians.
Garcia, who also served as a research assistant to King, first visited McClung's exhibit on the archaeology of Native peoples for a literature class taught by Dawn Coleman, an associate professor and specialist on 19th-century American literature. 
Coming from the small town of Chapel Hill, Tennessee, where they attended a high school named after Nathan Bedford Forrest, a Confederal general and the first Grand Wizard of the Ku Klux Klan, Garcia said they did not get a fuller idea of Indigenous history until coming to UT. 
"When I was a kid, first grade all the way up until middle school, it was the story of Thanksgiving, which is, 'And the Indians and pilgrims were friends forever, and nothing bad ever happened and they taught us how to plant corn and it was so cool,'" Garcia said. "I don't think that narrative was changed until I got into college."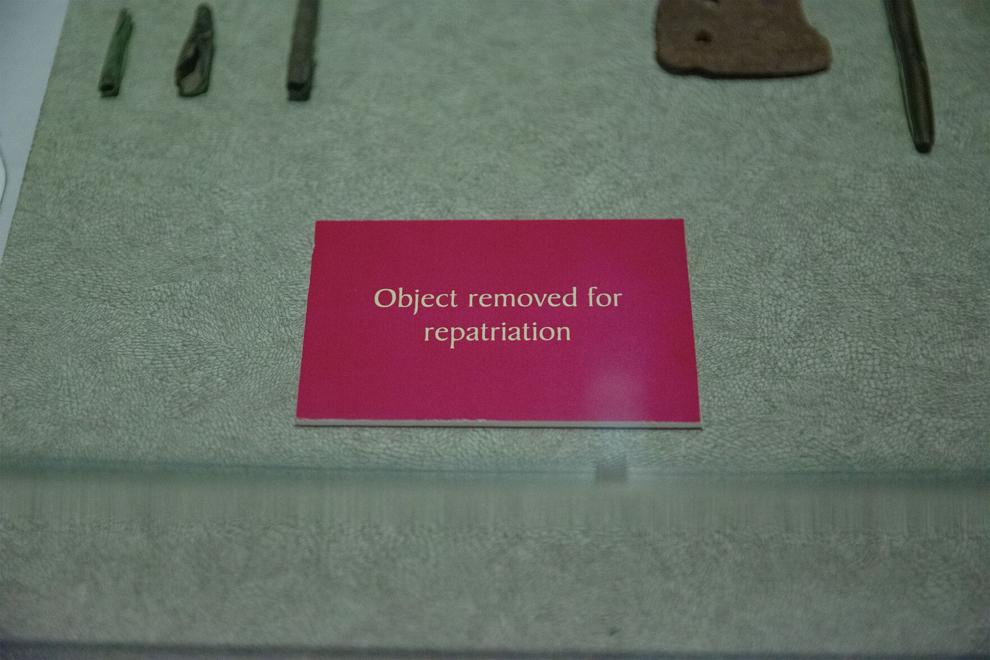 In the original exhibit, phrases that described Native peoples "adapting to changes brought by European settlement" resisted a full acknowledgement of the violence that came with colonization. The absence of work or stories by contemporary Native peoples, save a film that used to play in the exhibit's theater space called "We Endure," created a sense that to be Indigenous is to be bygone. 
Now, quotes from Tribal representatives and a new film – a production of the Choctaw Nation of Oklahoma titled "NAGPRA: No Stone Unturned" – create room for people like Garcia to see themselves. 
Garcia said a particularly meaningful quote on the exhibit wall is from Johi Griffin Jr., historical sites keeper in EBCI's Tribal Historic Preservation Office: "I believe that that there is no greater honor than having the responsibility of returning our ancestors back to where they belong, in Mother Earth and not on a shelf."    
"I came here with a friend and I saw how much had changed and I cried," Garcia said. "I started crying right there."