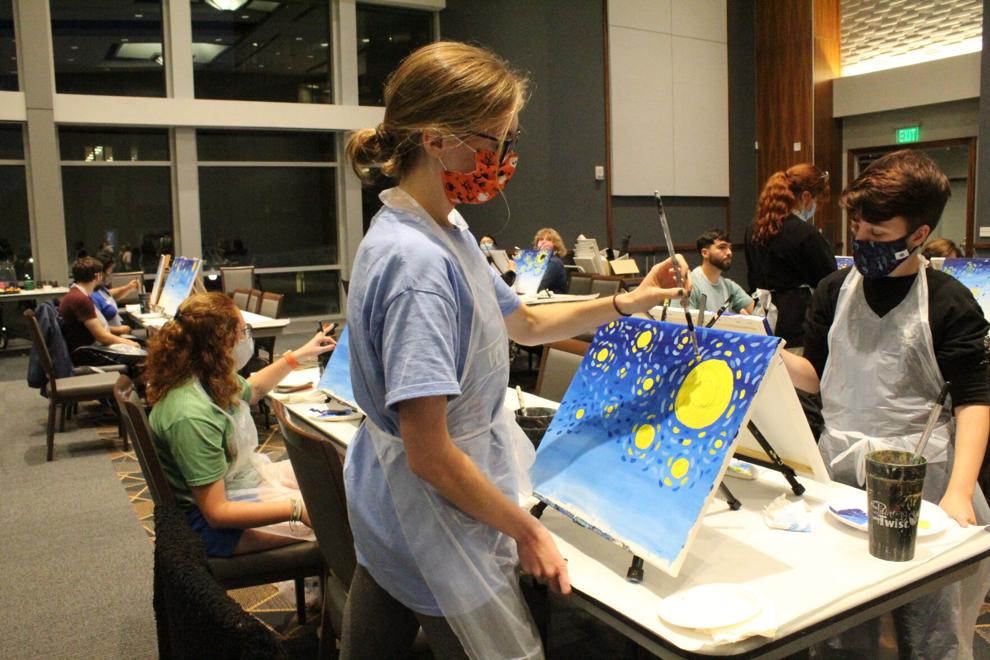 This past Thursday, UT students were able to add a twist to their routine week night by attending a painting course at the Student Union ballroom. Knoxville's own Painting With a Twist, a company dedicated to providing paint parties, hosted the event and helped students to unlock their inner artist.
The idea for on-campus painting classes, as noted by public relations major and member of the Arts and Culture Committee Bailey Ly, was first pitched two years ago by members of the UTK Campus Events Board and has since gained immense popularity at the university.
"It's a great way for students to meet new people and make new friends," Ly said. "Since this event usually falls around midterms, it also gives people a chance to relax and destress."
This year proved to be no exception, bringing in up to 70 attendees despite the original postponement and location change of the event due to inclement weather.
With this being a private session, Painting With a Twist allowed the Campus Events Board to choose what artwork students would be learning to paint. This year, the chosen piece was a scenic Starry Night Painting, inspired by Vincent Van Gogh's renowned work, but with an added local element of the Knoxville Sunsphere.
Throughout the session, attendees were taught how to efficiently mix colors and use certain brush strokes to create the bright, swirling stars prominent in Van Gogh's own piece. In addition to step-by-step acrylic painting instructions, students were also supplied with their own disposable apron, brushes, paint and canvas.
While the focus of the night was painting, students were given other opportunities throughout the class. As painters let their work dry, they were not only able to eat and interact at a provided snack bar, but they were also able to take part in UT trivia games, having the chance to win an original Painting With a Twist piece of artwork.
In addition to helping students with both their painting skills and their social skills, this event has also been incredibly beneficial to Painting With a Twist employees.
Aly Tenorio is a UT student and painting instructor at Painting With a Twist. She described her experience of working these sessions.
"This is my second event for UT just this week, and I think these events have definitely helped bring in business. These larger events tend to be where we make the most money."
Though the event was instructional in nature, Tenorio and her colleagues made it clear that their main objective for these classes is to provide a fun and calm atmosphere. Regardless of artistic or creative skills, Painting With a Twist helps gives guests a chance to wind down, and at the end of the day, students can leave with lifted spirits and a sense of accomplishment.