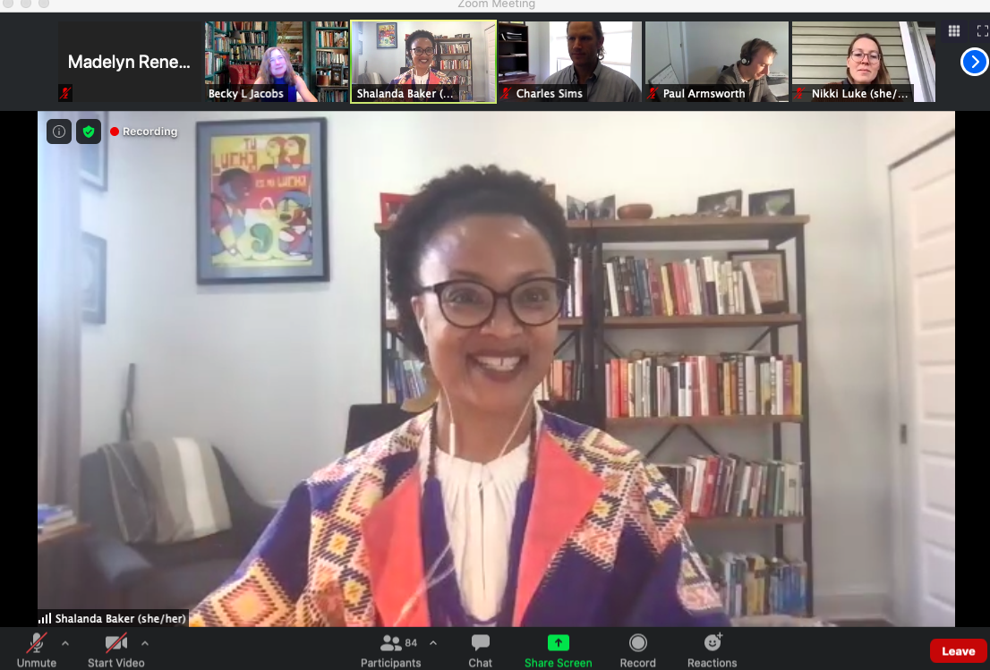 On Thursday afternoon, Shalanda Baker spoke about racial injustice in conjunction with the transition to clean energy as part of the Howard Baker Center's Distinguished Energy and Environment Lecture Series.
Baker is a professor of law, public policy and urban affairs at Northeastern University, as well as the deputy Director for Energy Justice & the Secretary's Advisor on Equity at the United States Department of Energy.
She is also an author, and her book, "Revolutionary Power: An Activist's Guide to the Energy Transition," was the subject of Thursday's talk.
Charles Sims, economics professor at UT and the Director of the Energy and Environment Program at the Howard Baker Center spoke about the importance of this series.
"In this series, we are trying to bring in interdisciplinary perspectives on energy and the environment," Sims said.
First, Baker discussed George Floyd's murder, and how racial justice is tied to the injustices in the energy system.
"His life and death reveal a prism through which to look at inequalities," Baker said.
During her time as a Fulbright scholar in Mexico, Baker experienced first-hand the importance of recognition of justice as Oaxaca, the second poorest state in Mexico, suffered under the transformation to wind energy.
"The people in this region have been ground zero for Mexico's clean energy transition … unfortunately a lot of that development has come at the expense of the local population," Baker said.
From 2014 to 2016, Baker was a professor of law at the University of Hawai'i, where she saw the regulatory sphere's potential to shape clean energy transition in Hawai'i and elsewhere, as well as the importance of equity in the energy transition.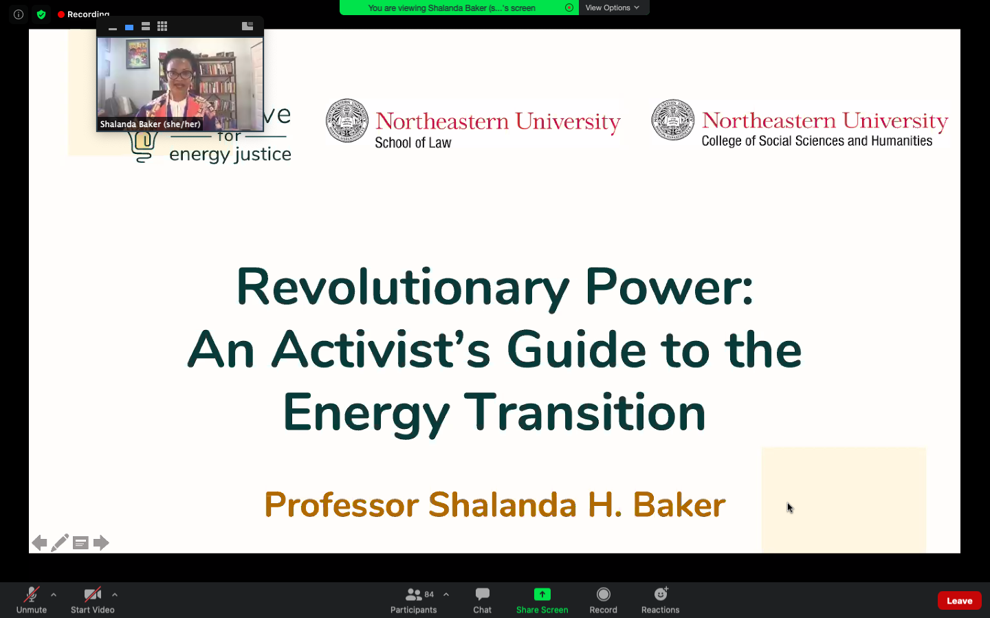 There, Baker started the Initiative for Energy Justice, where she and a group of students went to different communities in Hawai'i and asked their perspectives on energy justice, always looking towards equity in Hawai'i and beyond.
"I knew that those two transitions were really just a precursor of what was to come," Baker said.
Baker spoke about the concept of equity in these policy decisions further, especially looking to the future.
"If we create a system without equity at the front of our minds, we're going to create a system that is unequal," Baker said.
The COVID-19 pandemic has also exposed different facets of environmental justice, such as the impacts of pollution exposure and how this exposure makes people more susceptible to serious health impacts from COVID-19 infection.
"This was the result of decisions that were made. … They made the choice to site more polluting industries in Black and brown communities," Baker said.
Baker continued in her discussion of the intertwined nature of energy injustice and racial injustice, referring to the two as inextricably linked and major aspects of the structural racism in the country as a whole.
"In many ways, the idea of 'we can't breathe' is an idea that predates George Floyd," Baker said.
In looking at different communities that have been hit hard by energy injustice and health problems, such as those in Texas as well as Massachusetts, Baker again confirms the ties to structural racism.
"These are the real lived experiences of people, the energy system has a race problem that can be mitigated through policy," Baker said.
Baker defined "energy burden" as the percentage of household income that goes towards energy costs, and defined "energy insecurity" as the lack of reliable access to uninterrupted energy sources at an affordable price, such as turning on ovens at night to warm houses.
Three major aspects of this crisis that COVID-19 has exposed are twin burdens, unequal benefits and structural violence, Baker explained.
Energy justice is the goal of achieving equity in both the social and economic participation in the energy system, as said by Baker.
Baker ended her lecture with sharing her own remedy to energy injustice, which focuses on frontline voices and anti-racist approach to policy decisions as well as the focus of practicing justice.
"Revolutionary power is all about creating an energy system that no longer kills us," Baker said.
Then, a question-and-answer portion began at the end of the event, and in this section, Baker discussed third-party ownership of energy panels, the power of community, wasting energy and the important roles of both industry and government in these situations.
The last event of this series will take place next Thursday at 1 p.m. featuring Dawn Parker from the University of Waterloo, who will talk about urban planning.