After hours of cold, rainy weather, the sun decided to shine just in time for The United Residence Halls Council (URHC) to host its annual carnival in the Humanities and Social Sciences Plaza on Tuesday evening. From 6-8 p.m., students were able to experience the feel of a true carnival without having to leave campus — and without spending a penny.
In order to gain admittance to the URHCarnival, students had to sign in with their event pass in order to receive the orange wristband that granted access to the array of activities. Also at the check-in booth was a QR code that could be scanned to fill out a short survey about the URHCarnival. By filling out this survey, students were entered to win grand prizes, including a skateboard, hammock and speaker.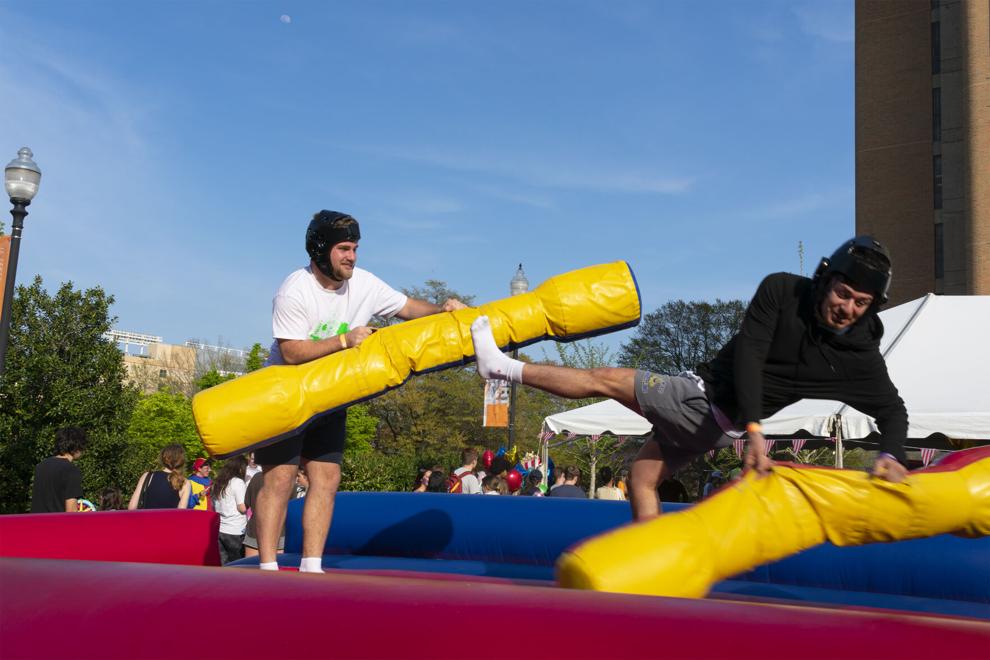 Multiple inflatable games like skee ball were run by residence hall staff members across campus. The jousting inflatable in particular gathered lots of students to watch one another fight with giant, relatively harmless air-filled weapons.
Each of the 12 residence halls were represented by a table with its own unique game and prizes. Clement Hall offered cowboy-themed cup pong with bandana prizes on the line, while Reese Hall attracted students with squishmallows given to the player who could accurately pin a rubber dart on a spinning wheel. Senior Adam McDaniel is among those who successfully walked away from Reese Hall's game.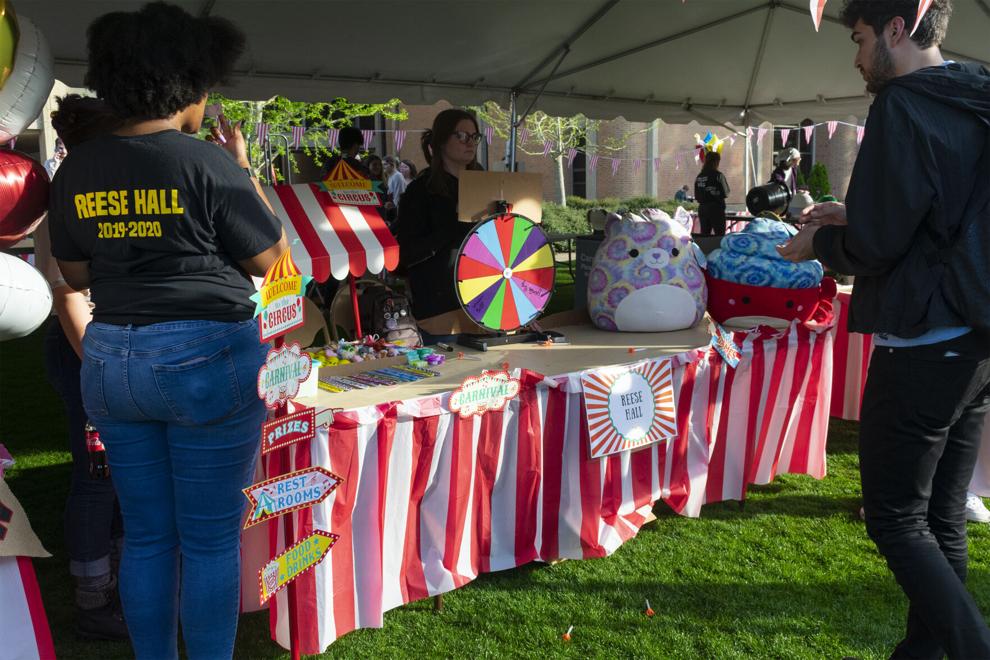 "There were a bunch of flyers advertising the carnival in the Student Union," McDaniel said. "It looked like a lot of fun."
Sophomore Alyssa Kelly also encouraged McDaniel to attend and ended up being gifted the axolotl squishmallow he won, which they named Abe.
While not everyone was lucky enough to walk away with a squishmallow prize like McDaniel and Kelly, there was the opportunity to win smaller, different prizes by playing Reese Hall's game.
"The toss was fail-safe," Kelly said. "Everyone could have a chance."
Other attractions at the URHCarnival included basketball, ring toss, plinko, face painting, a dunk tank, a cake walk and even plant pong — essentially cup pong but played with plant pots instead of ordinary cups.
The URHCarnival also offered free drinks and food to attending students. Throughout the event, many were seen carrying around soda, cotton candy and popcorn.
As the second largest organization on campus, URHC is responsible for providing entertaining programs for students throughout the year. The URHCarnival is URHC's biggest event of the year. After the carnival's successful debut enjoyed by the URHC executive board and students last year, current members were sure they wanted to bring it back again.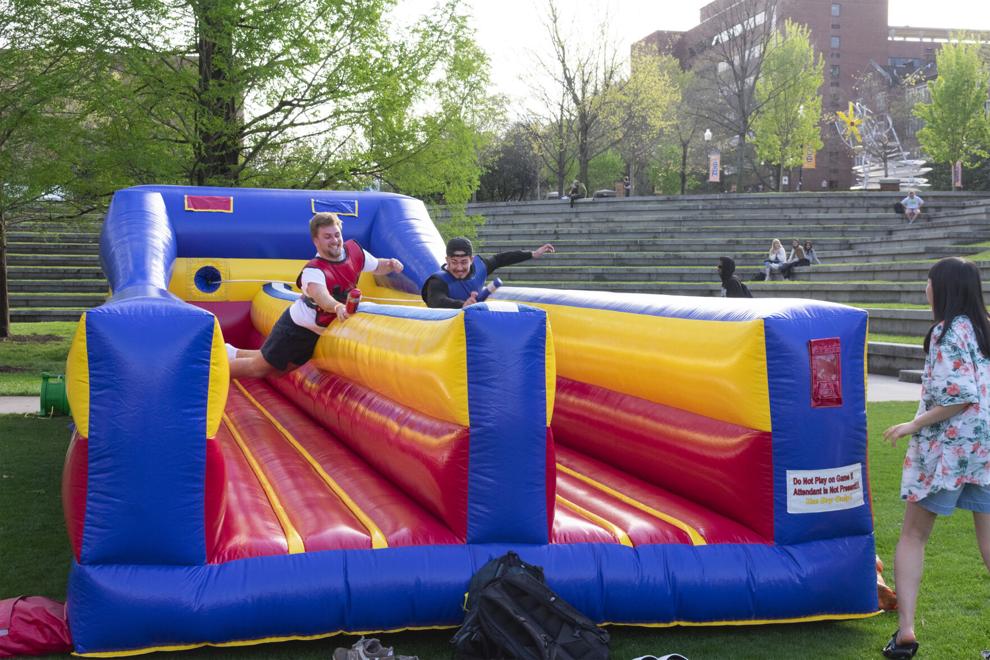 Paige Hlad, a second-year graduate student pursuing a master's degree in College Student Personnel and URHC's advisor, described the URHCarnival as an event that brings students back to their childhood.
"I am beyond proud of my seven students organizing the event," Hlad said. "They have spent months coordinating games with the 12 hall councils, calling countless vendors, deciding facility needs, all while being students at the same time. That's why this event is so important, not just because of the two hours it occurs, but the impact it has on all involved."
The seven students responsible for bringing the URHCarnival to life this year include seniors Samantha Huang, Jeffrey Quick and Mars Ward, junior Fernando Puentes, sophomore Jennifer Ross and freshmen Carson Bock and Drew Oxley.
The URHCarnival certainly provided something of interest to all UT students. Attendance at the event was higher than some staff anticipated — even some students who didn't see it advertised throughout the past couple of weeks stopped by to inquire about what was happening.
After two years of success, it's likely that the URHCarnival will be brought back for the third time in 2023. Until then, students have memories and pictures to remind them of the fun URHCarnival brought to campus.