On Thursday evening, Jonathan Haidt, Thomas Cooley Professor of Ethical Leadership at the NYU Stern School of Business, delivered the 2022 Baker Distinguished Lecture before a large audience in the Student Union Auditorium. It was the first time Haidt had traveled to deliver an in-person lecture since the onset of the COVID-19 pandemic.
Haidt's reputation as a trusted psychologist of morality was established with his landmark 2012 book "The Righteous Mind: Why Good People are Divided by Politics and Religion" and an adjoining TED talk in which he presented research suggesting that the psychology of morality had less to do with childhood development than with genetic predispositions.
Since that time, Haidt has become known as an active critic of the culture of American universities, which he and frequent collaborator Greg Lukianoff, president and CEO of the Foundation for Individual Rights in Education (FIRE), call a moral culture of "safteyism," complete with safe spaces, trigger warnings and canceled speakers.
In the pair's bestselling 2018 book "The Coddling of the American Mind: How Good Intentions and Bad Ideas Are Setting Up a Generation for Failure," they argued that students of Generation Z, born after the year 1995, had arrived at college with a stunning dedication to maintaining their own emotional safety at the peril of free and open expression.
"My mission is to study moral psychology and use that knowledge to help important institutions and systems work better," Haidt said. "I wrote that in 2012, and immediately afterwards, almost all of our institutions are collapsing into paroxysms of mutual contradiction and hatred."
In her introduction of Haidt, Chancellor Donde Plowman shared the story of the time she read "The Coddling of the American Mind." Taking advice from former governors Phil Bredesen and Bill Haslam during their visit to campus last year, Plowman said she picked up the book specifically because she believed she would not agree with it.
Perhaps because she is a mother and a college administrator, Plowman thought she would be too defensive to truly hear what the book had to say. In the end, she appreciated Haidt and Lukianoff's message, which she said connected well to the legacy of the lecture's namesake, former Tennessee Senator Howard Baker.
"You know what, following that advice was a great thing. I learned so much from this book and I have to say, I couldn't find much I disagreed with in it," Plowman said. "I can't say enough about how important I think it is for us to live out the legacy of Senator Howard Baker by doing just what we're doing tonight."
Haidt focused on what he said were the three bad ideas damaging American universities, namely that humans are innately fragile, that feelings are trustworthy and that life is a struggle between good people and evil people.
Though Haidt's placement of 2014 as the turning point in higher education is specific, he was unambiguous in saying that the great historical legacy of American higher education fell into a steep decline beginning that year.
He connected the decline to the "defend mode" mentality of Gen Z college students, characterized by paranoia, skepticism of others and a zero sum, winner-takes-all approach to learning.
"America created a miracle of knowledge creation in the 20th century. And then, everything started going wrong in 2014. It wasn't like this in 2013 or 2012, but in 2014 something started happening, which is, the students coming in, a lot of them were in defend mode. They arrived in defend mode and they stayed in defend mode," Haidt said.
Haidt placed "defend mode" in opposition to what he called "discover mode," an orientation towards education that sees growth, not winning, as the highest aim.
Running through the recent history of free speech controversies at universities like Yale and UC Berkeley, he critiqued trends of overcautious parenting and safety-focused college leadership that contributed to students' fragility.
"Students were in defend mode in these candy shops called universities, these incredibly safe, nurturing places that are very focused on fighting racism and homophobia. It's in the most progressive places that this fear was the strongest," Haidt said. "Some students think that they are fragile and they're in a dangerous and hostile university, and they need protection from words."
Haidt has long been willing to step away from the academy to speak to the public on religion and politics, but his scholarship on higher education, with its critique not only of restricted speech but also what he sees as the oversimplified binaries of antiracist pedagogy, has entered more political territory.
He is a member of the board of advisors for the University of Austin, a proposed liberal arts school which would be dedicated to diversity and freedom of thought. He is also the founder of Heterodox Academy (HxA), a collaborative nonprofit of scholars working against what they see as a lack of viewpoint diversity in higher education.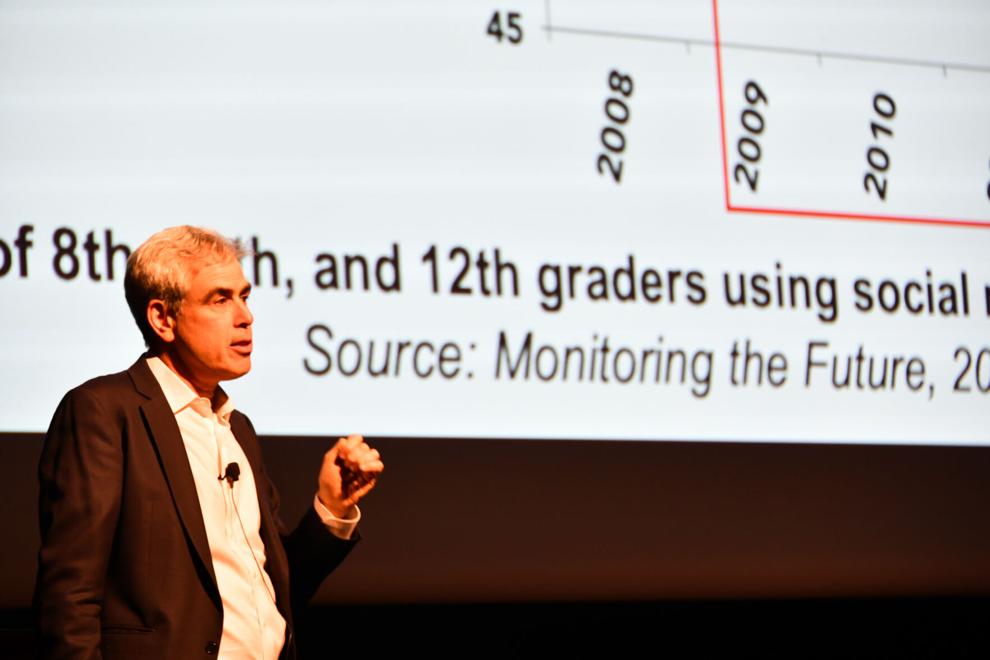 The problem, however, is not merely with colleges, as Haidt and Lukianoff originally believed. Later research showed that Gen Z students were coming to college already at a much higher risk of mood disorders and self-harming tendencies.
"The central piece here is the extraordinarily rapid rise of depression, anxiety, self-harm and suicide in Americans born after 1995," Haidt said. "When Gen Z arrives on campus, the rate of psychological disorders skyrockets."
Though the rise in psychological disorders and suicide is not caused by any single factor, Haidt said social media, particularly for young girls and on image-based sites like Instagram, were causing the most harm. In an article for The Atlantic last November, Haidt laid out the case against social media companies for the rise in mental illness in teen girls.
It was on this subject that he expressed the most vehement call for change.
"If any attorneys who want to initiate lawsuits, I laid it out for you how to show causality in front of a judge. I really want them to be sued. Something's gotta change. No force on earth is making them change other than, we hope, legislation and lawsuits. Sorry, I get a little carried away there. I'm a little passionate about that one," Haidt said.
Borrowing a term from writer Nassim Nicholas Taleb, Haidt encouraged faculty to teach their students how to be "antifragile" and to recognize the signs of psychological disorder, such as catastrophizing and overgeneralizing.
Dean of the College of Arts and Sciences Theresa Lee said increased emotional strength and ideological diversity would be reflected in a new first year seminar in the fall that will ask freshmen to consider the purpose of college.
"The whole point is to hear different perspectives, be able to talk about yours, be able to change your mind, be able to change other people's minds. That's what we're here for," Lee said. "I think kids are arriving from high school not having experienced a lot of times that form of learning."
Though Haidt's message resonated in part with her interactions with students, Lee said his warning against overinvolved parenting was even more relevant. She has seen this dynamic especially with the general education philosophy course "Contemporary Moral Problems."
"Every semester now we'll get two or three — not students, parents — calling or writing saying that they think it's terrible their student is being exposed to this kind of conversation, that it's not ok. That's what rings really true to me," Lee said. "When parents are calling in saying, 'I don't want my student to talk about abortion in a class that's about current controversies,' they're missing the point of the class."
Lee noted that there are other courses for students who are uncomfortable with such discussions to fulfill the requirement.
For Gen Z students, Haidt gave a recommended reading list which included "The Coddling of the American Mind," the basics of cognitive behavioral therapy and several books of wisdom literature which seek to answer the oldest questions about human relationships and the purpose of life.
For students and other UT community members interested in Haidt's work, he shared the he has a new piece on the negative effects of social media forthcoming this month in The Atlantic.