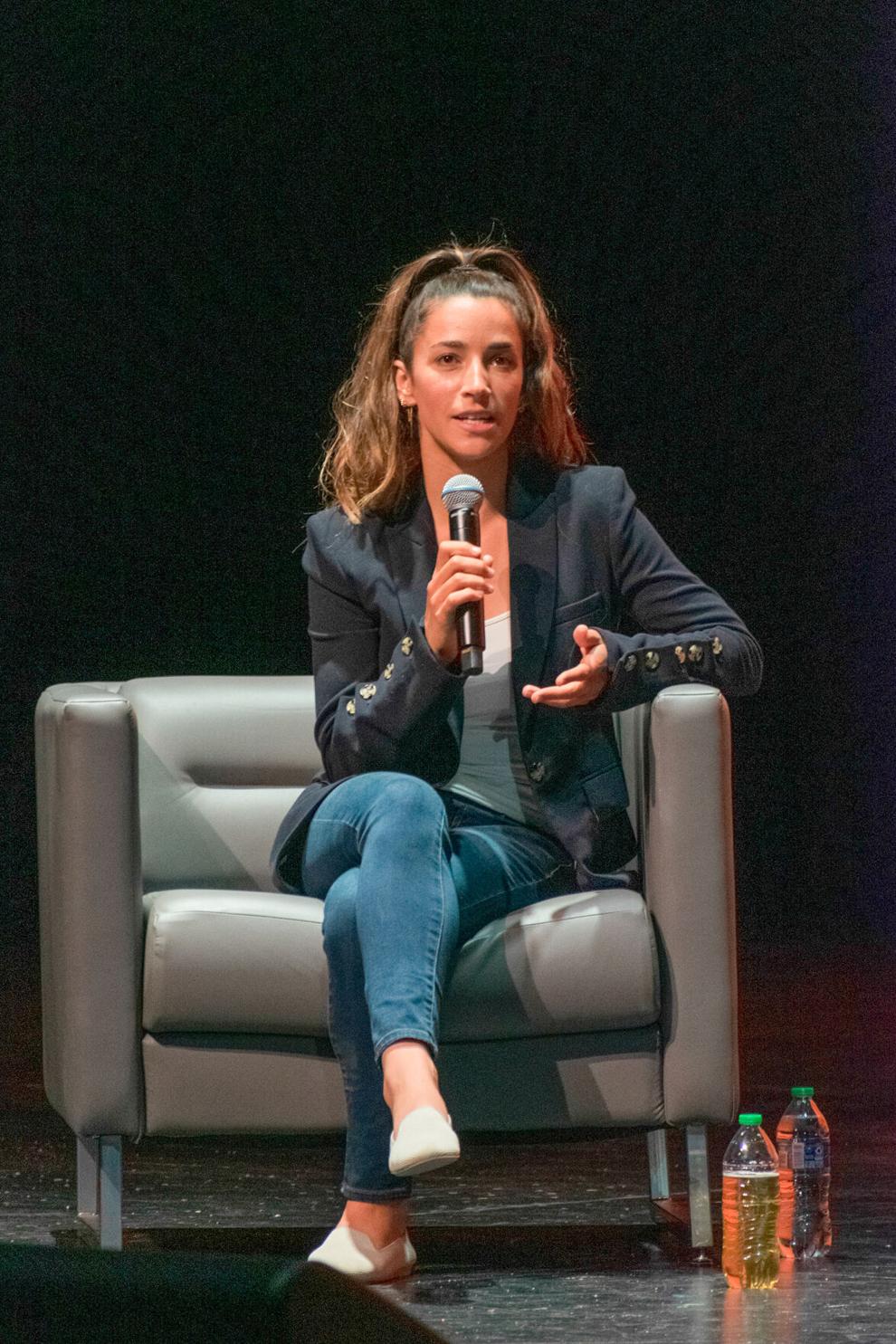 On Monday, Sept. 13, the six-time Olympic medalist winner and two-time Olympic team captain Aly Raisman spoke to students on her experience in the sport of gymnastics at the Student Union.
Students gathered in the Student Union, visibly excited to listen to Raisman tell her story. Moments before Raisman entered the stage, Andra Day's song "Rise Up" was playing in the auditorium. It set the tone for what was to come during the event.
After Raisman's introduction, she was asked about when she realized she could make it big.
"When I was around 15 years old, I competed at the elite level, and I got third place at the junior national championships and so that was really the first moment I realized that I had maybe a chance," Raisman said.
Raisman definitely had a chance, because only a few years after that she made the 2012 Olympics team. She described to the audience how quickly the fame came to her and her teammates.
"Going from being in high school and no one knowing who you are, and then going to the airport and everyone has their phones out taking pictures and videos, that is something that I don't know if you ever get used to ... It literally happened to us overnight," Raisman said.
When Raisman began to speak about life outside of gymnastics, she connected to the audience on self-identity.
"I have been trying to figure out who I am outside of gymnastics. I am sure some of you are able to relate ... when you play a sport your whole life and you are done with it. I think it can be easy for our identities to be wrapped up in the sport that we're doing," Raisman said.
With several sexual misconduct allegations against trainers and coaches in the world of gymnastics, the sport has a long way to go in terms of treatment towards athletes. With advocacy work and multiple activism projects, Raisman is hoping to leave a lasting legacy on the sport.
"My goal is for there to be a full independent investigation of all of the stuff that's been happening. I think that's really important," Raisman said.
Another goal of Raisman's is for there to be more joy in the sport, as well as more communication between athletes and coaches.
Raisman uses her platform to empower women in and out of sports to be confident in themselves. She came forward in 2017 as one of the many gymnasts who are survivors of sexual abuse by Larry Nassar, the former USA Gymnastics doctor.
She described to the audience how her advocacy work has been going.
"It kind of feels never ending. It is exhausting and draining. I think when I first shared my story of being a survivor of abuse, I had absolutely no idea how common it was … it wasn't something that was talked about a lot," Raisman said.
A big problem in society is the fear that survivors have of not being believed. Raisman personally experienced that fear.
"When I shared my story I didn't think about how people would react, I thought about how USA Gymnastics would react, because they were so much like family to me — or at least I thought they were. I was afraid they were going to hate me," Raisman said.
Raisman stressed to the audience the importance of trusting yourself. The more people that have the ability to speak up, the more educated society will become on sexual abuse. Raisman said that having tough conversations can lead to change.
On Sept. 24, Raisman's show "Darkness to Light" will air on Lifetime. In this show, she talks with several survivors. She explained that the process of the show was a lot of hard work and also was painful for her at times.
"There are some days where I feel like I want to crawl out of my skin because it is so triggering and exhausting," Raisman said.
The event ended on a lighter note with questions from the audience. One student asked what Raisman's favorite non-gymnastics moment has been. She said that getting her dog Milo has helped her feel more secure in herself.
"If it was either the Olympics or my dog I would choose my dog in a heartbeat," Raisman said with a smile on her face.
After the event concluded, UT Campus Event Board member and moderator of the event Delia McDevitt said that it was a starstruck moment for her.
"I was honestly really nervous, especially given the size of the crowd, but Aly (Raisman) ended up being super down to earth. It was such an awesome experience, and I appreciated her grace in talking about such difficult personal topics," McDevitt said.
Former gymnast and UT sophomore, Nicki Marker, explained how she felt after coming to the event.
"As a former gymnast, I was ecstatic when I found out Aly Raisman was coming. I rearranged my whole schedule so I could come. Being able to see her in person was so cool to me. As I am older and now a young woman, she means more to me than ever," Marker said. "I see how mature she is and how she stands for so much. She is outspoken on sexual abuse and is doing so much using her platform of fame. I am happy I got to see her, and she inspires me to be a better person."
UT sophomore Emma Koppenhaver felt that Raisman was very well spoken and genuinely honest about her experiences.
"She was not afraid to share the good, bad and ugly, and I think that shows a lot about her character," Koppenhaver said.