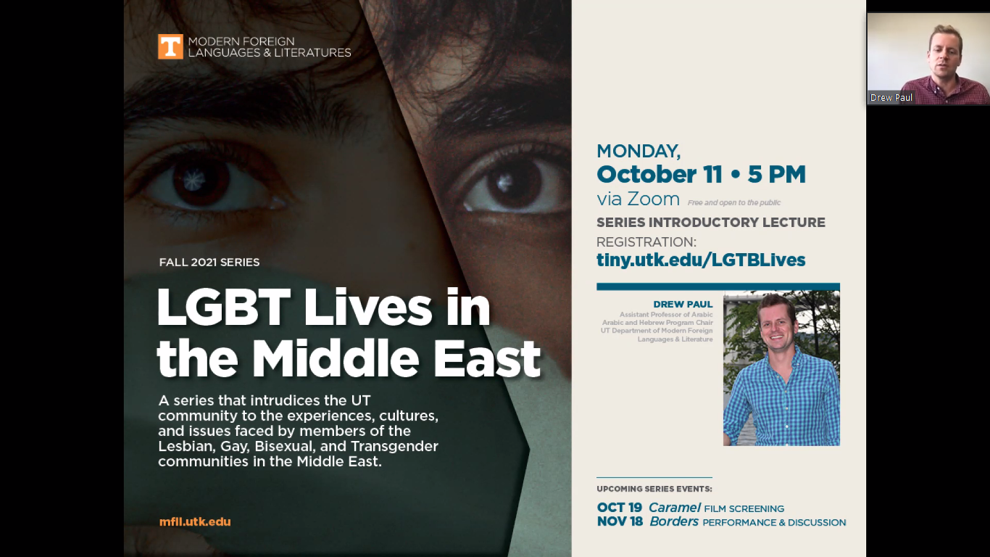 Drew Paul, an associate professor and the chair of the Arabic program here at UT, delivered a lecture on Monday night about being LGBTQ in the Middle East and Northern Africa. The lecture introduced a semester-long series sponsored by the Middle East Studies Program called "LGBT Lives in the Middle East."
This discussion was broken into different parts so that the information wasn't thrown at the audience all at once and ranged from topics like politics to how being LGBTQ is portrayed in Middle Eastern media.
Paul said that historically, it wasn't uncommon for there to be depictions of same sex couples in different artistic works. This is true for every region including the ones that Paul talked about. The most common way it was alluded to in the Middle East was in art and poetry, especially in the work of eighth century poet Abu Nuwas.
There was tighter control of expression in the 18th and 19th century as European powers like France and England started exploring "new" territory. This was because these powers viewed homosexuality as something that was "backwards" rather than progressive. This led to the start of some anti-sodomy laws, including some that are still in effect today. Some countries though, like Jordan and Israel in 1953 and 1988, got rid of theirs.
Now, countries that are in Europe or North America are more accepting of the LGBTQ community, while the Middle East and Northern Africa are still seen as "backwards" in the sense of it not being widely accepted.
There are many advocacy groups now for those in the LGBTQ community to rely on and get resources from, the more well-known ones being Helem in Lebanon, alQaws in Palestine, Aguda LGBT Task Force in Israel and the Kaos Gay and Lesbian Cultural Research and Solidarity Association in Turkey.
Sophomore Reem Wolde said that it would make more sense for there to be more support for social issues.
"Not to create an unfair assumption to causation, but wouldn't more democratic regimes allow for more support for these types of social issues?" Wolde said. "It's harder for citizens to advocate for these types of rights if their government shuts down freedom of speech or freedom of the press."
When it comes to coming out, it is already something that is hard for many people. In the Middle East, however, Paul said it is extremely complex. As it is not widely accepted, it is much harder for people in the Middle East and Northern Africa to come out in fear of what could happen.
Paul said that there is some type of negotiation that is done when Middle Eastern individuals come out.
"For many LGBT Middle Easterners, coming out is not black and white, but rather is a complex negotiation of different audiences and spaces," Paul said.
Paul quoted Joyce Kammoun, a legal manager residing in Beirut, who said for a New York Times article that flexibility is key to being in the LGBTQ community in the Middle East.
"The way to survive is to be flexible – highly capable of adaption, figuring out which fights you can win, which fights you can't," Kammoun said. 
There is a lot of representation in the Middle Eastern media in the form of smaller films like "Salvation Army" by Abdallah Taia and "Caramel" by Nadine Labaki.
There will be some upcoming movie and play screenings this month and November for the "LGBT Lives in the Middle East" series. On Oct. 19, there will be a screening of the Lebanese film "Caramel" at 7:00 p.m. in the HSS Amphitheater. And on Nov. 18, there will be a live-streamed performance of the stage play "Borders" at 7:00 p.m. in room 101 in Hodges Library.
Those interested in attending these events can look for more information on the UT events calendar.
This article was updated from a previous version which stated that Joyce Kammoun was in attendance at the lecture.