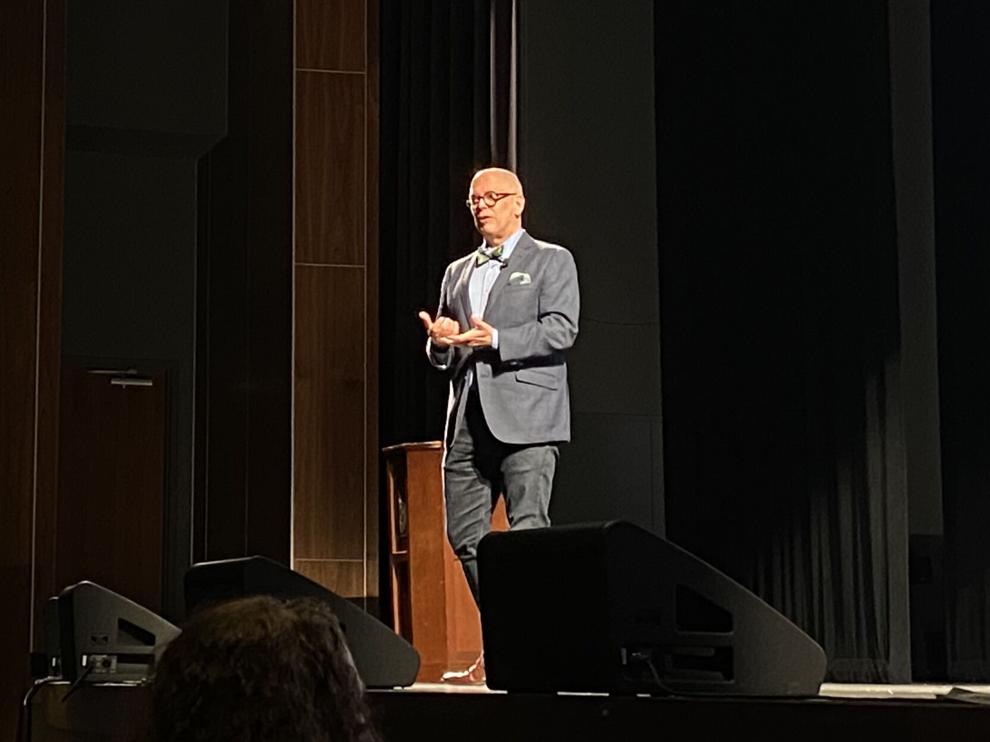 On Wednesday, Oct. 6, in the Student Union Auditorium, Jim Obergefell, the lead plaintiff in the Supreme Court case Obergefell v. Hodges that legalized same-sex marriage, spoke to students about his experience fighting for equal rights in the wake of his husband's death.
Kaitlyn Meadows, senior and executive chair for the issues committee on the Campus Events Board, was inspired to invite Obergefell to campus because of the nature in which he became so involved with LGBTQ rights. She admires the way he stepped out of his comfort zone to help himself and others.
"I think it's super meaningful that he describes himself as an accidental activist," Meadows said. "He said he was just kind of a normal person living a normal life, and he just wanted something for himself and realized he wanted something bigger for others."
Obergefell's speech offered a clear picture of the story of his involvement in the Supreme Court case and gave a heartfelt narrative of his attachment to the issue.
Beginning with how he met his late husband, John Arthur, Obergefell quickly captured the audience with a story of love and self-discovery.
Arthur and Obergefell met in their early 20s, when Obergefell was still in the closet. A few years later, Obergefell came out, and they met each other once again. They did not become a couple, however, until the third time they ran into each other.
"John and I liked to joke that for us, it wasn't love at first sight, it was love at third sight," Obergefell said.
Obergefell quickly garnered the attention of and struck a chord with the audience as he told stories from the more than 20 years he and Arthur spent together. He eventually revealed that Arthur was diagnosed with ALS and was given two to five years to live. He remembers his husband as someone who was constantly being selfless and doing everything in his power to be there for Obergefell.
"After that, he was always thinking about me, what he could do to care for me, but also make sure I was okay after he was gone," Obergefell said.
Until 2013, the two were never married. They lived together and felt as if they were married, but Obergefell said they had virtually no hope in ever being able to have a marriage legally recognized by the country. Until, while Arthur was bed-ridden, they watched the Supreme Court decision for the United States v. Windsor case that declared it unconstitutional to not federally recognize same-sex marriage.
"I'm standing next to John's bed, holding his hand as the news comes out that in their decision, the Supreme Court struck down the Defensive Marriage Act," Obergefell said. "And without having thought about this without even thinking about it, I leaned over and I hugged and kissed John and I said, 'Let's get married.' And luckily John said, 'yes.'"
At this point in time, Arthur was in hospice care, so planning a wedding was almost impossible. Eventually, they chartered a medical jet to Maryland and were able to be legally married on the tarmac where they landed.
Shortly after, a local lawyer heard about the couple and decided he wanted to help them get their marriage recognized by the state of Ohio, where they lived. He informed them that with the current laws, Arthur's death certificate would be inaccurate, not recognizing Obergefell as his surviving spouse.
"We knew Ohio wouldn't recognize our marriage, but that was an abstract thing," Obergefell said. "This piece of paper, this death certificate, made that abstract thing real, it made it harmful and it made it hurtful."
This moment marked the time at which Obergefell became an "accidental activist." They won the case in Ohio and Arthur passed away three months after. While dealing with the loss of his husband, Obergefell and his lawyer appealed to the Sixth District Court of Appeals where they lost the case. After that, the case, along with many other same-sex marriage cases, was picked up by the Supreme Court.
Throughout his speech, Obergefell recounted his memories of perseverance through this difficult time, stating that love was his main motivation for pushing all the way through. He wanted to finish the job for Arthur.
"I could've just said, 'alright, I'm going to let this drop and go back to my quiet life,'" Obergefell said. "But no, there was no way I could do that because if I didn't keep fighting for John, if I didn't keep fighting for this case, it meant I was not living up to my promises to love, honor and protect him."
"And there was nothing that would stop me from doing that."
Leaning away from the somber side of his story, Obergefell chuckled at the event as he retold his surprise in finding out from his lawyer that his name would be the name of the case.
"I was like, 'wait, you can't possibly mean my name is going to be the name of the case going to the Supreme Court?" Obergefell said. "Well that's exactly what he meant, and that's what happened."
He went into great detail telling about his experiences in the courtroom and his experience in hearing the decision to rule in his favor. He looks most favorably on the words of the late Justice Ruth Bader Ginsburg who responded to the argument that ruling in favor of same-sex marriage would change the definition of marriage.
"Well, Ruth Bader Ginsburg, boy do I miss her, she jumped right in and said, 'no, no, no, I'm sorry we already have redefined marriage because women are no longer the property of their husbands,'" Obergefell said.
Obergefell rounded off his speech by stating his gratitude for being able to participate in such an important landmark decision for the LGBTQ community and left the audience with advice to use love to persevere and fight for what you believe.
"I have to tell you, that whole experience and everything since, comes back to one simple reason," Obergefell said. "It all happened because I loved John. It all happened because he loved me, and it all happened because we deserved to have our relationship, our marriage matter."
He left students with a statement on the importance of demanding equality for all, not just for demanding equality that only benefits one group of people.
"Be vocal, be part of changing public perception, public policy," Obergefell said. "Do everything you can to fight for equality, not just for the LGBTQ community because … I have no rights to ask for my rights or equality if I'm not demanding the same rights for every other marginalized community."
Obergefell stated many times how he wishes he could still be with the love of his life and that he misses him every day. He explained, however, how thankful he is that he is able to remember Arthur in such a powerful way.
Not only has he had opportunities to continue to be an activist and even be Michelle Obama's guest at a White House event, but he has also had opportunities to hear firsthand how he and Arthur's story has impacted people.
"When I think about losing John … What an amazing legacy for the man I loved, that our marriage, our choice to fight for each other and our relationship could result in something so amazing," Obergefell said.
"I have to tell you, yeah I've done some amazing things … but honestly none of it compares to what happens on a regular basis … when people come up and talk to me and say, 'Jim, thank you.'"