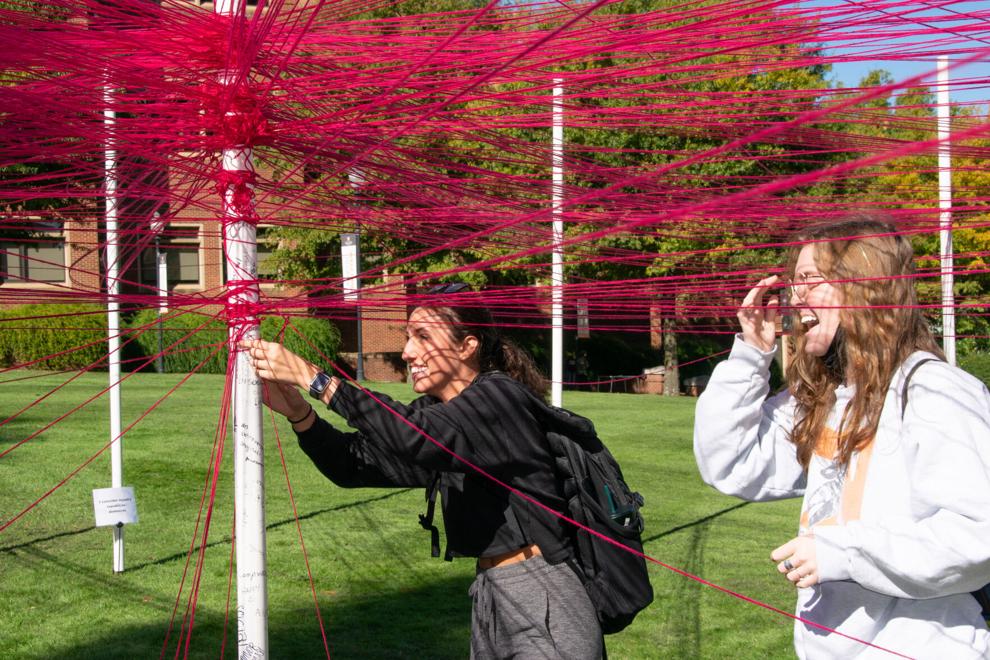 For the fourth year in a row, the Student Government Association's (SGA) Diversity Affairs Committee placed PVC poles into the lawn outside the Humanities and Social Sciences building and labeled them with various identifying statements. These included religious commitment, veteran status, sexual orientation, first language, academic preferences and more.
As students and faculty walked by the set-up at the center of campus, they were given the chance to add their own web of identities into a web of pink yarn by stringing a strand throughout the poles that describe them.
The event localizes the international work of UNITY, a public art initiative started in the Washington D.C. area in 2016 by activist Nancy Belmont, which is now a worldwide movement speaking out against polarization.
Dom Green, a senior studying sociology who serves as director of the Diversity Affairs Committee, said that the project is meant to display the interconnectedness of the many identities that people bring with them to campus.
"The purpose of The Unity Project is to give a visual representation of how even though we have differences in identity and beliefs we still are connected through community," Green said. "The Diversity Affairs Committee has been doing this event since Fall of 2018 and brought it back this year due to the impact it made on students."
Green said that the project hopes to combat the lingering isolation of the COVID-19 pandemic.
"With the pandemic, we've been forced to be separate and closed off from each other but through The Unity Project we can help bring back that solidarity," Green said.
The Unity Project transforms the work of diversity into a one-day public art installation, which is hard to ignore because of its bright color. Claire Donelan, senior and SGA Student Body President, said she loves this physical reminder of unity.
"The Unity Project is one of my favorite events that SGA puts on," Donelan said. "Having a public display on campus that shows how we are all different yet still connected as volunteers is so important."
Photo Gallery - Unity Project
Donelan hopes that the Unity Project and other SGA initiatives will not simply be fleeting symbols, but also spur conversations that can bring about real change. Among the goals of Diversity Affairs are event programming that promotes inclusion and activism and fundraising on campus to further UT's commitments to diversity and inclusion.
"We have an opportunity to start a bigger conversation about what diversity, equity and inclusion means to us and how we feel we can achieve those goals," Donelan said. "I'm very proud of the Diversity Affairs Committee and look forward to all future events this year!"
For more information about the work of Diversity Affairs, visit the committee's web page and follow SGA on social media.