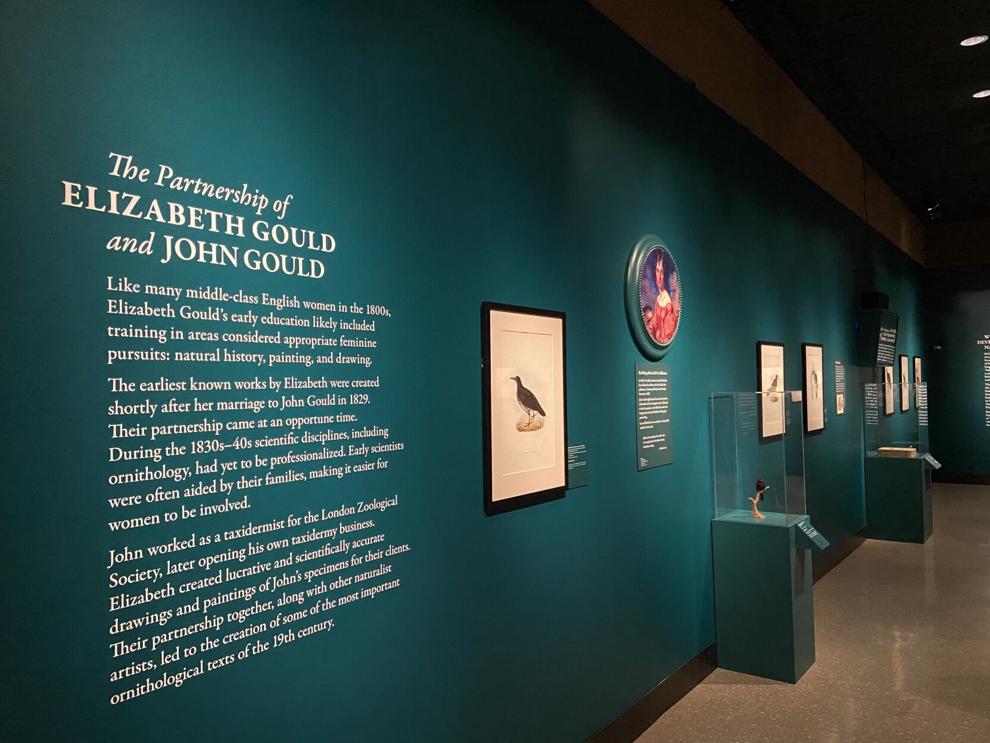 McClung Museum brings a more feministic approach to its temporary exhibit this semester. "Between the Hand and Sky: The Art of Elizabeth Gould" is an exhibition brought on by UT MFA graduate, Erin Wohletz. Wohletz had been studying Gould previously in an art history course during the time she was working as a graduate research assistant in the collections section of the museum.
Wohletz noticed Gould's work wasn't fully under her name, but of the name of her husband, John, and made it apparent to the collections manager. Shortly after the idea had been mentioned, COVID-19 hit, leading to McClung shutting down along with many of its exhibitions being cancelled the following year.
"They kind of came to me at that point and asked if I wanted to, you know, design an exhibition," Wohletz said. "And I was like, 'Well, I have something in mind that we've already sort of previously spoken about.' So it seemed like a perfect topic to approach, especially since McClung has so much of Elizabeth's work in their collections."
McClung is also known to accumulate donations over time, and Elizabeth Gould's work is very prominent in storage. Though Wohletz brought up the notion of shedding more light on Gould's artwork, she does not take full credit in the entire creation of the exhibit.
"The McClung is like an amazing machine, in some sense, where I feel like I came to them with an idea. And I did some writing and picking out images, and they sort of turned it into this amazing full exhibition," Wohletz said.
This exhibit feels extra special to those at McClung specifically because it had been in the works since May 2020. Since then, plenty of research had been done, and yet researchers are still trying to figure out why Gould did not get full credit for her prints.
The exhibit tells the story of Elizabeth Gould, a mother of eight in the 1800s who was a naturalist with her husband, John, and had a talent in painting the wild birds they observed. Only, she hardly received the credit for most of the 650 lithographs she created within her lifetime.
Lots of reasonings go into why Elizabeth Gould didn't receive recognition for her work like she does now. Catherine Shteynberg, assistant director and arts curator of McClung, said that Gould's lack of recognition could have been the combination of time period, the way science was practiced and the fact that no women were allowed to go to school. She also suggested it could be the lack of respect for illustrators in the publishing world.
"When you have a children's book, for example, the author gets the main billing, not the illustrator, even if the illustrator is also really important. So I think that's a book tradition, too," Shteynberg said.
Another reason was the discrimination women faced during the 1800s in general, and the fact that the work was under John's business and name. Nonetheless, McClung has been able to redeem the workings of Elizabeth Gould in a display that tells a story through the layout of the exhibition almost 200 years later.
Towards the end of her life, one of Gould's largest and most notable works, "Birds of Australia," was almost complete when she passed away from an infection in childbirth. Though her work is somewhat well known, she actually did not want to continue to do the prints, but continued to provide for her family. She mainly wanted to look after her children, rather than travel great distances to complete several works with her husband.
Shteynberg explained that it is important for students to know that this exhibit tells a story of just one of many women artists that were neglected and omitted, and that McClung always does its best to serve students.
"It's birds, which I know students who come in and be like, 'What does this have to do with me?' But this is sort of the era of the birth of the study of birds, ornithology and the study of science too," Shteynberg said.
She mentioned that even though COVID-19 made things more difficult, McClung found an opportunity for success and was able to make this year's exhibit better than ever because of the work of students like Wohletz.
"I'm just so, so thrilled to be able to highlight Erin's work," Shteynberg said. "And, again, pull out these gems from our collection. A majority of these works have never been on view before."
The temporary exhibit will be viewable to the public until the end of the fall semester and, as always, the museum is free to walk through. However, there is limited capacity in the building for COVID-19 restrictions.