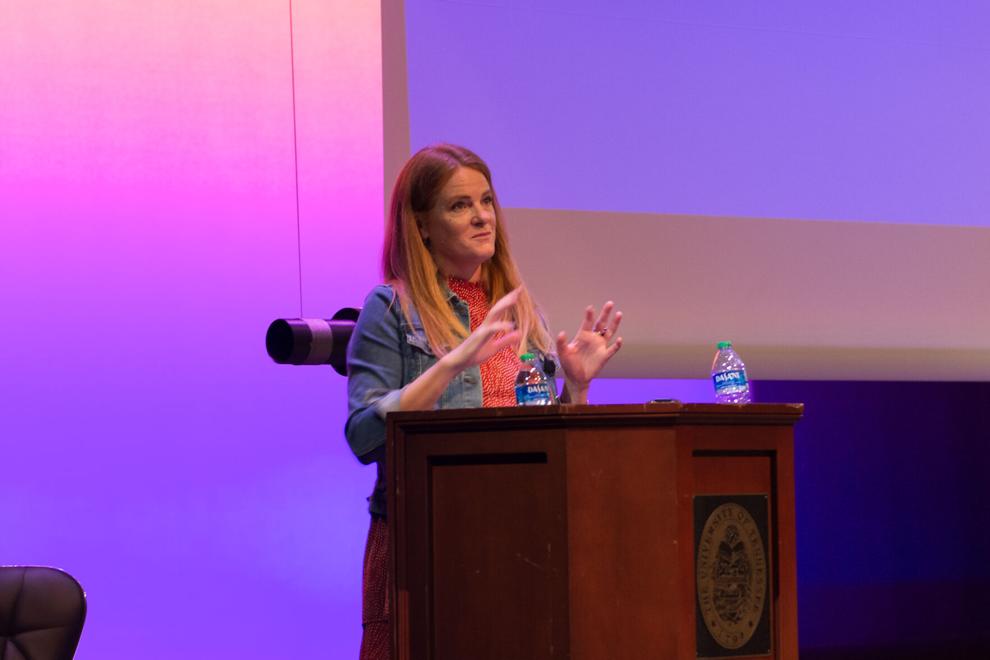 On Thursday night, longtime magazine writer and editor Erin Zammett Ruddy ('00) shared lifestyle advice from a panel of invisible experts at the Student Union Auditorium. They were the scores of experts she spoke with while writing her latest book "The Little Book of Life Skills," and their ranks include icons like Bobby Flay, Hoda Kotb, Rachael Ray, Dr. Oz and Ariana Huffington.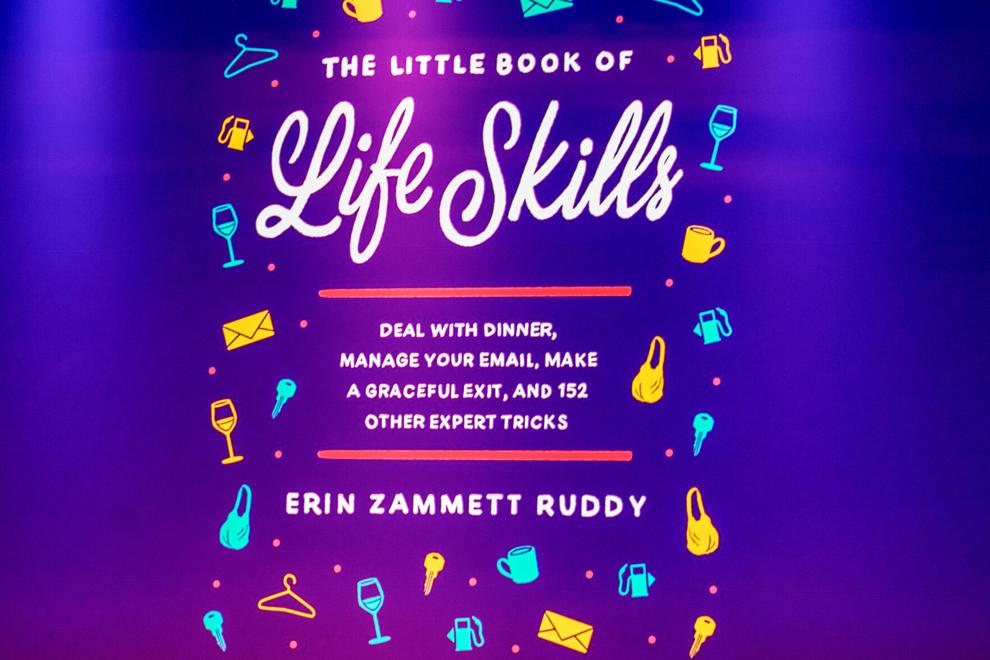 Though the book, an easy-to-read series of how-to's from icing layer cakes to defrosting meat to forgiving someone, was originally published in Sept. 2020, Zammett Ruddy was unable to have any in-person book events for a year. In fact, Thursday night marked her first event for the book outside of the New York City area, where she lives with her husband and three children.
After 20 years as a journalist and editor, Zammett Ruddy decided to utilize her network of lifestyle experts to write a collection of life skills, as taught by the people who know the best tips. "The Little Book of Life Skills" is self-help reimagined, a comprehensive guide of bite-sized advice from experts that is not replaceable by any Google search.
"That was the most exciting part of writing this book, was getting to talk to all these people about the thing that they're most passionate about and having them tell me all about it," Zammett Ruddy said. "I reference this book all the time. I'm not even kidding, I wrote it for myself."
The book is structured to follow a day, beginning with a sleep doctor's advice on how to get out of bed and ending with an organizing mogul's tips for reviewing your day. It is both a distillation and a culmination of all that Zammett Ruddy has learned about doing life well and achieving lasting happiness.
"I didn't want to be more efficient so that I could post about my perfect life on Instagram or watch more Netflix," Zammett Ruddy said. "I wanted to do it because I wanted to be more streamlined so that I could just have more happiness and more peace. I mean, that really is the ultimate goal for all of us."
During her time at UT, Zammett Ruddy played volleyball and worked as the entertainment editor for the Daily Beacon.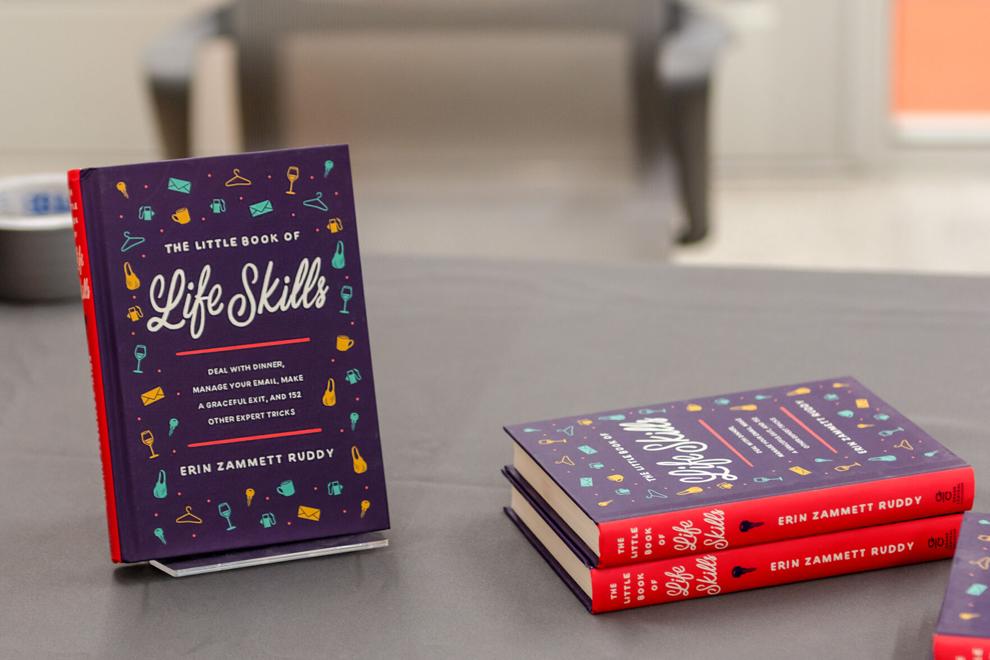 Before "The Little Book of Life Skills," Zammett Ruddy was best known as a lifestyle journalist and editor at Glamour, where she went to work shortly after graduating. Though she now realizes the great fortune of landing the job so early, Zammett Ruddy recalled her first day at the magazine, when she worried she had made a career mistake.
"I was sitting there next to my boss who was in an office and the photo editor, first day on the job, photo editor stands up and she's like, 'Oh my God, Jennifer Anniston cut her hair!' And the place went wild," Zammett Ruddy said. "Everyone was running. I think she was on our cover and she had longer hair and so it was gonna be a whole thing, we were gonna feel like we were late."
"I remember calling my parents and saying to them, 'I think I made a mistake.'"
But it didn't take long for Zammett Ruddy to love her job at Glamour. It was the early aughts, the heyday of the glossy magazine, and Glamour had enough money to fly Zammett Ruddy and her colleagues on splashy larks across the country for even small stories, like to Miami for pedestrian interviews.
She acknowledged the parallels to the 2006 film "The Devil Wears Prada," in which a dowdy aspiring journalist turns high fashion after landing a job at a cutthroat fashion magazine. While her clothes may not have become as glamorous as Anne Hathaway's in the movie, she was still in the arena of legends.
"I remember riding an elevator with Anna Wintour once in Gap jeans and Nikes and I was so, just like, 'Oh my God, oh my God,'" Zammett Ruddy said, referencing a run-in with the titanic editor-in-chief of Vogue. "She didn't see me of course, she had her glasses on. She doesn't see people, I don't think. I was just a lowly assistant. But it made for a good anecdote."
Glamour was not merely the place Zammett Ruddy worked, a magazine populated by some of the smartest people in the industry. After she was diagnosed with a rare form of leukemia at 23, the staff at Glamour helped Zammett Ruddy access a new medication that had just been featured in their print edition. They had become a family to her.
"Glamour, this place that initially was talking about Jennifer Anniston's hair, became this leukemia command station. The editor-in-chief got on the phone with Sloan Kettering and they got on the phone with the writer and they got me in touch with the doctor who developed the drug and we all kind of went to work … Spoiler alert, I'm still here. I was able to get on the drug."
Just as her life as a cancer survivor was beginning, Zammett Ruddy launched an award-winning column for the magazine about life with cancer and became one of the nation's foremost lifestyle writers on the subject.
After publishing a memoir titled "My So-Called Normal Life" in 2005 and working several more years as an editor at Glamour, Zammett Ruddy decided to go freelance, writing for Parents Magazine and Real Simple, among others.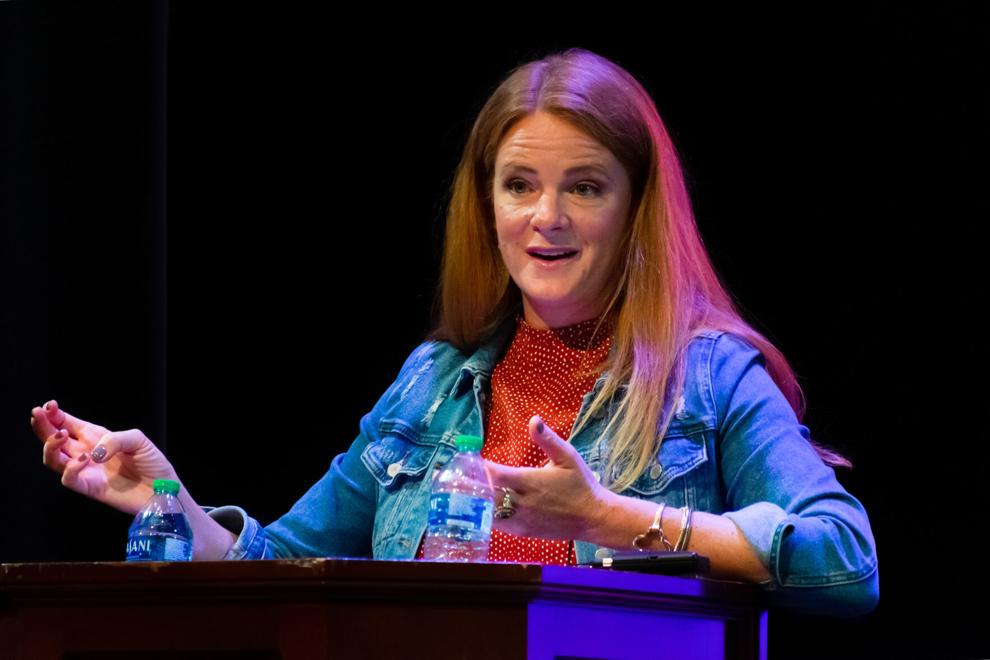 Zammett Ruddy's friends from college said that listening to the talk was like having a conversation with her. Amy Pate, a fellow graduate, remembers that her friend was always the kind of task-driven, motivated student that would go on to success.
"She's absolutely authentic," Pate said. "She did always make the lists and she's always been very serious about school … I'm not surprised by her success cause I always knew that she would go far and do great things, so it's just nice to see that realized."
During her time visiting Knoxville, Zammett Ruddy has been able to visit journalism classes, chat with the staff at the Daily Beacon office and even get a behind-the-scenes tour of the administrative offices high in Andy Holt Tower. She advised students to take advantage of the staff and faculty at UT who are paid to pour themselves into their students.
"They're all here for you, so use them," Zammett Ruddy said. "I called my husband, I was like, 'I want to go back to college.' Everyone is here to support you, it's amazing."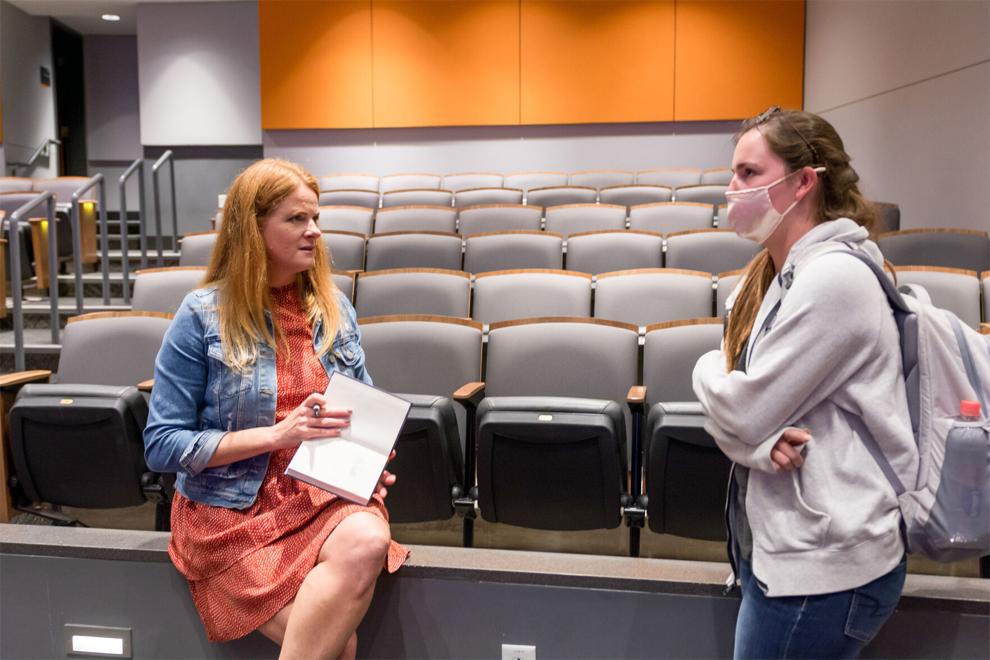 In her first book tour event, Zammett Ruddy acknowledged the toll that the COVID-19 pandemic has had on her readers. It has made her book feel more timely.
"I always shied away from the self-help stuff. You know, I was like, I don't need help," Zammett Ruddy said. "But now, we've embraced it. Everyone needs help, you know what I mean? If we have one thing in common it's that we all need help."
There was one section, however, that had to be cut from the book during the editing process early in the pandemic. Why would readers need expert advice on how to shake a hand during a pandemic? The how-to got the snip.
But if we ever do shake hands again, Zammett Ruddy has an expert tip for that, too. Never shake hands over a table.