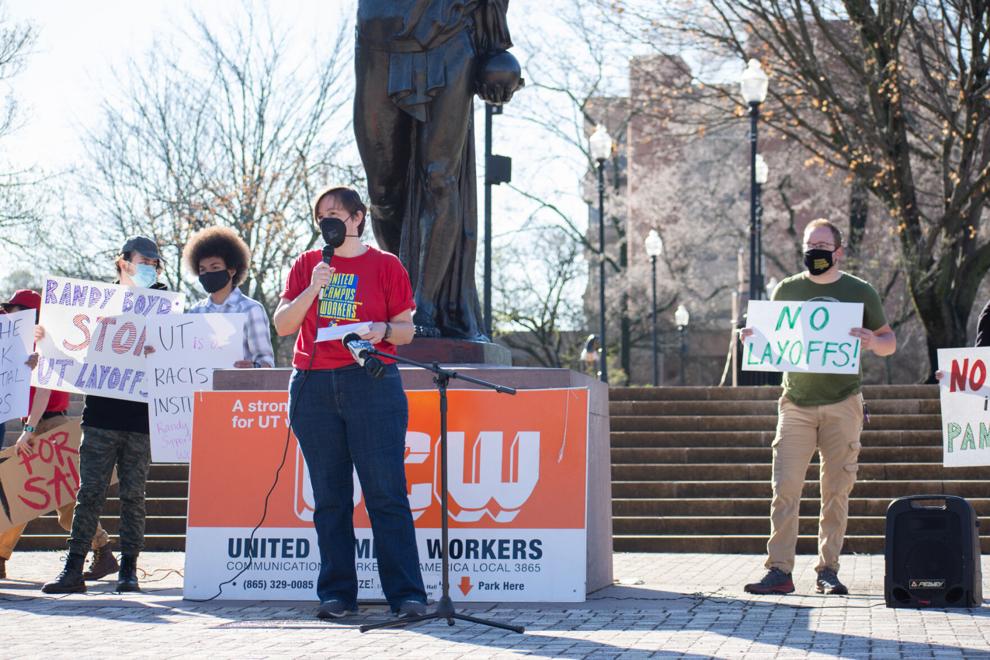 Just as UT President Randy Boyd and leaders from the university system across the state were finishing their annual State of the University address Friday morning, United Campus Workers and supporters gathered at Circle Park to protest an event that went unmentioned at the celebratory address.
In their own "State of the University" address, leaders and supporters of UCW, the higher education union of Tennessee, protested the laying off of 70 frontline workers at the UT Health Science Center in Memphis on March 12.
Anne Langendorfer, president of UCW and a lecturer in the department of English, directly addressed President Boyd and questioned some of the comments he had made earlier in the morning concerning UT's values.
"When Randy Boyd says 'We stand together as One UT,' we really need to address what that means," Langendorfer said. "What does it mean to be bold and impactful and embrace diversity? It doesn't mean laying off 70 workers. These layoffs are unnecessary while UT is financially thriving, while it's being supported by federal stimulus packages."
In their State of the University address, Boyd and other UT leaders touted a new acronym, "Be One UT," which is meant to reflect the values and priorities of the statewide university system, including the flagship campus in Knoxville, as well as campuses in Chattanooga and Martin and the Health Science Center in Memphis.
Though the second value in the acronym is "Embrace Diversity," Langendorfer questioned this commitment in light of the laying off of predominantly Black frontline workers.
"This layoff is racist," Langendorfer said. "This is a predominantly Black workforce in a majority Black city and it's currently the only group of workers targeted for a layoff."
Gloria Johnson, state representative for District 13, spoke about the economic struggles her constituents have faced during the pandemic and called for the essential workers at UTHSC to be rehired. She fears that the layoffs are part of a larger pattern in the university system of bringing in lower wage workers and privatizing its labor force.
"It is inhumane really what we are doing to workers right now," Johnson said. "We need to consider these folks that for this last year have been working hard and have been putting themselves and their families at risk, and we let them go, some of them in the middle of their shifts? That's not how Tennessee should treat people, and at a time when the university is thriving and there's not a reason to cut these jobs that we can see."
The event was a way for Knoxville workers and leaders to show support for their colleagues in Memphis, the only majority Black location of a UT campus.
Karmen Jones, student body president of UT, spoke of Memphis as her "second home" and challenged the UT System's treatment of Black workers in the city.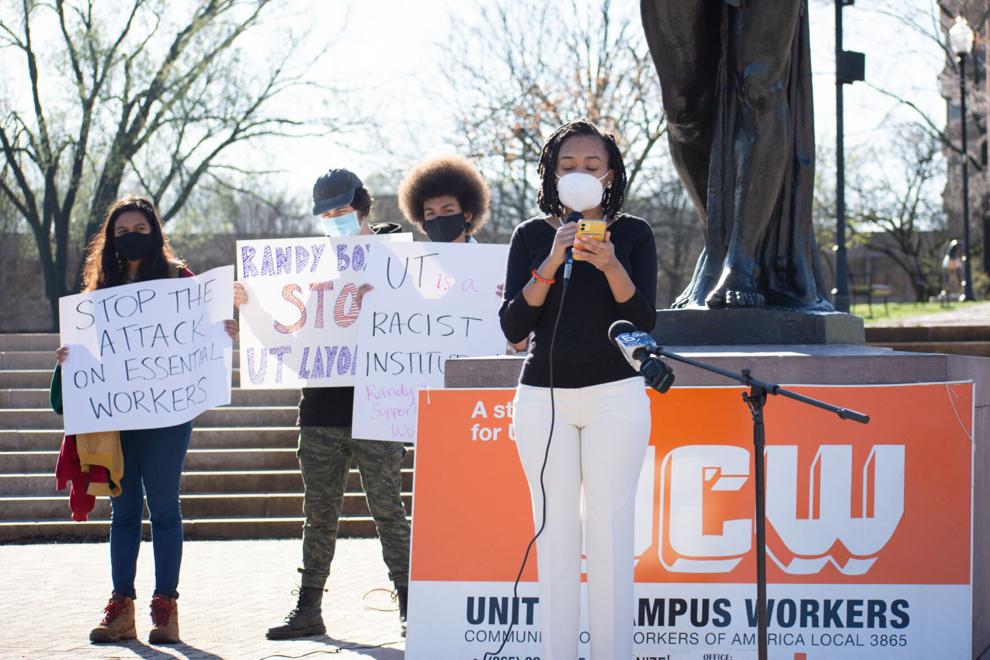 "UT cannot afford to forget Memphis," Jones said. "The UT Health Science Center is located in a majority Black city and the 70 essential workers that were laid off are predominantly Black, so let me be clear: this would never happen at UT Knoxville, so why is the one campus with majority Black workers being left behind?"
Jones called out the university for expressing gratitude for essential campus workers while also laying off dozens of workers who have helped to keep the system operating through the last year with COVID-19.
"When UT as a system is thanking essential workers for their labor and then is laying them off the next day when they were once considered essential workers, something has morally gone wrong here and it is our job as Volunteers to call all of the injustices out," Jones said.
"Whether the president or the chancellors acknowledge it or not, this is an act of institutional and elitist racism that leaves people of color struggling to supply for their families in the middle of a global pandemic."
Jones also said that the treatment of Black workers on the Memphis campus is only the most recent example of historical injustices plaguing the city.
"Do not neglect Memphis. You do not get to come into a Black city that has given you and this state so much economic and cultural gain and then damage and leave its people behind," Jones said. "This would never happen at UT Knoxville, UT Chattanooga or UT Martin. Do not do this to our beloved Memphis."
Though none of the laid off workers were able to speak at the event, UCW asked a few to send their thoughts on the situation, which Langendorfer read to the group of supporters. One man named Tony Patton who had worked at UTHSC for 20 years as an electrician was let go in the middle of his shift.
"Justice is not being given to us," Patton wrote. "[UTHSC Executive Vice Chancellor] Ken Brown, [UTHSC] Chancellor Steve Schwab and UT President Randy Boyd are not concerned with how much we sacrifice to come out here every day, even in the pandemic with people all around us catching COVID. We are sacrificing our lives to make sure things get done and these buildings are taken care of. What do they show us in return? They let us go. No, it's not right."
Langendorfer said that frontline workers at UTHSC had been "gaslit" by leaders who had told them not to worry about rumors of impending layoffs. She called on President Boyd and the UT system to listen to the concerns of workers, to hire back those who had been let go and to better live up to the values that underscored the annual State of the University address.
"We can't be one UT when you lay off essential workers in the middle of a pandemic, we can't be one UT when you lay off Black workers in a Black city. We're here to bring these workers back," Langendorfer said.
"They are frontline workers and they deserve our respect, they deserve fair pay and they deserve hazard pay. They've done more than enough during the pandemic and we want very much for them to know that we thank them for their work and we are working so hard to get their jobs back for them."
In a statement regarding the lay offs, Boyd said that the need for facilities and custodial services at UTHSC has decreased significantly since the beginning of the COVID-19 pandemic, and that the university is doing what it can to help those who lost their jobs. 
"UTHSC is working hard to provide support services to employees who are affected, including job fairs, resume assistance and other counseling services. Additionally, UTHSC has extended severance pay and benefits to the affected employees through June," Boyd said. "I have great confidence in the UTHSC leadership team that they have tried their level best to minimize the impact of this reduction in force."
Reiterating the values expressed in his "State of the University" address, Boyd said that UT is committed to respecting and empathizing with the frontline workers facing unemployment.  
"I trust in our Chancellors to make decisions that are in the best interest of their campus – sometimes those decisions can be especially challenging, and at times quite heart-wrenching," Boyd said. "We are committed to treat those affected with the utmost empathy, compassion and respect."