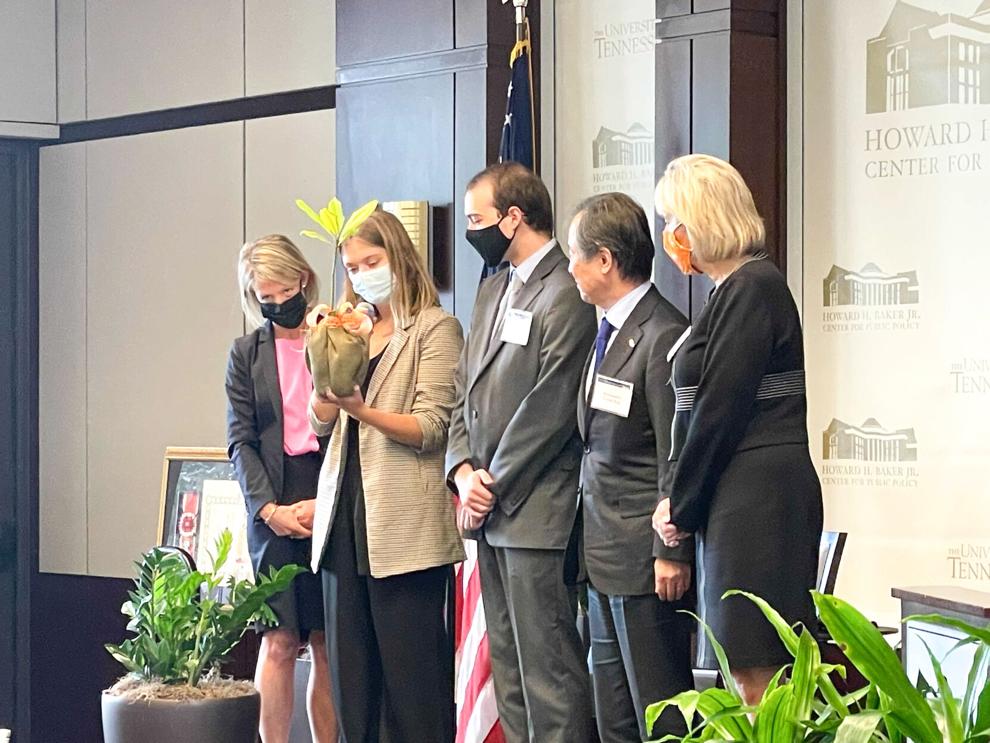 Japanese Ambassador to the United States Koji Tomita and his wife, Mrs. Noriko Tomita, visited the university on Wednesday to meet with local government officials, campus leaders and local business leaders. Ambassador Tomita presented a lecture at the Howard Baker Center for Public Policy on the U.S. — Japanese relationship and the various ways that the two are connected, especially within the state of Tennessee.
Japan is currently a top economic partner with America, and several Japanese-owned companies operate across Tennessee. Small and large Japanese businesses can be found from here in Knoxville and spread across to Memphis. Some well-known Japanese manufacturers have started calling Tennessee home for their American headquarters. This includes Nissan, Mitsubishi and Bridgestone.
"We must demonstrate that our system can work and provide leadership. I believe Japan can play a useful role in facilitating U.S. engagement in countries of other regions," Tomita said. "I also believe that a pursuit for new priorities will present a great new opportunity for business corporations."
The relationship between Tennessee and Japan goes even further due to the late U.S. Senator Howard Baker and his role as Ambassador of the U.S. to Japan from 2001 to 2005. As a result of this relationship, the Baker Memorial Lecture Series has been held in partnership with the Japanese Ministry of Foreign Affairs and the Japanese Consulate-General of Nashville since 2013.
Tomita spoke of the diplomatic importance of the lecture series.
"It's an incredible, strong friendship with Ambassador Baker and his service in Tokyo. We worked out a project to commemorate Ambassador Baker's accomplishments," Tomita said. "After very careful consideration, I concluded that we should do something enduring that would show mutual concern between two countries."
Once Ambassador Tomita was finished speaking, the floor was opened for questions. Although he did not have much time before his next event, he did give his insight on various subjects.
When asked to speak to UT's students and staff about his thoughts on the future of higher education for both American and Japanese students and preparing them for the job force, Tomita said higher education was key to increasing opportunities for all people.
"I think higher education contributes the key for not just developing the individual, but as the whole," Tomita said. "As well as the need to create the group of elite students and also need to provide inclusive education for the broader youth."
At the end of Tomita's lecture, he was presented with a seedling from the Andrew Jackson Magnolia Tree that was brought back years ago to honor Senator Baker. The gift from the university was presented by Chancellor Donde Plowman, Baker Center executive director Marianne Wanamaker and two Baker Ambassadors, senior Juliet Gear and junior Gavin Simone.
"This seedling, which was grown by the University Gardens, comes from that tree. The University of Tennessee, Knoxville, offers it as a representation of the good relationship between Tennessee and its people of Japan, which we hope grows even deeper and more beautiful over time," Gear said.