On Friday, SGA held an in-person town hall meeting at the Student Union with UT President Boyd and Chancellor Donde Plowman to let students air their concerns following Boyd's support for and subsequent withdrawal from a fundraiser for Tennessee Sen. Mark Pody, who openly advocates against LGBTQ rights.
Student Body President Claire Donelan released a statement on SGA's social media denouncing Boyd's support for Pody and calling for a town hall meeting to hear the concerns of the student body.
After SGA released the statement, Vice Chancellor of Student Life Frank Cuevas scheduled the town hall meeting so that students could have a chance to speak directly with the university's top leaders.
Boyd opened up the conversation with a statement apologizing to students.
"I'm sorry, and I made a mistake. I try not to make too many, but I do from time to time and recently I made a mistake," Boyd said.
Boyd explained his relationship with Pody and said that Pody has always been supportive of him, and he wanted to return the favor.
Boyd said although they do not discuss politics with one another, he did offer to pay for the breakfast at Pody's fundraiser.
However, there was a public flyer from Pody's campaign that made a misleading claim that Boyd was hosting the fundraiser.
He shared with students the work that he has done in the past for the LGBTQ community at the university, including meeting with elected officials to secure renewed funding for diversity programming.
"I went to the legislature and met with 42 individual legislators and talked to them about why it is so important to support all of our students. They agreed, and within the first month of my job, we got all of our diversity funding back, and we hired a vice chancellor of diversity for UT Knoxville," Boyd said.
Boyd and Plowman both discussed plans they have for the future, including creating safe housing for transgender students.
"I know that we haven't made that happen yet, so that needs to be a priority," Plowman said.
Cuevas was the former housing director for the university, and he described the steps that the housing program is taking towards providing safe accommodations for transgender students.
"The safety and consideration of our students is our highest priority, and as we speak the housing department is actually looking at space allocations for next year," Cuevas said.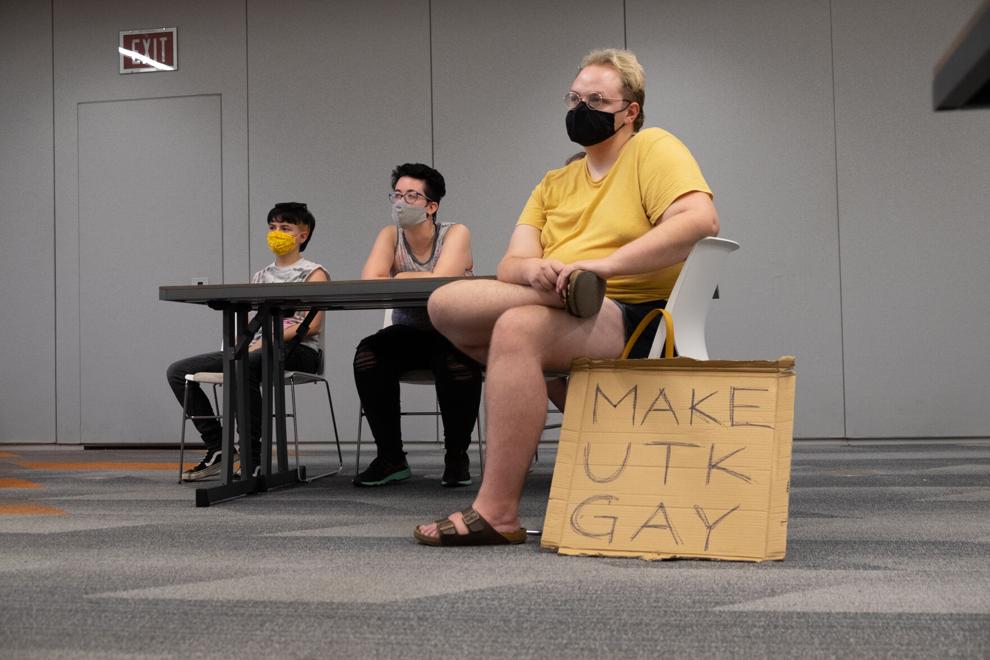 Junior Evan Mays is one of a handful of students who serve to advise the chancellor on matters pertaining to LGBTQ inclusion. He worked with a team to assess UT's progress through the Campus Pride Index.
Plowman said that the work of these students brought to her attention how low the university scores on the index.
"On a scale of one to five, we are in the two range, and that is not satisfactory," Plowman said.
Plowman said that the index is a helpful metric to use and that Mays and his team did a great job assessing the index so the university can improve the quality of life for students.
Senior Hunter Davis said that when he visited campus in the summer of 2019, he felt seen and heard because of the pride flag hanging in the Student Health Center. However, the pride flag was later removed.
"I'd like to think that we shouldn't have to have a sign in a particular place to say that you are welcome. We hope that is just who we are and everywhere you are welcome," Boyd said. "If we need to, we should put up signs that say the people here are trained and they are welcoming."
Senior Alyx Boyte shared her concerns with Plowman and Boyd.
"I think the issue comes down to trust. Trust is a very big problem here and safety. I am a member of Sexual Empowerment Awareness at Tennessee, and I have been a part of that since I was a freshman," Boyte said. "It has been very frustrating because we thought we had a functioning, working relationship with admin, turns out that was what was being told to our face."
In response, Plowman said that she was glad Boyte raised that issue, and the only way she knows how to build trust is to talk to one another and take baby steps.
"I want to earn students' trust on this," Plowman said. "I'm committing to you today, that with these two pieces, the work that Evan's group has done and Frank's, I will work with you to make some real progress."
Both the president and the chancellor committed to strengthening their community-wide messaging in support of the LGBTQ community and to participating in Safe Zone, an educational workshop provided through the Pride Center.