As UT enters its "greatest decade" according to UT System President Randy Boyd, Chancellor Donde Plowman will be receiving a $160,000 raise, authorized by Boyd as compensation for her performance. The raise will increase her annual salary to $820,000 beginning July 1.
The pay-raise came as a surprise to many, as most other UT leaders and administration make far less. The next highest-paid campus leader in the UT System is Carrie Castille, recently appointed as senior vice president of the UT Institute of Agriculture, with an annual salary of $400,000. 
Chancellor Peter Buckley of the UT Health Science Center in Memphis is the highest-paid, with a base salary of $950,000 per year. President Boyd himself remains unsalaried, though he receives $10,000 a year for state health insurance costs.     
In April 2019, Plowman was selected as the ninth Chancellor of the University of Tennessee, Knoxville. She inherited a large role, which manages a $1.3 billion campus budget, and became the highest-paid chancellor in UT's history. 
In the letter Plowman received from then-interim President of the UT System Randy Boyd, she was offered a monthly salary of $50,000 a month, annualized to $600,000 a year.  She was also offered $1,667 per month for housing expenses, along with the opportunity to receive "annual performance incentive compensation" via Board of Trustee approval.
This opportunity was reflected in 2021, when she received a 10% board-approved salary raise to $660,000. 
Her current raise comes at a time when United States inflation is at a 40-year high, driving the cost of living higher and forcing many Americans to reassess the value of their employment. 
UT has seen a surge in growth and has remained economically stable in the past five years, with enrollment growth increasing by 12% since 2017. In those same five years, average tuition costs have risen by only 2% for undergraduate students, according to UT's Fact Book. 
President Boyd says that this growth can be attributed in large part to the successes and determination of Plowman, and the work she has been putting into UT Knoxville's campus. 
"We are now number one in growth and admissions, and that goes with the fact that we have a great leader in place here," Boyd said at the Executive Committee Board of Trustees meeting on May 6 where he announced the raise.
A study of compensation at UT's peer institutions found that Plowman made $200,000 less than those in the 75th percentile who served in similar roles. Boyd said the raise was meant to recognize Plowman's work and elevate her to match the salaries of leaders at these institutions.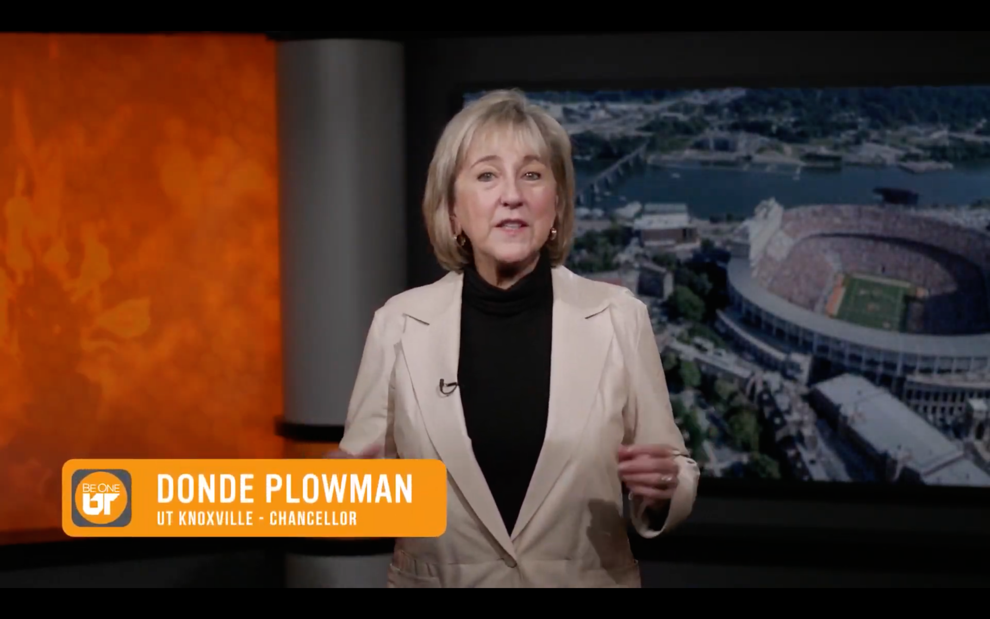 In response to the raise, Tyra Haag, director of News & Information for UT, said that "Chancellor Plowman expressed her appreciation to the president and board for their confidence in her and will continue to give her all to the University of Tennessee." 
The Chancellor did not provide a comment. 
However, UT faculty and staff feel that their contributions to this growth are being left unrecognized and that the $160,000 raise exposes pay inequity at the university. 
Anne Langendorfer, a lecturer in the department of English and president of the United Campus Workers (UCW) of Tennessee, feels that Plowman's raise undermines the importance of other UT employees. 
"A lot of people work together, to accomplish goals … and there is a way in which reading Boyd's announcement suggests that she alone is responsible for the growth at UT and the successes of the last two years. And I would say that it strikes me as a very problematic view of how work gets done in a large organization," Langendorfer said. 
In May 2021, Chancellor Plowman authorized a minimum-wage increase for UT Knoxville employees to $13 an hour. This equated to an annual salary of roughly $27,040 per year for the 375 employees Plowman announced would be directly impacted by the raise. 
However, this was still viewed by staff as insufficient, when considering the rising cost of living in Knoxville. During 2021's annual summer Board of Trustees meeting, several staff members brought up concerns of insufficient pay. 
To abate these concerns and in an attempt to ensure these staff members were more fairly compensated, President Boyd further increased the minimum wage for UT Knoxville workers to $15 an hour beginning January 2022, which equates to $31,200 a year for certain full-time workers. 
According to Katie Hodges-Kluck, communications/marketing coordinator for the UT Humanities Center and UT representative on UCW's statewide Policy & Campaign Committee, this is still insufficient for workers living in Knoxville.
"I have lost track of how many staff members I've spoken with who are either contemplating leaving UT or have already quit in search of better pay," Hodges-Kluck said. "Units are increasingly spread thin and understaffed, which is leading to further staff burnout. The loss of good, qualified staff hurts students, too, because services have to be scaled back since there aren't enough employees to provide them."
Students are also recognizing a disparity in pay. Michael Adriaanse, a second-year electrical engineering major and member of the Progressive Student Alliance, believes Chancellor Plowman's raise to be a "disgrace to the University of Tennessee and the people that make everything in the university possible."
"Donde is not what has made this university so successful, it's the students, the grad students, the professors, the people who work the stores, clean the halls, and manage the day to day activities, not her," Adriaanse said. "Right now those people are struggling."
Currently, the minimum wage for students working on campus is $7.25 an hour. Students employed by the university are also limited to working 20 hours a week. This equates to just $2,700 for the entire spring semester, if a student were to work the maximum amount for the 15 weeks class is in session. 
Many students see this as unacceptable. In March, SGA senators drafted a bill to encourage UT faculty and administrators to raise the student minimum wage and remove the hourly restriction. 
According to the bill's summary, "the University cannot run without its student workers and financial support is needed to assist the people who are both studying and working as they are impacted by inflation, a rising cost of living, and time focused on the university."
This bill, which was sponsored by junior Patrick Angelaccio, was passed by the undergraduate senate and signed by SGA student body president Claire Donelan on April 6. It has since been sent to UT administration for review. 
Maya Rao, a senior majoring in geography and member of the Progressive Student Alliance, expressed dissatisfaction with the compensation being awarded Plowman.
"As a student, I am dumbfounded by the fact that Chancellor Plowman is getting such a large raise. It's frustrating because we are fighting tooth and nail for things such as a higher minimum wage, compression wages, and hazard pay," Rao said. "It feels like we are being placated with pennies while administration is usurping most of these funds which are paid with our tuition." 
Chancellor Plowman's pay increase will distinguish her as the highest-paid chancellor in UT's history, and the second-highest-paid in the UT system. 
According to President Boyd, who instituted the 24% raise without the need for Board of Trustees approval in accordance with university policy, Plowman is one of the "best in the nation." 
Meanwhile, Tennessee governor Bill Lee has approved a 4% salary merit pool for university employees, which will also go into effect on July 1. This will see UTK employees receiving a certain amount of salary increase, from a pool of  $10,081,900, based on their performance in the previous year. 
However, the United Campus Workers of Tennessee feel that this is insufficient compensation when compared to that awarded to Plowman, and are advocating for flat-dollar raises for UT faculty and staff.
"What if instead of distributing that percentage … we put out guidance that everyone should get a $5,000 raise to their base pay," Langendorfer said. "If you give flat dollar raises, people on the bottom get a significant boost to their take-home pay. They get rewarded and they get to keep up with inflation in a way that is much more meaningful than someone who makes $600,000 (getting) $5,000. They don't need the $5,000. They don't even need a raise!"
The UT Board of Trustees invites members of the university community to voice comments and concerns at a public forum to be held at their annual summer meeting on June 23 and 24. Pre-registration is required, and can be found here. 
Note: A previous version included an incorrect figure for the minimum wage for student workers.