On Sunday, Nov. 15, three weeks after UT custodians demanded hazard pay for their work during the COVID-19 pandemic and a higher minimum wage, students painted the Rock with a pointed message directed at Chancellor Donde Plowman.
"Donde makes 600k but our campus workers don't make a living wage," the message said, along with the phrase "capitalism is killing" and the question, "is her life worth more?" 
The "capitalism is killing" phrase was later altered to "greed is killing."
Plowman declined to comment on the messages, stating that the real problem at hand is not her salary, but the issue of pay for campus workers.
Plowman said that while UT is concerned for the safety of all their employees and has taken measures to lower the spread of the virus, the university will not give campus workers hazard pay.
"Hazard pay is not something we're gonna be pursuing," Plowman said. "We're putting our efforts into making sure it's low-hazard work … what we're trying to do is just provide as safe an environment as we can for our workers."
Part of the plan to keep workers safe includes contracting some of the cleaning work in the dorm buildings through a non-affiliated company. Plowman did express her gratitude for the custodians who are working to make this on-campus semester possible, and pledged to work towards a higher minimum wage.
"I'm so appreciative and proud of all of our employees," Plowman said. "All organizations, I think, are facing the issue about pay and hourly workers and I can tell you on this campus it's something we're going to keep working at."
The chancellor noted that UT's minimum wage of $10 is higher than the statewide minimum wage of $7.25, but that administration is taking steps to raise the pay further, towards an amount that campus activists see as a minimum living wage.
"We need to get (our minimum wage) higher and there's some things in place to work at that," Plowman said.
"We're doing an analysis of all the job categories. The UT system has got a compensation strategy and structure that's gonna be coming into place. And we're gonna be looking at, in combination with that, our salaries, too, our wages … we need to do something about the low end of our wages."
Any possible changes to the minimum wage for campus workers will not come until after the spring semester has begun on Jan. 20.
The message on the Rock was certainly not the first time that the pay gap between the highest and lowest ranking UT employees has been called into question. But it took on fresh immediacy as campus workers rally around the demand for hazard pay for the risky work of cleaning campus during a pandemic.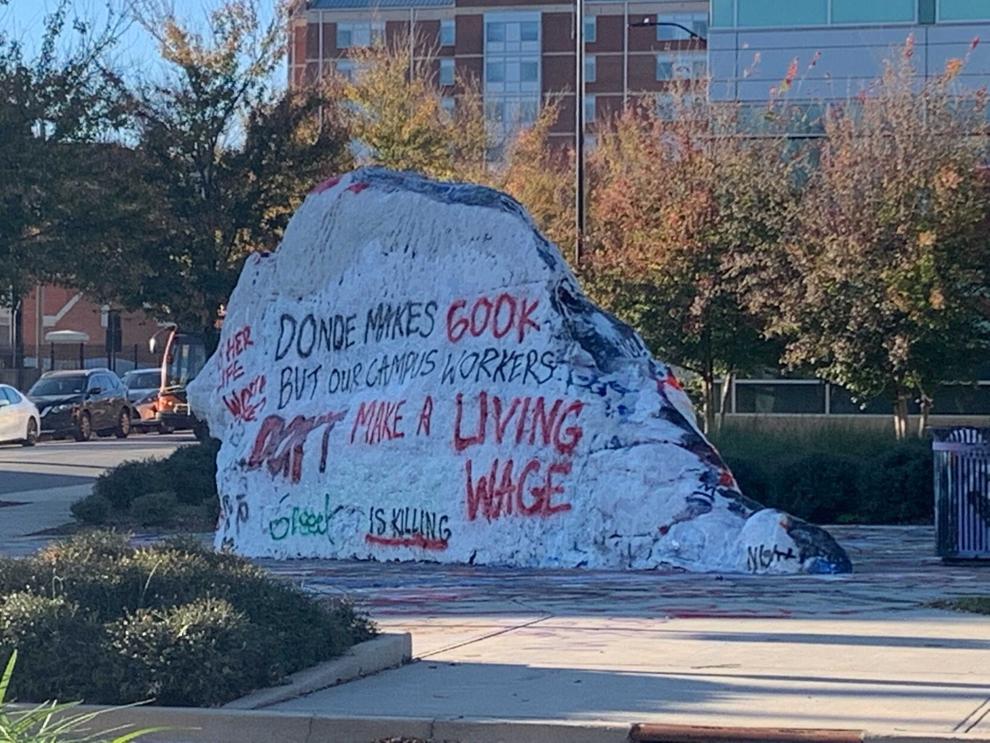 An online petition posted by the United Campus Workers, a statewide union, is directed at Plowman and Executive Director for Housing Chandra Myrick and demands hazard pay of an additional $2.50 an hour for all dorm custodians and a minimum living wage of $15. It has gained 470 signatures since the press conference and rally on Oct. 30.
Sam Goodman, lecturer in the department of English, spoke at the press conference and is an advocate for higher and more equal pay for all campus workers.
He says that the hazardous work done by UT custodians has been vital to the university's goal of keeping students safe on campus this semester, and yet has been undervalued by administration.
"Due to the hazard and low pay of the job, this vital position is severely understaffed, meaning that workers have to clean in multiple buildings, increasing their risk and workload," Goodman said in an emailed statement.
"And yet, despite the fact that their work is essential to the university's on-campus mission, their demands have been met with empty statements of appreciation."
According to Goodman, who also noted the chronically low pay for university lecturers, it often seems that those who bear the greatest load of work are those who are paid the least.
He echoed the message on the Rock, calling out the large gap in salary between custodians and the leaders to whom they are petitioning for higher pay.
"Dorm custodians, the lowest paid of whom make $20,800 a year, continue to have their demand for $2.50 an hour in hazard pay and a $15 an hour minimum wage ignored by Assistant Vice Chancellor and Executive Director of University Housing Chandra Myrick and Chancellor Donde Plowman, who, with annual base salaries of $114,809 and $600,000 respectively, make more than five- to nearly 30-times more than they do," Goodman said.
"The university community deserves better from leaders making hundreds of thousands of dollars a year."
Arguably, nobody understands the hazards and the stresses of the work of keeping campus safe more than the custodians themselves.
Joyce Leeper, who has been on UT custodial staff for over 10 years, spoke alongside Goodman and members of United Campus Workers at the rally last month and is also a passionate advocate for hazard pay and a living wage.
She says that while she loves her job, campus leaders such as Chancellor Plowman and Director Myrick could be doing more to advocate for the campus workers who are put at risk every day when they go to work.
She thinks this could mean going to local and state government officials, and maybe even to Governor Bill Lee, rather than simply making statements of intent.
"They all can contribute something to make sure … that we have (hazard pay) and work with us to get it, and that means by going through channels, up the corporate ladder," Leeper said. "Otherwise, we're not gonna get anything else accomplished with it."
And with salaries that are so much higher than those of campus workers, Leeper thinks the contributions campus leadership could make are not just those of time and advocacy.
Addressing the pay gap that was featured prominently on the Rock for several days, Leeper said what many on campus have thought for years.
"That's what I call a greed problem, and I don't mean to be so nasty and hasty, but that to me is a little greed," Leeper said.
Advocates for hazard pay and a living wage ultimately want the university budget to be changed in a way that would equalize pay for all UT employees, whether lecturers or custodians or student employees.
But as we head into a holiday season, Leeper is just looking for some hard-earned recognition and for a reason to celebrate.
"We all need something to look forward to with the new year, and that's for everybody," Leeper said. "And like I said, those people that are higher ranking than we are, they need to look out and say, well, those workers have worked hard and they've been putting in some long hours. It doesn't matter who you are."