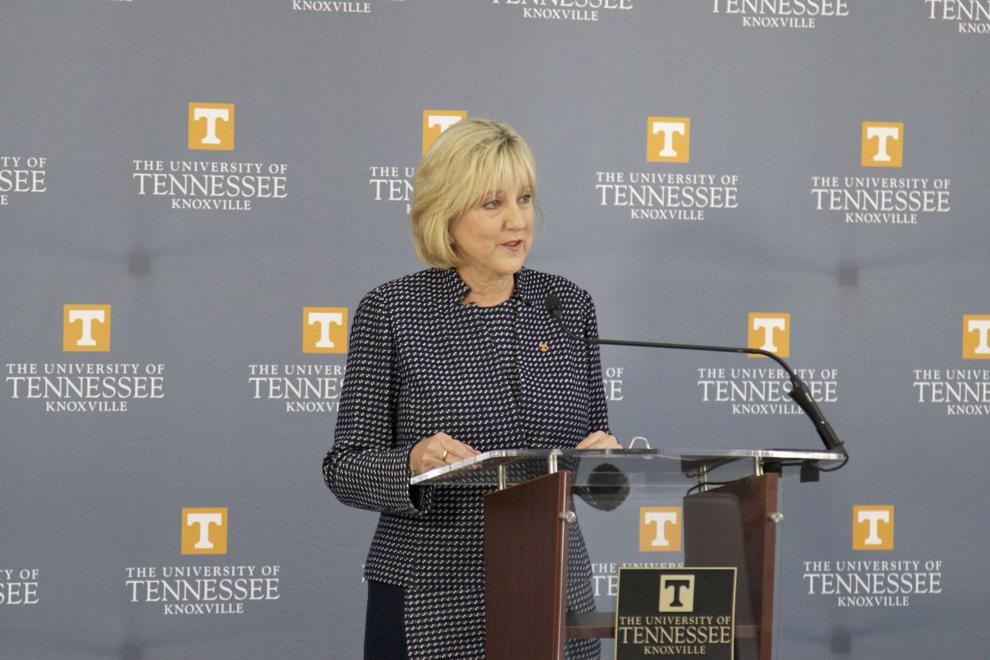 In an exclusive interview with The Daily Beacon on Aug. 17, Editor-in-Chief Sarah Rainey sat down with Chancellor Donde Plowman to ask a few questions regarding her personal experience with the pandemic, as well as to clarify university plans involving the COVID-19 pandemic and rising cases due to the Delta variant.
What was it like navigating how to lead a university during a pandemic?
It was crazy. We have a great team of people, and we were really fortunate that we have on staff an "emergency manager" and an "emergency management system," so we put that right into place, which meant we had a policy group that I led. So, we were making the decisions, and then there was this operation called "emergency operations center." They would track down data and bring it to us and then we would make decisions.
If you think back to what we did, the first thing was, we had to bring people home from study abroad. Then, we had to make the decision, "Don't come back from spring break." … So, I feel like I spent the year and a half managing a lot of logistics, and I'm proud of the effort we did, but it's not what chancellors show up to do on a day-to-day basis, you know? But, we were all doing it. So, I have a really strong team and that makes a huge difference.
I think the other thing was, we wanted from the beginning for it to be clear what was going to guide us. So, we just set out those three values, which were: try to be creative, be compassionate and be flexible. We set those out because I knew it would be long and complex is what I figured, and I couldn't be a part of every decision all over the campus, so that's a way of guiding other people's decisions. If you do that, you're probably going to make a pretty good decision.
So, I think that was huge, and then trying to communicate. So, I think one of the things we learned last year was, wow, it's important to be as transparent as you can, to communicate what's going on, what your decisions are, why you made them. It's also hard to figure out how to do that. You send emails and people say, "It's too many emails," or certain groups don't read their emails. So, we just really tried about everything that we could. We landed on the weekly updates with Zoom, which proved to be pretty effective and useful.
So, it was like trying to manage logistics and manage the flow of information about what was happening.
What was your personal experience with COVID-19?
So, I never got COVID. I got vaccinated as soon as I could. There was one period where I was exposed to someone, so I had to quarantine for 14 days. That was the … I think that's why I could really feel the pain of students who are having to quarantine, thinking back on it, like, stuck in my house for … Because it had happened after I had started coming back to work. I actually came back in July or August. But, we were mostly in a lot of Zoom meetings, but one of the people that reported to me later tested positive and we had had a meeting. We were socially distanced, but, in an abundance of caution, the chancellor's got to be really careful.
So, my personal experience, just about the disease, I was so grateful once we finally got the vaccines. And, I would say, people in my family didn't get (COVID-19), but I spent over a year not being able to travel to see my children who live in Austin. My parents are deceased so I didn't have that worry. A lot of people my age were frustrated with not being able to be with elderly parents.
So, personally, that's kind of how it touched me. But, as a leader, just watching our community and our campus go into a shape that we never kind of imagined, and watching you guys show so much courage. To be honest with you, the students, I'm just, I'm still impressed with what you all did in the last year and a half, and what you're going to have to do this year. That's going to look different, different kind of decision making, than this year, but, yeah.
If you had to choose one key takeaway from the past year, what would it be?
I think we learned that a university, a big organization, can pivot quickly and gear up and adapt to an unexpected situation. I think if you had told me three years ago that a place this big with 1,600 faculty, all these staff, could in 10 days time put all of our classes virtual, and there were many of us, including myself, who hadn't used Zoom very much at that point in time, and now it's our key tool.
So, I think the biggest takeaway was, "Wow, look what we did when we had to."
So, I hope from that, it means we can have the confidence that we can pivot again on other things, not related to COVID.
What are you most looking forward to during this new school year?
Well, it's kind of already happened: just the students back. Last night, we had the Torch Night Ceremony outside in the stadium. It's the biggest freshman class we've ever had, the largest enrollments we think we've ever had. So, just seeing the students, just everybody's so excited to be back, and I think that that's the most exciting part for me, is re-engaging and being back to the classroom. Students are excited about it.
It doesn't look exactly how we wanted it to. We're going to be back in there with masks on, but I'm hoping that it won't be for long. I'm hoping that, if this thing peaks and drops -- the Delta variant -- that we'll be able to adjust our policy.
In the case of an outbreak due to the Delta variant, does the university have a plan in place?
So, what we learned from last year, is that we know how to pivot, and I think one of the things I should make clear, too, is that the decision on our mask requirement in the classrooms, the labs and other required indoor events, the chancellors in the system and the president made that decision together, and we made the big decisions together last year. So, we'll continue to do that, and I think we know that if we have to take other measures, we will.
But, this year, the advantage we have is we have the vaccine, and an awful lot of people are vaccinated. So, it's not this … So, even if we peak, it's not the same as it was last year when we didn't understand it, we didn't have the vaccine, we didn't have a good portion of the faculty and staff vaccinated. So, this year, we'll be able to … You know, I'm vaccinated, I'm going to wear the mask in my class and carry on.
So, that's kind of how we're going to approach it. Our policy group is meeting regularly, we keep monitoring the situation, we're just encouraging students to get vaccinated. So, I feel confident that if we need to pivot, we will. We've learned how to do that.
I understand that the university is no longer providing isolation and quarantine housing if students who live on campus get the virus.
So, we're not doing isolation quarantine housing like we did last year. So, think about when we planned for students coming back to campus, we planned for a vaccinated population to be honest with you. So, what we did was make clear to students that -- the students living in the dorm, especially -- when you come back to campus, you come with a plan.
So, what will you do? One of the things we observed last year is that most students who had to isolate or quarantine, an awful lot of them did it at home anyway. So, we told them that they need to be responsible for those plans. And so, we've shifted into managing it in a bit of a different way than we were last year.
Do you have a recommendation for students who may not be able to go home should they need to isolate themselves?
Absolutely. One of the things that they need to do is check in at the (Student) Health Center. We still have staff on, available who are going to help support students. Last year, they were doing a lot of contact tracings, the same folks who are very familiar with … This part of the virus, people's aren't, we're not contact tracing like we were last year anywhere.
But, they are a support service, and we will work with students. If they've got an unusual problem and they can't go home, we'll help them figure something out.
What is one message or piece of advice you would like to share with students?
Grab a hold of this experience this year, make the most out of your time here at college. This is a great time for this university. I mean, people are wanting to come here; our enrollments are evidence of that.
So, get to know each other, step forward and, last night, at the Torch Night Ceremony, one of the (students), he's a sophomore, he said, "Force yourself to meet someone you don't know. Go talk to someone who comes from a different part of the country, who looks different from you," and I hope people will do that.
Just make the most of it. Get out, enjoy what this campus has to offer, 'cause we're back.