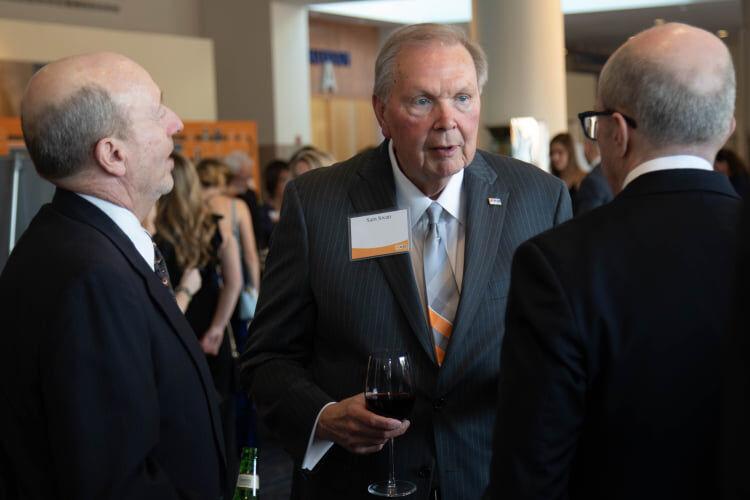 On Wednesday night, Sam Swan, a soon-to-retire professor in the School of Journalism and Electronic Media, reflected on his accomplishments throughout his long career and gave parting words to the community of UT alumni, students and staff in a "Last Lecture" hosted by the Mortar Board Honor Society.
Professor Swan's career of broadcast journalism, management, education and international media training has lasted over 50 years. He began this career while in college at Southeast Missouri State University in Cape Girardeau, Missouri. He was a radio news reporter and anchor at KFVS.
After completing his degree, he accepted an offer to work in Sri Lanka for six months. He lived with host families to gain knowledge about the culture of the country while working with the Farm Broadcasting Service. This began Swan's lifelong passion for international work.
"I absolutely fell in love with Sri Lanka and the whole international experience. The most important thing that I did was to meet with families and engage in this form of intercultural communication, and I began to realize how important it is that just average people can get together and communicate with others," Swan said.
Swan then earned his master's degree in communication from Central Missouri State University and completed a Ph.D. in communication at the University of Missouri. He also worked as a radio-television specialist for the university and was a part of many radio and television programs.
After his time in Missouri, Swan moved to the University of Minnesota, where he was named Electronic Media Leader and led a faculty of broadcasters in the production of radio and television programs.
He then became head of the department of radio-television at Southern Illinois University where he won approval for a new master's degree in telecommunications.
On Jan. 1, 1985, Dr. Swan came to the University of Tennessee to be the head of the department of broadcasting. While at UT, he served as Interim Director of the School of Journalism and Electronic Media and Director of Global Programs and Outreach for the College of Communication and Information.
Swan's main goal at the university was to rebuild the broadcasting programs and make it as practical and professional as possible for students pursuing a degree within the College of Communication and Information.
One of his curricular changes was requiring students to get their first radio broadcasting experience at WUTK-FM. He then created a television program, UT Today, which has been on air for the past 25 years. He also helped to create five study abroad programs and has taken students on trips in worldwide ranging from New York to Prague and Australia.
"In the late '80s, I started taking students to New York on a semi-regular basis because I wanted them to see that they can do what they want to do anywhere," Swan said. "You're not restricted to Knoxville, Tennessee. If you want to work in the media capital of the world, you can."
Swan also directed multiple workshops for visiting groups of international broadcast managers in Washington D.C. and at the University of Tennessee. He has received two Fulbright Specialist appointments from the University of Zagreb in Croatia and in Ethiopia where he taught at the University Hawassa and the University of Haramaya.
Swan was recognized by the Association for Education in Journalism and Mass Communication with the 2009 Ed Bliss Award and the Distinguished Service Award in 2021 by Tennessee for his contributions to the broadcasting industry in the state.
Swan is the author of two books, over 150 articles on broadcast management and journalism, a chapter in the NAB Engineering Handbook on Management and is currently writing a book on international media training.
Regardless of these many accomplishments, Swan said that his journey is not over.
"It's been a wonderful career. I'm not saying it's over," Swan said. "I think I have the best job in the world. I have one foot in the classroom and one foot in the newsroom. The best part for me while looking back over the 37 years has been the students. Giving them the confidence to pursue their dreams and then seeing them do it is the best part."
Swan's good friend and communications entrepreneur Larry Patrick spoke at the lecture, encouraging his friend onto a new chapter of his life.
"You've navigated the world, but now you're starting a new journey," Patrick said. "Now might be the time for you to look at your compass and find your true north."
For his next chapter, Swan plans to finish writing his book and to get back on the air with his forthcoming podcast series, "Now We Have a Story."