Big Orange Give, UT's annual day of giving and one of its largest donation drives, will take place on Nov. 10 for its 10th year. This year, the event will last from midnight to midnight and UT has set a goal of 10,000 gifts in 24 hours.  
Because it is online, members of the UT community can donate from anywhere. Over 10 years, the event has raised millions for UT organizations, research, professorships, scholarships and more. The event has also grown from 1,630 donors in 2013 to over 9,000 last year. 
With over 1,000 funds available, donors can make a gift of any size to areas of campus they are passionate about, whether that be a specific college or cause. Donors are also able to support organizations, such as WUTK Volunteer Radio, Clarence Brown Theatre, the Pride Center, McClung Museum, Student Media and others.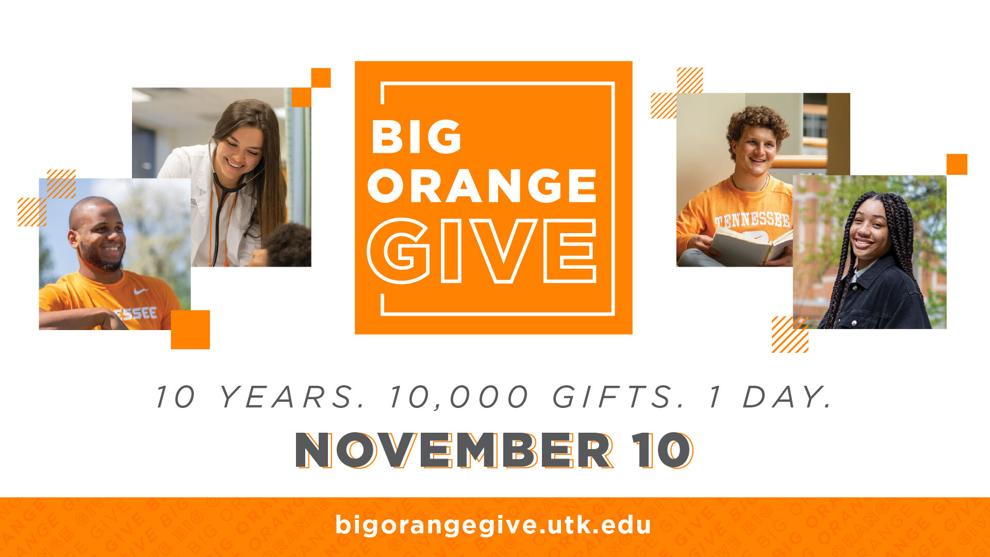 Students are also encouraged to make donations, no matter how small. As of Wednesday evening, nearly 1,400 gifts had been made. 
In 2021, the university received over $3 million in one day from 9,670 donors, including 771 students. Donor support to student success programming led UT to overcome a national trend of declining retention rates. 
According to a press release from the Tyson Alumni Center, "A full 96 percent of first-year students returned to UT after winter break at the time, the highest first-year retention rate in recent years."
At specific times throughout the event, Big Orange Give will provide matching opportunities. Aerospace engineer Joshua Dobbs ('17) kicked off Big Orange Give on Wednesday by matching the first $100 of each gift beginning at 8 a.m. until it reached $10,000.
From Wednesday to Thursday, the Alumni Board of Directors will match the first $100 of each gift to any student scholarship fund until $20,000 is reached. On Thursday, the Alumni Board will match the first $100 of each gift beginning at 6 a.m. until the match reaches $20,000. The board will repeat the match at 6 p.m.