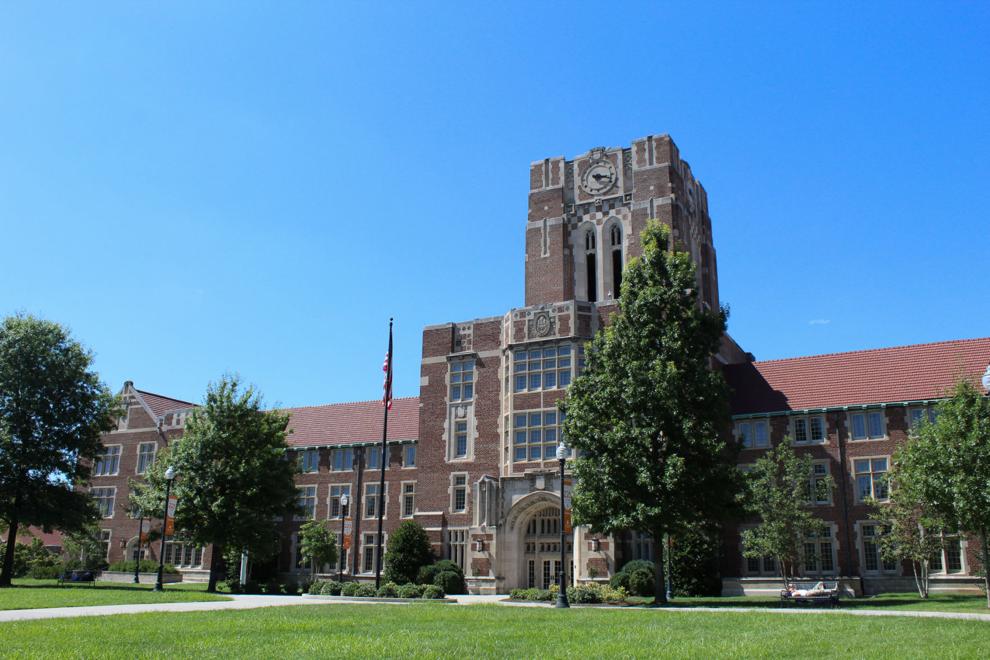 The Volunteer nation was rocked with the news of then Interim President Randy Boyd's announcement to move all classes online on all UT campuses on March 16, 2020.
The announcement changed many lives in the community that day: Professors were forced to scramble to move their classes online. Students were tasked with packing up their dorms and moving out. Above all, the uncertainty of what the rest of the semester would hold raised more questions than it answered.
However, one question which seemed absent from the plethora of concerns: What does this mean for students who are facing food and housing insecurity?
"Students have always been experiencing homelessness prior to the coronavirus outbreak, but this is definitely shedding light that this is a much bigger issue that's happening on all college campuses," said Jillian Sitjar, program manager for higher education with SchoolHouse Connection. "These students do exist, even though folks might not necessarily think about it or see it right away, but it's definitely bringing to light a lot of these big issues."
SchoolHouse Connection is a national non-profit organization working to overcome homelessness through education. The group works with early childhood programs, schools, institutions of higher education and the government providing advocacy for children and youth experiencing homelessness.
In Tennessee, SchoolHouse Connection members partnered with high school McKinney-Vento Homeless Assistance Act liaisons and Middle Tennessee State University, among other groups, to work on bills supporting students experiencing homelessness.
An estimated 3.5 million young adults between the ages of 18-25 experienced homelessness in a year according to a national phone survey conducted by Voices of Youth Count during 2016 and 2017. The survey included interviews with 26,161 people.
That population is currently deemed by advocates to be one of the more vulnerable populations as they do not have a home to quarantine in or health care if they become ill.
Annette Beebe, case manager and Youth WINS program manager at the Community Action Committee in Knoxville, said the risks for this population are high.
"Well of course this population is more vulnerable. You know, the homeless population doesn't have access to healthcare. They don't have access to wash their hands. They don't have access to hand sanitizer," Beebe said. "It's going to spread like wildfire through them."
Some students who were told they couldn't stay on campus have found places to stay either with a friend, a family member or in a shelter. It's better than the streets, but still exposes them to more people and an unknown environment.
"It's just a lot of added pressure and added trauma to an already really terrible situation that's going on, all while trying to maintain classes," Sitjar said. "It's a really extremely difficult time for these students and this population and I think right now everyone is just trying to make it through the semester."
While the U.S. Congress continues to work toward passing legislation to help relieve some financial burdens for citizens, college students are being overlooked. Recently, Congress passed the $2 trillion Coronavirus Aid, Relief, and Economic Security Act and are currently working on "Phase Four" of the legislation which would add additional funds to continue providing relief.
However, SchoolHouse Connection maintains that while the CARES Act may provide $14 billion to universities and colleges, with $7 billion for the direct purpose of emergency financial aid grants, there need to be more outreach efforts to inform students experiencing homelessness about the availability of funds.
Students also face barriers to registering for financial aid for the next school year as they may be unable to provide documentation of their status as independent students.
Sitjar said that in order to verify their status as unaccompanied homeless youth, which would make them independent students, they need a letter from one of a few entities, which are outlined on the FAFSA form: a high school or school district homeless liaison, the director of an emergency shelter or transitional housing program funded by the U.S. Department of Housing and Urban Development or the director of a runaway or homeless youth basic center or transitional living program.
In addition, students who have lost their campus jobs not only have less income and they may not be eligible for the Supplemental Nutrition Assistance Program. SNAP provides nutritional benefits to supplement their food budget, but requires they work 20 hours per week.
The University of Tennessee Knoxville is working to continue helping the vulnerable population through several resources including a Student Emergency Fund which is accepting applications.
Abigail Brumfield, coordinator in the Office of the Dean of Students, said the fund is mostly focused on financial hardships but each application will be evaluated to help students as much as possible.
"I've been really impressed and it validates a lot about what I feel about our UT community and that it's very special," Brumfield said. "And that people want to help and they're looking for ways to help and assist. Whether it be Big Orange Meal Share or Student Emergency Fund or what have you, people are asking, 'How can I help? How can I assist?' I am here because people have supported me and I want to give back. There's a lot of 'aha' moments of 'I didn't know that was going on and how can I help?'"
However, as an uncertain future looms over many college campuses heading into the fall, Sitjar explained that administration should focus on prioritizing homeless and foster youth for receiving money first and "the max amount of money as possible."
Sitjar also said another way to help is to prioritize homeless youth to receive housing first, with some states like California and Louisiana already having laws in place. Tennessee also recently passed House Bill 1000 in 2019 which does focus on granting students experiencing homelessness priority housing and housing which remains open for most of the year.
"I think another thing that they can also do is just have systems that are set in place that are to better identify and keep track of these students and so they can proactively reach out to them before they fall at-risk or potentially drop out because of a financial situation," Sitjar said.
"These students have already existed on their campus. But now they're at the forefront because they know they might not have a place to stay or might not have access to food," Sitjar added. "I think that as colleges and universities are re-examining their policies and procedures, just keeping in mind that those students exist, they've always existed and they will continue to exist on their campus and so being mindful to have policies in place that are more inclusive to that population."
Information for students
Students enrolled in the 2020 spring semester as part-time and full-time are eligible to receive funds, as well as spring and summer 2020 graduates.
Students can apply on the Dean of Students website where they will be asked to fill out questions about their areas of need, provide a summary of their request and submit supporting materials along with the application.
The most a student can receive according to a UT news release is $1,500 in an academic year. The funds can be used to cover essential academic needs like books, supplies, laptops and hotspots, but can also be used for food, emergency housing needs and replacement of personal items.
Students experiencing any distressing situation should call the 974-HELP line or the Office of the Dean of Students in which case they will be assigned to a case worker who will do their best to help the student and their needs.