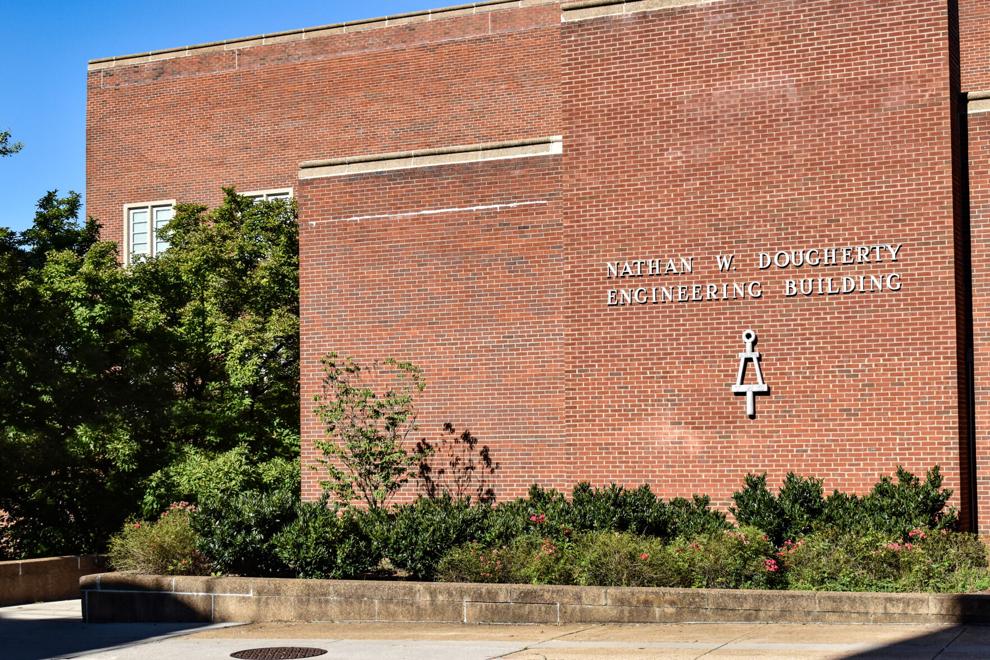 UT has offered to reinstate former associate professor Anming Hu after he was acquitted from charges of fraud and espionage.
Hu is a naturalized Canadian citizen who was hired by UT in 2013 for his international expertise in a specialized method of welding.
Hu was initially suspended after he was accused of espionage and lying to NASA and lost his visa as a result. This led UT to terminate him without cause — he was no longer eligible to work in the US.
In a letter acquired by Knox News dated Oct. 14, Provost and Senior Vice Chancellor John Zomchick listed the reinstatement offer for Hu.
He has been offered a tenured position in the Tickle College of Engineering, back pay for the time he was suspended and payment for an immigration attorney. UT offered to help Hu reestablish his research program, totaling $200,000 over three years, and an explanation of what the university is doing to support his work visa.
Mary McAlpin is the chapter president of UTK's American Association of University Professors (AAUP) and a UT French professor. McAlpin has been a strong advocate in pushing for justice for Hu.
"I and others feel that UT owes it to Dr. Hu to reinstate him with tenure now that he has been formally acquitted of all charges, especially because he was targeted falsely under the China Initiative, which many have categorized as racist," McAlpin said. "I also feel that the presumption of innocence means that Dr. Hu should have been reassigned in a manner that would have permitted him to keep his visa until the trial was completed."
Hu was among many China-born scientists in America who were targeted by the Department of Justice because of the Trump Administration's 2018 China Initiative. In February of 2020, the Department of Justice made a statement explaining why Hu was arrested.
"Hu allegedly committed fraud by hiding his relationship with a Chinese university while receiving funding from NASA," Assistant Attorney General for National Security John C. Demers said. "This is just the latest case involving professors or researchers concealing their affiliations with China from their American employers and the U.S. government. We will not tolerate it."
Hu was the first China-born professor to go to trial after the China Initiative was implemented. His trial occurred over the summer, and Hu told the court that he did not try to hide his work and he was just confused about what the university wanted him to report.
Federal prosecutors claimed in trial that Hu lied to NASA and UT about working a job teaching graduate students and researchers at the Beijing University of Technology.
U.S. District Judge Thomas A. Varlan threw out the charges against Hu on Sept. 9 because there was no evidence, making Hu's case the first to fail under the China Initiative.
An APA Justice meeting took place on Sept. 13 after Hu was acquitted of all charges. Hu's lawyer Philip Lomonaco made a statement during this meeting explaining his thoughts.
"Through many blessings, we have prevailed, and it was really something that the case had such twists and turns to it. With Anming being the first to go to trial on the China Initiative, it was so important to have a good outcome," Lomonaco said.
Ivy Yang, Hu's wife, also made a statement thanking the advocacy groups, such as APA who pushed for justice, and the judge who tried the case.
"Anming's case made me see very clearly that history is made by people who are the true patriots of this country … History was also made by Judge Varlan … His judgment made me regain the hope and belief in the USA for its independent justice system and strong face of democracy," Yang said.
Hu made a brief comment during the meeting but still prefers Lomonaco to speak for him and his family.
"It's actually too challenging for me to find the proper words to deeply appreciate the help from all of you … On the other hand, the scars and the painful memories are still there in my heart. For now, I prefer to remain silent," Hu said.
The trial revealed that UT administrators hid the investigation from Hu and other faculty, providing no protection for him. This has made other faculty members question if this could happen again in the future.
In a Knox News article, McAlpin said that UT immediately assumed he was guilty and removed him as fast as possible.
"You would think that a tenured professor would get the largest amount of protection from the university, but in fact, they just cut him loose," McAlpin said to Knox News. "That is frightening for everyone who works at UT, and I would say, especially for those who are not U.S. citizens."
Louis J. Gross, the Faculty Senate president, told Inside Higher Ed that the faculty would much "prefer in situations like that the university would have the faculty member's back."
Gross added that the judge made it clear that there should not have even been a trial.
McAlpin said in the APA Justice meeting in September that, although this is an incredibly complicated case, it comes down to a simple injustice.
"As someone in their 26th year as a professor at UT, the university is a giant bureaucratic entity, and it protects itself. I mean, if you think as an employee of the University of Tennessee that the university is there to help you and protect you, and somebody like an FBI agent comes calling, then you will be sadly mistaken," McAlpin said.
Hu's trial was significant because it showed the possible danger of racial profiling that accompanied the China Initiative.
Margaret K. Lewis, a professor of law at Seton Hall University, is an advocate for the removal of the China Initiative. She spoke at the UT panel that took place after the China Town Hall on Tuesday.
"What happened in 2018 was that the Trump Administration enhanced and coalesced resources, saying it was a national priority of the Department of Justice and FBI to look at intellectual property theft, particularly economic espionage … this was not entirely new, but it was putting a spotlight on this question about how to protect the US's intellectual property."
"The more we understand about how human brains work, the more we know that if you tell people, 'Hey, China is a priority and we are really concerned about non-traditional spies, but people who are researchers and students and professors,' our brains as human beings are going to draw our attention to people with certain characteristics, that implicit bias and conscious bias are increasing my concern," Lewis said.
Lewis stressed that although the Trump Administration was often openly expressing explicit bias, the Biden Administration still has the China Initiative intact.
"Under the Biden Administration, we hear less of that kind of overt rhetoric …the Biden Administration has not done the work to address the issues of bias and prejudice, which I think are inherent in the structure of the China Initiative," Lewis said.