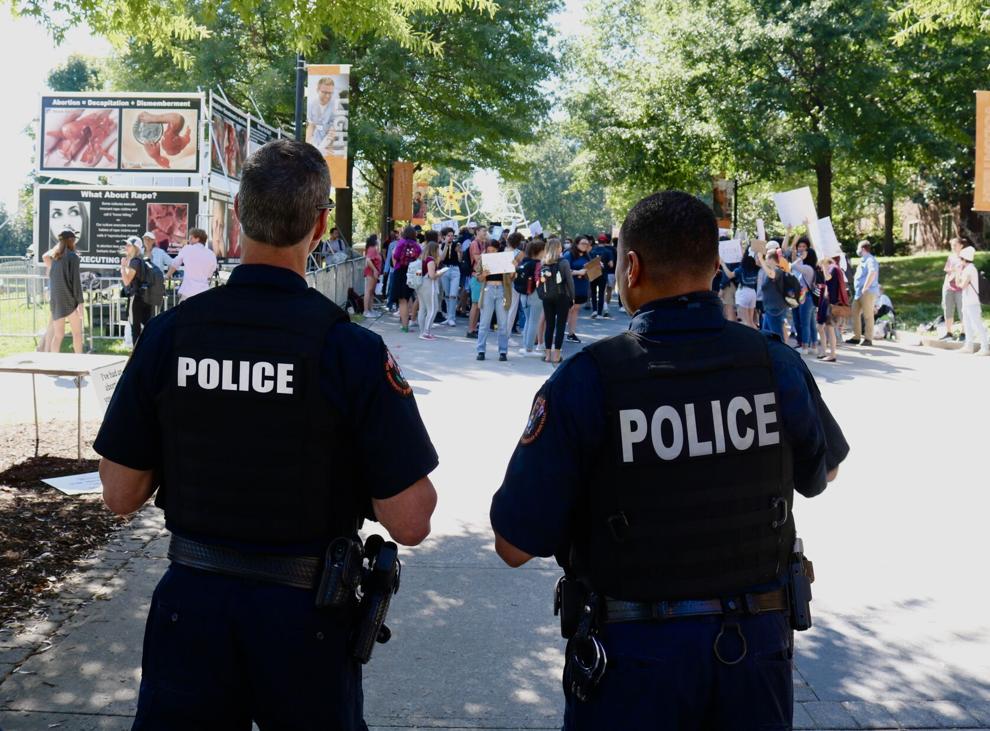 Just as they have every year since the 1990s, the anti-abortion Center for Bio-Ethical Reform (CBR) set up a large display on Pedestrian Walkway last week featuring photos from the Holocaust and American lynchings placed alongside images of fetal tissue, which the group says depict aborted fetuses.
Just like every year, the controversial comparison of abortion with historical genocides accompanied with violent imagery was met with student protests.
But this year, as campus begins to emerge from the COVID-19 pandemic, there was a new flavor to the contentious spectacle at the heart of campus. Rather than simply protesting CBR's display or their anti-abortion arguments, students began calling into question the very fact that the group is allowed to bring such a display to campus.
In an Instagram post from Sept. 27, second year MFA student Sean Heiser pointed a finger at the university for allowing CBR to demonstrate on campus, saying he was "ashamed to be a part of this institution today."
"I made the post because I was interested in trying to navigate what is the distinction between the right to a safe school and a safe workplace, and practicing free speech," Heiser said. "I have no moral or ethical or political problem with someone trying to argue a pro-life stance. I support that. But when it's based on blatant falsehoods that sort of feed the fire of anti-intellectualism and racism and judgment in America?"
"At some point, it's not so much that I'm like 'oh I want to, like, cancel this person,' it's like, can I actually just have a dialogue about what is acceptable?"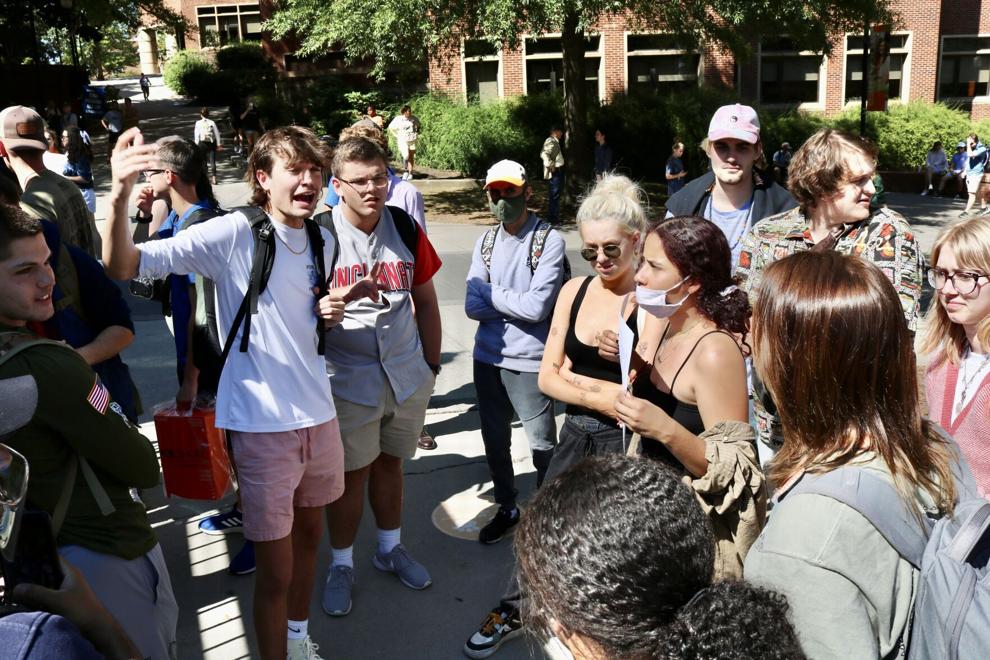 Most of the critiques that students have fall along these lines. Very few students have an issue with free speech as a guiding principle on campus or even with Ped Walkway as a place where groups can table. Where the critique comes is the specific way in which CBR presents their message.
Haze Karmo, a freshman studying psychology, said that he has no issue with anti-abortion groups tabling on campus. His call for limiting free speech on campus is, for the moment, specific to what he saw this past week.
"There's free speech and then there is displaying violent imagery and graphic imagery such as this. There are limits to free speech and people don't consent to seeing things that can be traumatizing such as this," Karmo said. "This is not even an issue about free speech, this is an issue about consent and what you see and what you are being yelled at."
For Scout Graves, a junior studying Russian, the distinction between CBR and other conservative, anti-abortion groups that come to campus is intention. Graves said the group intentionally upsets students to perpetuate a sense of martyrdom.
"They're not actually trying to have a conversation, they're not actually trying to change minds, they are trying to piss people off so that they can get a response and be able to go back and say, 'this is how we're treated' despite the fact that we have a conservative supermajority in the Supreme Court that are upholding their opinions," Graves said. "They want a response so they can be victims."
Despite the changes students are calling for, which include fact-checking the claims made by political groups coming to campus, regulation of free speech on campus is not a simple matter of university oversight.
The University of Tennessee has dedicated a chapter in their rulebook to the use of university property by non-affiliated people for free expression activities.
The first section of this chapter defines free expression activities as "expression and/or assemblies protected by the First Amendment, including, but not limited to, picketing, distributing printed materials, public speaking, demonstrations, rallies, vigils, parades and marches," a designation which includes last week's events on Ped Walkway.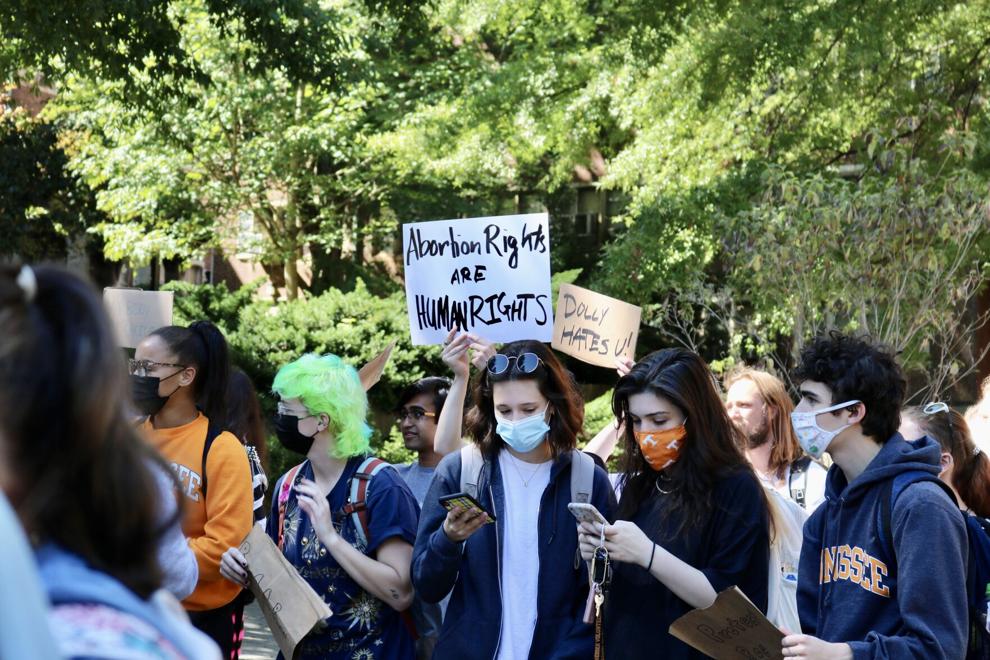 CBR was invited to campus by Vols for Life, a student-led anti-abortion group, and Section .04 of the rulebook specifically covers people not affiliated with the university that have been invited to participate in free-expression activities on campus.
"A non-affiliated person invited pursuant to this Section .04 is not a guest of the University," the rulebook states. "Rather, the non-affiliated person is a guest of the student organization or faculty member who is using the University's limited public forum."
The university does not take responsibility for non-affiliated groups who are invited to campus and places responsibility for their behavior on the organizations who invite them.
Frank Cuevas, vice chancellor for Student Life, said that the university does not endorse every group that comes to campus, but that groups must follow university guidelines about meeting in open spaces on campus and not obstructing traffic.
"Learning to have an open, respectful dialogue and think critically about a variety of issues is part of the college experience and furthers education," Cuevas said. "The university strives to develop policies and procedures to safeguard free speech while maintaining an atmosphere on campus conducive to academic work that respects the rights of all individuals."
Like many policies on campus, UT is hindered as a public institution by what the Tennessee legislature decides. The Campus Free Speech Protection Act was signed into state law in May 2017, and it states that "it is not the proper role of an institution to attempt to shield individuals from free speech, including ideas and opinions they find offensive, unwise, immoral, indecent, disagreeable, conservative, liberal, traditional, radical or wrong-headed."
The UT Board of Trustees adopted a free speech policy that followed the state directive shortly thereafter.
"Our policy cannot be changed in any way that is inconsistent with the Tennessee Campus Free Speech Protection Act unless the General Assembly makes changes to the law," Cuevas said.
According to C. Fletcher Armstrong, Southeast Regional Director of the Center for Bio-Ethical Reform, if UT were to attempt to limit CBR's display in any way, the group would sue the university. They have done so before at other universities.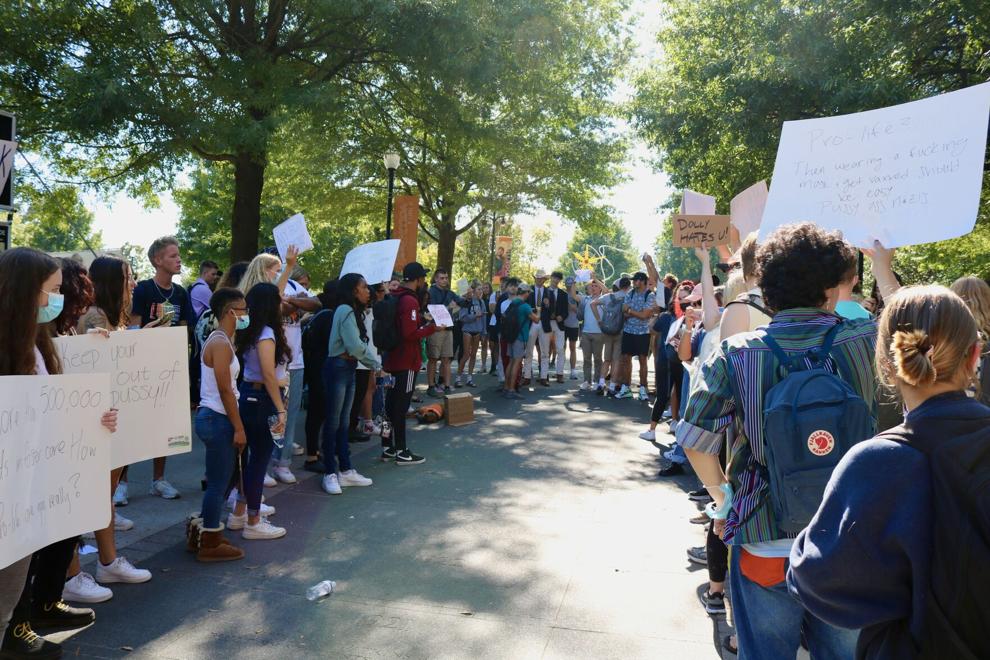 "Universities have become incubators of extreme left-wing propaganda and conservative students just feel like they don't have a voice, so we come and we know what the law is, we don't let universities push us around," Armstrong said. "We go to campuses and we tell the universities, we're coming and if you try to interfere, if you try to treat the students who invited us differently, we'll sue you."
Armstrong said that the campus is owned by the public and paid for with tax dollars, which he believes should set it apart as a public free speech area. He said that limitations to free speech, which have become increasingly more common on campuses across the nation, are signs that students are being insulated from controversial opinions.
"Students are not learning how to think critically, so they get a narrative that they want to follow and it's very difficult to help them break down logically step-to-step what are the issues, what are the facts and how do the facts drive what we should believe," Armstrong said.
Students who spoke out against CBR's tactics took specific issue with the violent nature of the group's imagery and the comparison of abortion with the Holocaust and enslavement. As Armstrong sees it, students are calling for a disagreeable argument to be silenced.
"If we hide our message, it would be ok, that's what they're saying," Armstrong said. "They don't like our message, they don't want to see it. So if you hide your message, we'll let you speak. We're not gonna hide our message."
A trend in free speech discourse that has risen sharply among college students is the notion that certain forms of speech like CBR's anti-abortion display are not only inflammatory but are in fact harmful and should be regulated. Armstrong rejects this idea, which he calls "absurd."
"It's fantastic that people think that to hear or see a point of view expressed that is contrary to their own, that somehow they're being harmed," Armstrong said. "Well if that's the case, I've been harmed my whole life. There's not a day goes by that I don't see someone expressing a viewpoint that I disagree with, sometimes very strongly."
Caesar Schanzenbach, a junior who serves as chairman of the Conservative Coalition at UT, a coalition that includes Vols for Life, had a more positive take on last week's events.
"Political discourse at the magnitude we witnessed those two days is rare at UT," Schanzenbach said. "We should appreciate the fact we have a community in which we can share our opinions in manners such as that."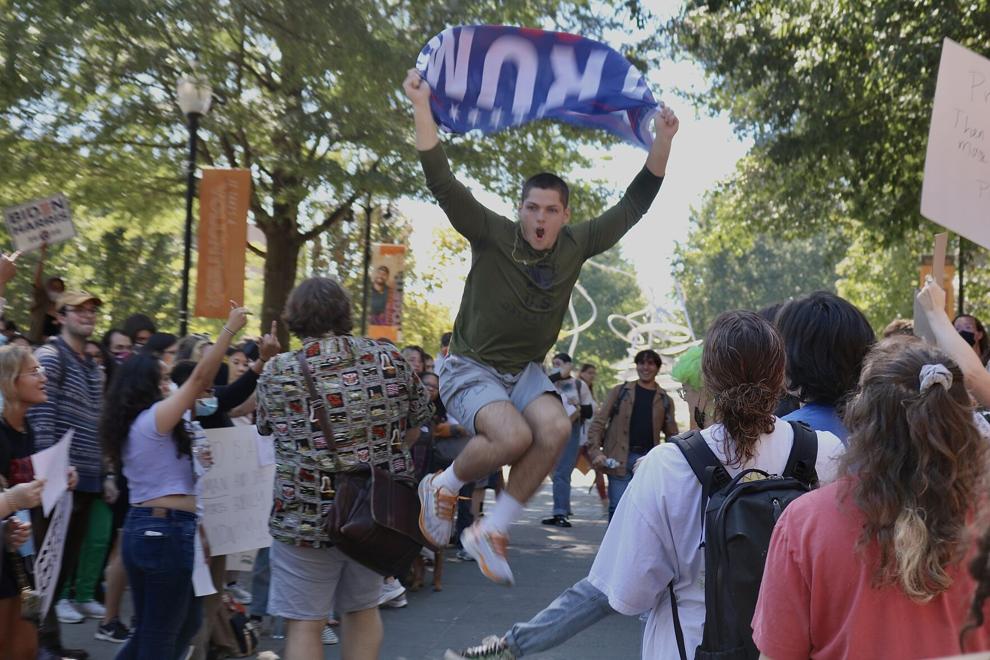 Schanzenbach expressed regret at the animosity that surrounded the protests. When CBR does return to campus, he hopes that the temperature of the protests is turned to a more civil degree.
"In the future, as controversial issues arise again on campus, I would encourage all who wish to practice their right to free speech to respect the positions of others and have genuine conversations where possible," Schanzenbach said. "Volunteers are still defined by our brotherhood. No political issue should call that fundamental quality into question."
For many students who protested against CBR, including Sean Heiser, regulating free speech on campus is a matter of creating a campus environment that is safe and conducive to learning.
"I think you should do whatever you need to do to make sure as many people as possible feel safe in the university that they're paying tons of money to attend," Heiser said.