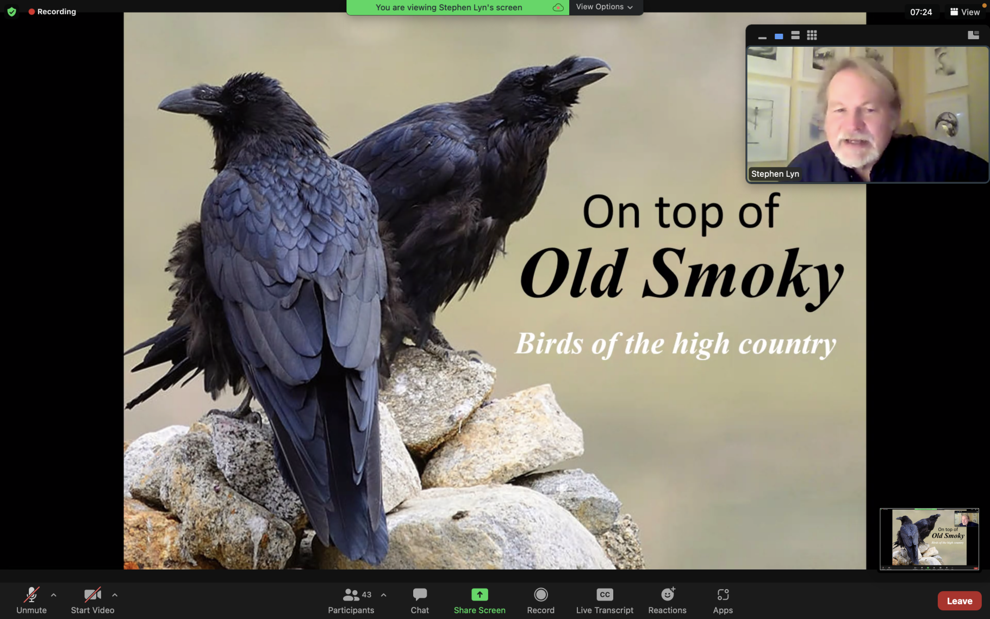 On Thursday evening, Stephen Bales, author of "Natural Histories," "Ghost Birds" and "Ephemeral by Nature," presented a lecture over Zoom, held by the UT Arboretum Society on the various species of birds that inhabit the Great Smoky Mountains.
Within this lecture, Bales described the different types of birds one can find in the Smokies and how to identify them based on their feathers and calls.
Bales is a native of Gatlinburg, who has served as a naturalist for Ijams Nature Center in Knoxville for twenty years and produces articles for The Tennessee Conservationist and Hellbender Press, an online environmental journal.
The program began with a welcome from Michelle Campanis, the education coordinator for the UT Arboretum Society.
"We're here tonight with Stephen Lyn Bales, our favorite naturalist, who has so much to teach us about all things nature. Tonight we're learning about On Top of Old Smoky and we are looking at birds of the high country," Campanis said.
Bales began by showing different trails and mountains within the national park and around the area that are beneficial for exploring and discovering species of birds.
"I explored the mountains and I consider myself incredibly lucky to be there thirty years after the park was founded. I think it was a great place to explore, and I honestly think that whole air of conservation that I lived in instilled a lot in me and that's who I am today," Bales said.
As you go into higher elevations with the Smokies, you will begin to hear ravens, which tend to nest on rocky cliffs and can fly upside down. Additionally, you will see Black-capped Chickadees.
Bales then explained the differences between these two species of birds and how they can be confused with American Crows and Carolina Chickadees. You can identify the differences by viewing the bulkiness of these birds and the differences between their songs.
Furthermore, the Peregrine Falcon, which can fly at up to 240 mph, resides within the Smokies. This falcon reaches this speed by flying up to a great height, then dives steeply and flies straight down.
This bird was almost lost to dichloro-diphenyl-trichloroethane, an insecticide that caused problems with egg-shell thinning and decimated certain species of birds. After DDT was banned in 1972, this bird was brought back to the National Park in the Greenbrier Pinnacle in 1994. There are now various locations where the birds nest within the park, and the population is stronger than ever across the U.S.
Moreover, there are 36 different species of Warblers that reside in Tennessee. However, there are only four that nest within high elevations. These Warblers are known as the Blackburnian Warbler, Chestnut-sided Warbler, Canada Warbler and Back-throated Blue Warbler.
When asked if given only a single day to watch birds in the Smokies, and where would be a good area to go to to see the most birds, Bales gave a detailed answer.
"The center of the Smokies is Newfound Gap, you can go in both directions and you can do most of it in your car. Truthfully, if you want to do as much as possible, then you can stay in your car and pull over and hike some of the short trails in Newfound Gap or the Cosby section in the northern area of the National Park," Bales said.
Bales also showed pictures of and explained the behaviors of the Northern Saw-whet Owl, Broad-winged Hawk and various other species of bird that reside in high elevations.
He then provided some resources available to learn more about the birds of the Great Smoky Mountains. These included the books "Notes on the Birds of Great Smoky Mountains National Park" and "Birds of the Smokies" by the naturalist Arthur Stupka.