It is no secret that the fall semester will be an experience like never before. In the months since UT initially closed its doors to students, faculty and staff members have been rapidly working to create a new and safe campus life.
For first-year students, their introduction to college life, and perhaps their first time living alone, will be radically different from what they anticipated during college application season just last fall.
Some first-year students do have fully online schedules, either at their request or due to the rearrangement of the time table. Faculty and staff members are still working with first-year students who were given fully online schedules after the timetable was readjusted in order to look for alternative class options.
Additionally, all first-year students will be enrolled in a seminar class in the fall. 90% of such classes will be in-person, although a few will be online, possibility per the request of an instructor who may be in a vulnerable population or caring for someone in a vulnerable population.
Traditionally, first-years Vols are required to live on-campus, although individual requests to waive the requirement were available. However, just this week, UT made the decision to wave the requirement altogether and allow first-year students to reside at home or off-campus. The decision arrived after a culmination of various factors, including a high number of waiver requests, a rising number of COVID-19 cases in East Tennessee and the changes made to class schedules. Students are able to cancel their housing contracts and make the decision to live in the space they feel is best for their health and safety.
For students who do decide to live on campus, new restrictions will be in place regarding visitors and safety within the dorms. During the upcoming move-in process, students will be moving in by appointment only.
Chandra Myrick, the executive director of University Housing, explained how the move-in appointments will operate.
"To accommodate social distancing, move-in will be conducted by appointment between August 9 and August 15 for first-year students and August 9 and August 19 for returning students," Myrick said. "Students living in the residence halls will sign up for a move-in appointment and will move in during their designated time. Students start signing up for move-in appointments this week and can find more information about the move-in process on the University Housing website."
Students living in residence halls must wear masks in all common areas. University staff will continue with additional cleaning measures, especially in high-trafficked areas such as bathrooms. Additionally, students residing in dorms will only be permitted to have one visitor at a time in the dorm, and visitors must be current UT students.
In order to reflect changes on campus, on-campus housing rates and fees for meal plans will be reduced by 10%.
Although many students will be taking online classes, students will not be restricted to their dorms, apartments or homes to take such classes. Public spaces on campus — such as Hodges Library, the Student Union and outdoor areas — will be open for students to peruse. Additionally, UT is considering the possibility of converting certain classrooms, now too small to hold socially-distanced courses, into study areas.
"Students who live on campus can choose to take their online courses from their residence hall room or other available common spaces on campus," Myrick said. "New spaces for comfortably engaging in online classes will be available. We want students to consider the entire campus to be their classroom with comfortable spaces and convenient access to campus resources."
And furthermore, Amber Williams, vice provost for Student Success, explained that the laid-back approach online classes sometimes offer can be viewed as a benefit as well.
"We're thinking very creatively about how can students utilize the campus as their classroom, which I actually think is in some ways kind of fun, instead of sitting in a lecture hall with 200 people, being able to sit on a hammock and take your class and still have the great faculty member delivering your curriculum," Williams said. "I think that's unique, and it's a cool opportunity. I'd rather be outside on the hammock than being in the classroom."
Public spaces on campus will be subject to increased social distancing measures, with chairs and tables removed to prevent close gathering and graphics of Smokey's paws plastered on the ground to direct traffic flow. Signage will be present in nearly all areas of campus, and numerous wipe and hand sanitizer stations will be available. Students are encouraged to wipe down their personal area before sitting down, because although extensive cleaning measures are in place, it is not possible for the university to clean certain areas — such as classrooms — between each use.
Facilities Services, the Office of the University Registrar and various faculty members have all worked together to determine classrooms' current mode of operation. Currently, there are only five classrooms on campus that can seat more than 100 students with social distancing measures, and there are 39 classrooms that can accommodate 36 to 99 students with social distancing measures. Time between classes was increased in order to encourage social distancing.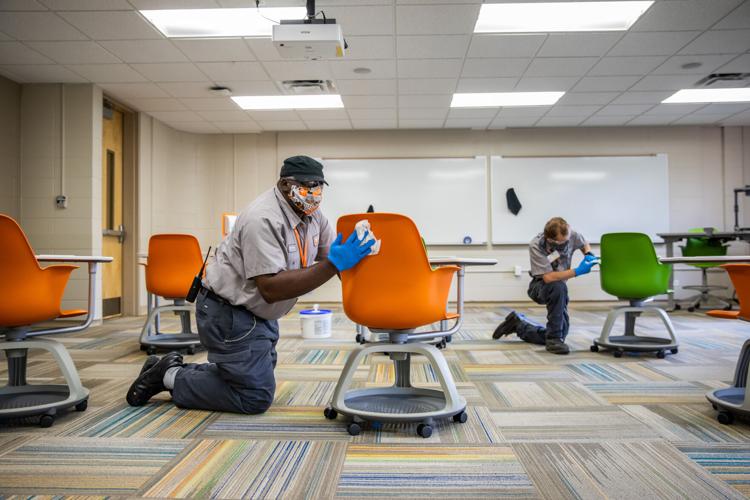 After determining the necessary physical layout of classrooms, UT spoke with faculty members to determine who was in a vulnerable population or caring for someone from a vulnerable population in order to ensure that faculty members are safe in their teaching and working environments.
The knowledge from Facilities Services and faculty members was then used to redesign class schedules, a task that is usually completed in a year with extensive research but was confined to a four-week period.
"Once we got the feedback from the faculty, the facilities, all that, it was just like a puzzle. You kind of put it together," Williams said. "I am so proud of those teams and what they've done in such a short period of time. Most of the time when campuses redesign a time table, it's like a year process. There's all this research involved."
Masks will be required within classrooms, and additional masks will be provided on campus. If a student arrives to class without wearing a mask, the presiding professor will offer the student a mask. If the student objects to wearing the mask, the professor will either dismiss the student from the classroom or dismiss the entire class.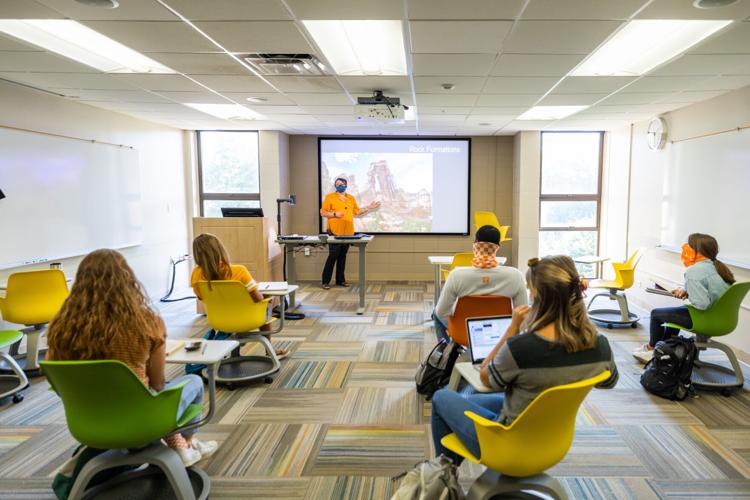 Williams explained that in the case of a student's objection to wearing a mask, the university will first approach the situation with a conversation rather than disciplinary measures.
"We want to lean more on the Volunteer spirit than leaning on punitive measures. One of the things that's really amazing about this campus is how we take care of each other. Vols take care of Vols. We'd rather have an individual conversation with someone who's maybe not following that protocol ... before we would handle any sort of punitive measure," Williams said.
In order to ensure online classes run as smoothly as possible, the university has greatly invested in infrastructure for online courses. Nearly 600 faculty members have engaged in a "bootcamp" to increase efficiency in online pedagogy, and faculty members who have experience in online pedagogy have been available to guide the transition.
Most scientific labs will remain in-person, although they may be smaller and offered at additional times in order to support social distancing efforts. Certain labs will be offered online.
Additionally, UT is working with professors teaching online courses to create in-person additional support, such as study groups, supplemental instruction and tutoring.
Williams also stressed the importance of adhering to safety guidelines both on and off-campus, in order to ensure the health of all and the ability to continue with the semester as planned.
"Make sure to prioritize your own health and the health of students around you, meaning that whether it's during class when you're on campus or you're off campus, making sure that you're wearing your mask, that you're social distancing, that you're washing your hands," Williams said. "The only way we're going to be able to continue to have this amazing experience in person is if we protect each other and protect ourselves. ... It's a 24/7 commitment."
Despite the changes rapidly thrown into the college experience, Williams encourages students to remain positive. For one, Student Life programming will be increasingly offered both online and in-person, so students who missed an event or a speaker will be able to view the talk online at a later time.
She also advises Vols to find ways to be safely engaged with others.
"Still build relationships with people. Just because we are physically distant doesn't mean we're socially distant, meaning that keep your six feet apart, but still let's talk, let's enjoy," Williams said. "I've been having all kinds of conversations with people six feet apart from me. I've been talking a little louder than normal, but hey, just because we're in this environment doesn't mean that you can't build relationships with your faculty, staff, and students. That's what college is about. Let's just do it in a safe way."
When asked about the hardest part of the quick, decision-heavy process necessary to create a safe return to campus, Williams remembers the easiest part of the redesign instead. She explained that with faculty and staff members committed to students' health and safety and operating with compassion, creativity and flexibility — per advice from Chancellor Donde Plowman — recreating campus life was an enjoyable, albeit sometimes challenging, experience.
"What comes to mind is not the hardest part but the easiest part. ... What's been the easiest part is the compassion and creativity that our faculty and staff have had during this time and the ability to be nimble and agile on a dime," Williams said. "The ability to be agile is what I think is going to make this fall successful."
UT's Best Practices for Reopening can be viewed online.