Wednesday evening, three Student Government Association campaigns met for a debate prior to the organization's annual elections. The hybrid event took place in-person at the Student Union auditorium and was also available to watch on Instagram live.
Three campaigns — Empower, Forward and The Volunteer Way — are running for executive and senatorial positions in SGA this year. From Empower, Aubrey Robinson is running for student body president, Peter Mansfield is running for vice president, Adejah Mack is running for student services director and Brian Lung is running for treasurer.
From Forward, Claire Donelan is running for student body president, Reginald Williams II is running for vice president, Nia Myrthil is running for student services director and Simon Jolly is running for executive treasurer.
With The Volunteer Way, Walker Hoover is running for student body president, Lindsay Lankau is running for vice president, and Isabel Spangler is running for student services director.
There were multiple candidates running who had had little to no SGA involvement — these include Adejah Mack and Brian Lung from the Empower campaign, along with Reginald Williams II from Forward, whose main legislature experience has been with First-Year Leadership Council, — advocating to bring a fresh perspective to the university.
The event began with introductions and a round of several questions for the presidential candidates, moderated by Jasmine Garrett. Garrett first asked the candidates what their campaigns' main policy goals were.
Robinson said that Empower was focused on amplifying student voices, engaging the student body and enhancing campus resources, while Donelan highlighted Forward's three pillars: intention, progression and connection.
Hoover, who ran for student body president under the Promise campaign as a sophomore last year, mentioned the Promise campaign as a main policy draw.
"Last year, our campaign was named Promise, and those promises were very close to me, and we did lose our campaign, but those promises are still there, and the reason I'm sitting here today is because those promises were never enacted," Hoover said. "I wish I could be at home right now, but I care about this university and the policies that we have should have been implemented a long time ago."
For the next question, Garrett noted that all of the presidential candidates are white and inquired about how their race and class privileges may give them an advantage.
Hoover, who hesitated to "subscribe to identity politics," said that the question was important but felt that his race and class didn't afford him privileges.
"As far as if my race and class provides an advantage, I don't think it does, especially class," Hoover said.
Robinson gave a different response to the question, explaining that she felt privileged to even be able to learn about racism.
"I understand that learning about racism and the experiences of BIPOC and LGBTQ+ identifying students and the discrimination that they face on our campus, it is a privilege to learn about it, to read about it versus experience it first hand," Robinson said.
Donelan gave a similar response to Robinson.
"I'm invited into every single space on this campus," Donelan said. "I myself have been invited to tables that I probably shouldn't have, and it probably should have been someone else, someone else with a more diverse background, someone else with different intersectionality."
During the discussion portion of the debate, the presidential candidates discussed an incident that occurred in February when Professor Melissa Hargrove wrote a racial slur used as an acronym on a white board during an Africana Studies lecture. The university chose not to fire Hargrove, although the current SGA administration has called for her termination.
Robinson expressed her support for the current administration's stance and said that SGA should commit to becoming anti-racist.
"This topic is clearly at the forefront of students' minds. It's a major issue on our campus. It is unacceptable for an Africana Studies professor to use a racial slur in an academic setting like that," Robinson said.
Donelan also said she supports the current administration's stance on the situation and said she would continue to support students' efforts to advocate for the professor's termination.
"We shouldn't have to rally outside of someone's office to get a meeting," Donelan said. "That should not be the way that things are working on this campus. If administration would like to make decisions for students, they need to meet with students in order to be informed."
Additionally, Garrett asked Donelan to discuss any advocacy work she had completed with the LGBTQ+ community, considering that the Princeton Review recently ranked UT as the country's second most LGBTQ+ unfriendly college.
"We need to make sure that were fighting for a space for them at the table and listening to what they would like for administration to to do and making sure that administration follows through on that promise. But at the same time, we can't put that much pressure on the entire LGBTQ+ community to always be fighting and always be telling everyone what they want," Donelan said.
Hoover, on the other hand, advocated for primarily having discussions with the Pride Center.
"We need to have discussions solely with the Pride Center with this community and ensure that what we're presenting is 100% what they want," Hoover said. "Because the Pride Center and other organizations dedicate their entire time at this university specifically toward this cause, and I don't think that the student government should even assume that we have the answers to solve this problem."
Robinson added that transgender students are disadvantaged in terms of on-campus housing.
"A lot of trans and non-binary students are forced to buy out their rooms, which is a socioeconomic factor, and when you are required to live in on-campus housing and you identify as transgender or non binary, you should not be forced to buy out your room," Robinson said.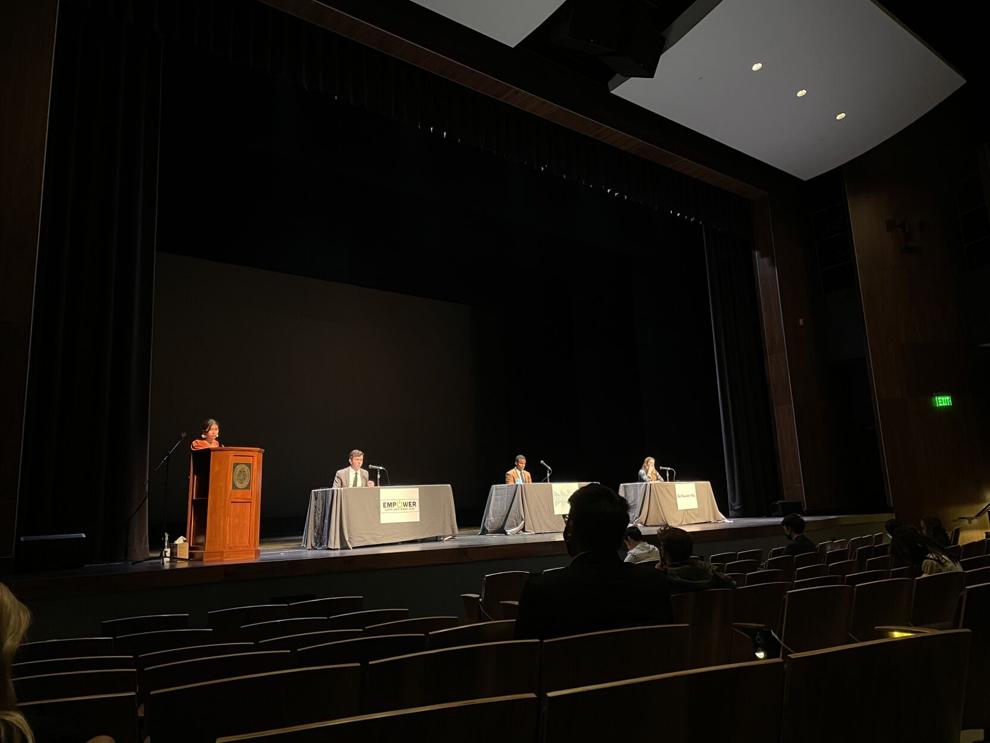 After closing statements from the presidential candidates, the event moved into a round of debates from vice presidential candidates Mansfield, Williams and Lankau.
Beginning the vice presidential debate with a series of opening statements detailing their enthusiasm for the vice presidential position, the candidates explained their plans for expanding on the Freshman Year Leadership Council, leading the senate and representing the student body.
Williams pointed out a large disconnect between the general student body's knowledge of SGA's purpose and the potential for SGA's collective potential, saying as vice president, he wants to "bridge the gap" between students and SGA in order to promote transparency with the senate's plans.
Lankau explained that she wants to be elected as vice president in order to address her grievances with the efficacy of SGA.
"I think it is really important that when senators take their time to write legislation, it doesn't go through the senate and sit on somebody's desk and have nothing happen to it," Lankau said. "The Vice President needs to work with the senate exec. board to go ahead and push the legislation through to the people that are going to make it happen."
Mansfield stressed the importance of empowering senators and the First Year Leadership Council to do what is best for the university and to focus on the implementation side of the policy process.
Throughout the debate, the importance of the First-Year Leadership Council was brought up. All three candidates agreed that increasing the retention of First Year Leadership Council memberships in order to transfer experienced legislators into the senate was important.
Lankau expressed that one way of approaching this problem of SGA retention is to double the number of FYLC members and building connections between SGA and organizations by increasing liaisons from organizations.
In the discussion section, the efficiency of the senate was questioned, as well as possibly changing the bi-weekly senate meetings to weekly meetings.
Mansfield and Lankau agreed that the bi-weekly schedule is best for senators' legislation process and discussed that they want all senators to acknowledge their privilege in order to take their work seriously.
Williams agreed that bi-weekly meetings are best because "legislation takes time to write, and [he] prefers quality over quality," but also acknowledged that all senators need to recognize their position is serious and requires effort.
Williams felt that his time as part of the general student body instead of having heavy involvement in SGA like other candidates gives him an advantage, as he knows how students who are not a part of SGA are feeling. Also, he mentioned that he wants students to feel that they can speak to him and that he can be considered approachable.
Focusing on inclusion, Mansfield detailed how his past of being a transfer student and a member of the FYLC made him value the potential of FYLC as a way to incorporate nontraditional first year students in SGA.
"... The community of first year students and transfer students experience a variety of unique challenges, and many of those are overlooked, ranging from not having a traditional orientation experience or missing out on certain groups that originate the first year of college. ... I would like to extend the opportunity to as many people as possible," Mansfield said.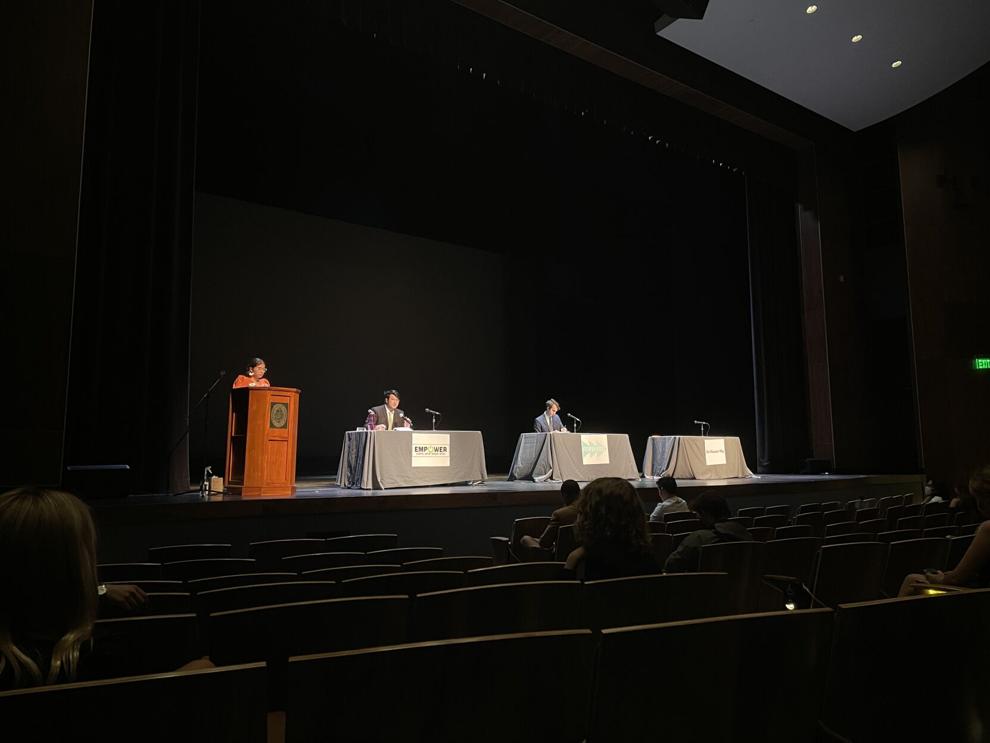 Next, Lung and Jolly took to the stage to debate for the executive treasurer position, which was recently switched last year from an appointed to an elected position.
The moderator asked the candidates what they thought about this recent switch and what made them qualified to be in the position, and Jolly explained that he believed it helped put the budget power back in students' hands.
"For far too long students have been left out of the budget process. ... It's our money and we should be able to decide where that money goes," Jolly said.
Lung, who has not previously been involved with SGA, explained that being an outsider to the organization makes him a great candidate for the position.
"I'm new to SGA," Lung said. "I know that might come as a shock. Some people might think of that as a flaw. I think of that as a positive. It kind of gives me a new fresh perspective into an already set into stone thing."
Lung added that Empower hopes to created a Student Organization Operating Fund to help streamline and eliminate bias in the process of obtaining funds for student organizations, which has undergone several changes in the past several years in the Department of Student Life.
Jolly said that he hopes to bring together a group of students and administrators. to more effectively distribute funds for student organizations.
"The current advisory board is powerless," Jolly said.
This year, SGA incorporated supplemental funds in its campaigns, which are given to campaign members at a socioeconomic disadvantage. During the discussion portion of the debate, both Jolly and Lung expressed their support for continuing the supplemental funds program.
"You shouldn't have to come from an upper class family to run for a top four position at UT, and I think that moving forward certainly I would love to see that continue to stay in place," Jolly said.
Lung agreed with Jolly and said that as a member of a family which immigrated from a country with a lower socioeconomic status, he understood the necessity of these supplemental funds.
"We love the idea of these supplemental funds, and we would love to continue them in the future. I understand that not everyone has the funds to be able to run for the top four. ... Having that supplemental funds for us and for future campaign people to fall back on is extremely helpful," Lung said.
Both candidates also both expressed a desire to see more transparency regarding spending from the SGA treasury department.
"Something I really want to see within SGA is increasing our transparency," Jolly said. "I don't see why we cant have the Google sheet where we see all our spending uploaded to students on our website."
Finally, candidates for the student services director position spoke during the final portion of the 2021 SGA debates.
The candidates highly emphasized the desire to increase a feeling of belonging on Rocky Top, and to make students feel welcome and accepted. As student services director, their main involvement will be working with students, and these students include those who are not involved with SGA. Additionally, the student services director helps with planning student events.
Both executive treasurer candidates also suggested the increasing of funding for the student services committee, which shows that this is a very important section of SGA.
One idea the Empower campaign mentioned was the implementation of a monthly Rocky Top Newsletter to let students know what is going on within SGA, because it is often an issue that students are unaware of the inner-workings of the organization.
Further, the candidates noted that communication is key, and that the individual elected to the student services director position must be communicative, flexible and adaptable.
Nia Myrthil from the Forward campaign suggested the creation of a BIPOC safe space on campus, such as a garden.
Concerning the formation, modification or removal of committees, the SSD candidates' ideas varied. Myrthil suggested an arts committee to focus on joy and culture that she feels like gets overlooked on campus.
"Let's have a committee that focuses on visual, theatrical and musical arts, that exemplifies the passion our students have, especially our minority students," Myrthil said.
Spangler suggested creating a mental health committee or modifying the health and wellness committee to increase awareness and the amount of resources that focus on mental health.
Mack suggested extending committee outreach by adding a student services panel during orientation to raise awareness amongst incoming students so they can be more aware of the different committees that exist and what they focus on.
SGA elections will be held online from April 21 to April 23 at 5 p.m. at sga.utk.edu.