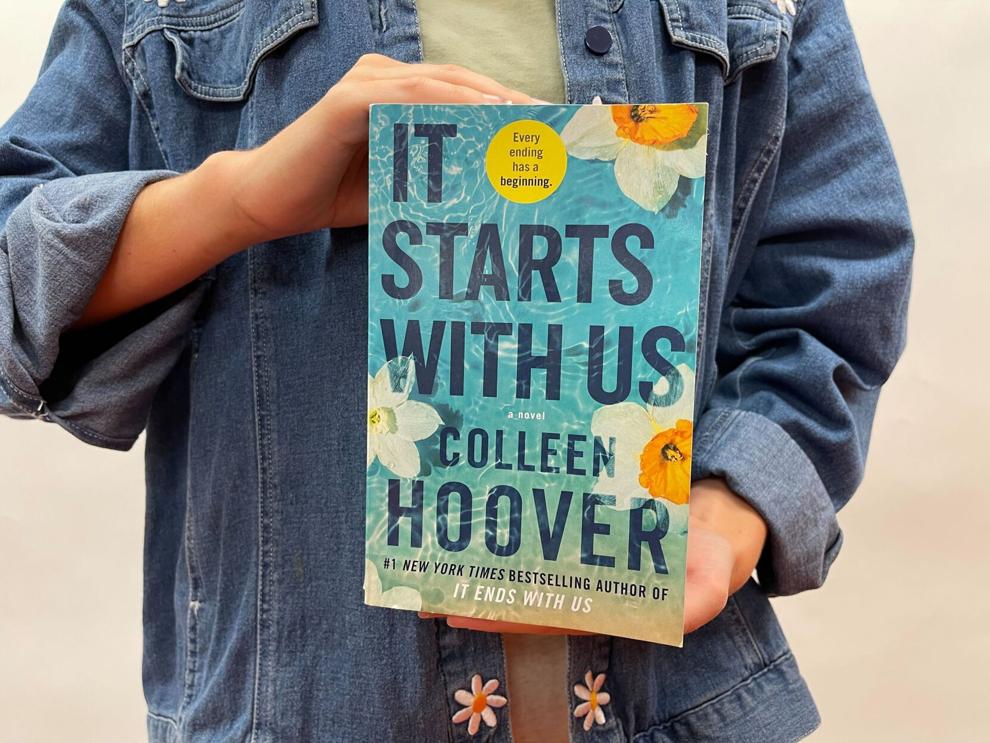 If you have read a Colleen Hoover book, you know how emotional they can get. Well, that is exactly what was achieved with "It Starts with Us." The sequel that was never supposed to happen was released on Oct. 15 due to BookTok blowing up "It Ends with Us" this past year and the continuous need from readers to know Lily and Atlas' story.
The book "It Ends with Us" was published on Aug. 6, 2016, but blew up over the past summer along with the rest of Hoover's books, including "Ugly Love," "November 9" and "Verity." However, "It Ends with Us" was the main book that blew up due to its realistic portrayal of domestic abuse and the cycle that can occur if not stopped. Lily Bloom, the main character, grew up in an abusive household where her dad would abuse her mom and her mom never stopped the cycle of it. Later in adulthood, Lily has moved to Boston, Massachusetts, and meets Ryle Kincaid, a handsome doctor. Happiness doesn't last long with Ryle abusing Lily when he gets jealous about her first love, Atlas Corrigan. With their little girl being born, Lily eventually decides to ask Ryle for a divorce to break the cycle, thus the title "It Ends with Us." The book ends with Lily and Atlas running into each other about a year and a half after her divorce from Ryle.
"It Starts with Us" picks up right where the last book ended. With Lily still determined to keep the cycle broken, she worries about how she will be able to move on with Atlas due to the fact that Ryle blames him for the ending of their marriage. I have never personally been through an abusive relationship, but this book does a fantastic job fully describing the crippling fear Lily feels even just by Ryle being in a room alone with her. Lily has agreed to have shared custody with Ryle of their daughter, Emmy, to keep the peace. However, she knows the peace is only temporary because the one man she wants is the one man that her ex-husband does not want in her life or her daughter's life. Following the trauma of Lily from her abuse and the trauma of Atlas from his teenage years, this book shows all of the hurdles and big decisions that they both must make to be able to be with each other.
Thankfully this book does not pack a punch as emotional as the book before it because I honestly do not think I could have witnessed more trauma to Lily or Atlas. I loved them individually in the first book, and I love them even more in this book. Lily is struggling to open up and let someone else in her life because of the trauma she experienced from Ryle, and Atlas knows that but continues to be there whenever she needs him. Atlas also has to deal with his mother who neglected him his whole life. I loved reading about Atlas' life before Lily because it unveils why he always says Lily saved him. I think it just makes it all the more emotional and meaningful. These two characters really flourished throughout this book, and it honestly made my heart happy to see them find happiness after such a long time.
"It Starts with Us" was a perfect way to end this story. I will warn you that "It Ends with Us" is very intense and somewhat depressing. However, "It Starts with Us" makes up for all of the trauma experienced in the first book, thank goodness. If you are looking for a book that has a lot of emotional depth, I highly recommend this book along with the rest of her books.