After a few days of rain, the skies in Knoxville made way for a rainbow of color as more than 10,000 gathered for the 13th annual Pridefest on Saturday, June 23. 
"For me, Pride is all about celebrating our community and being around people that support us and that love us," attendee Avery G. Howard said. "That's what I'm most excited about- being around friends because most friends become your family." 
Festival kicks off with a parade: 
Around a dozen floats decorated with balloons, pride flags and splotches of color staged for the 11 a.m. parade in the Old City Lot downtown before starting down Jackson Avenue. The parade then headed down South Gay Street toward Church Street before finishing on Howard Baker Jr. Boulevard. 
"The parade, it's really awesome," UT Pride Center Coordinator Bonnie Johnson said. "I feel like many believe that Knoxville is much more liberal than surrounding areas but still walking down gay street it's a little ironic that queer people still face violence everyday."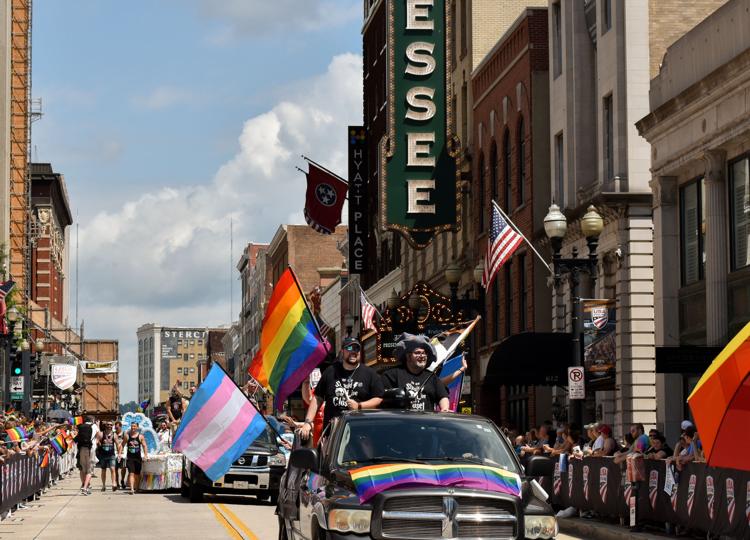 "I think it's nice to see that transformation and hear those affirmations because I know that adults can be stronger but I think especially for students it's important to know that you have support out there and not everyone is as hateful as I think the media and the really loud naysayers like to express," Johnson added. 
Some parade participants included mayoral candidate Linda Haney, UT's Pride Center, the Knoxville Bear Club, Voices for Trans Youth and Harri Scari, alter ego of Andrew Henry, dressed as Marie Antoinette. 
"My brand is taking household items and making them in to your own beautiful fashion," Scari said. "I thought this year since the Supreme Court decided that businesses can just deny people rights, we're going to let them all eat cake." 
From parade to party- thousands gather at Civic Coliseum: 
Amidst glitter, drag queens, and participants of all ages, spectators and parade participants filed into the Mary Costa Plaza at the Civic Coliseum following the parade. 
Organizations and community businesses such as US Bank, Tennessee Equality Project, Knox County Democratic Party, the Trans Empowerment Project, Planned Parenthood and Parents, Families and Friends of Lesbians and Gays tabled at the event. 
Kellen Bergman, district manager for US Bank, said the company has always supported pride, but this was its first year at the event. 
"US Bank is really, really big on diversity and inclusion and we are one of the only banks that have a pride debit card and specific events to support our LGBTQ community," Bergman said. "This is just one of the many ways that we like to get out in the community and make sure that our customers and non-customers know we support them."
Along with information, booths offered Pride gear like an inflatable flamingo in exchange for a song and dance. 
Along with businesses and vendors, entertainment was set until 8 p.m. A Kids Zone and DragonFly Circus entertained kids. Other performers included Yara Sofia, Girl Crush, Pulp Friction, Jeanine Fuller & The Boyz, Knoxville Gay Men's Chorus, Knoxville Opera, J. Luke, TURNAROUND NORMAN, Brent Hyder and headliner Hudson K. 
Small protests occur while KPD, City of Knoxville enforce security: 
As was anticipated before the event began, Saturday's Pridefest did feature protests from those who were opposed to the event's message.
Around seven protestors, some wearing camouflage while others wore black clothes and masks, initially gathered at the end of South Gay Street near the Knoxville Visitors Center before following the parade's route. They held signs that bore messages such as "Jesus Wishes You Weren't Gay," "Knoxville Isn't Your Sodom and Gomorrah" and "I'm Praying For You." 
Groups represented included the National Socialist Movement, League of the South and the ShieldWall Network. Several attendees of the parade stopped to shout at the protestors, who yelled back at them, while police monitored the encounters nearby.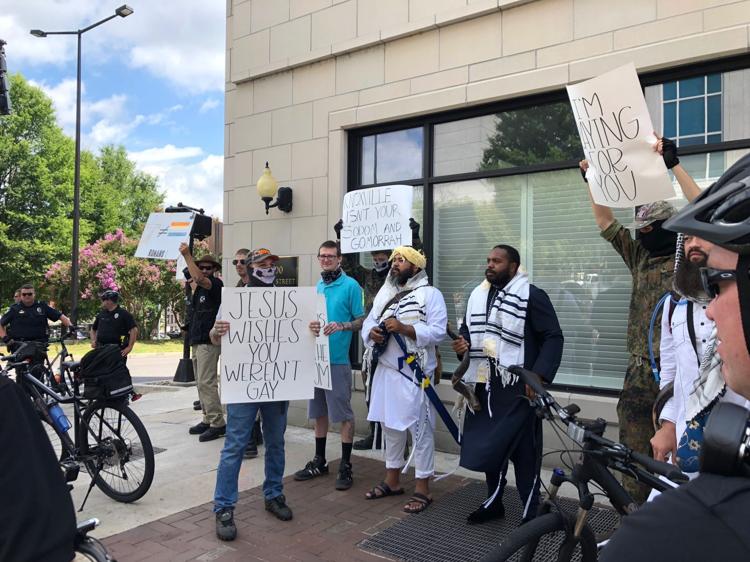 Kynan Dutton, the Tennessee State Leader of the National Socialist Movement, said that the protestors are entitled to their freedom of speech, but that the parade attendees were trying to drown out their message.
"If we say anything akin to white power or white pride, that makes us racist," Dutton said. "What's being promoted here today is degeneracy. These are future abusers, future child molesters, future people that are going to be a degradation to our society." 
Dutton said that Pridefest should not be allowed in Knoxville, which he claimed is a historically "pro-white, pro-traditional family" town.
"That is another reason we're here is to support the traditional family that is one man, one woman and children," Dutton said. "None of these other permutations, some of this other corruption or evil that is being permutated by this parade. It should not, and hopefully in the future will not, be allowed by these cities."
At a certain point during the parade, the protestors were joined by several men dressed in traditional Middle Eastern attire who said they represented the nation of Israel. One member, Yahonatan Yisra'el, said the group was trying to spread God's word at the event. 
"We stand on the word of God," Yisra'el said. "The Bible tells us in Leviticus that man shall not lie with man as with womankind. It is abomination. So we stand for the word of God and holiness and righteousness ... We came out here to proclaim the word of God and call sinners to repentance."
Several security measures were put into place for the event. KPD said that more officers were stationed than at other events, while trucks owned by the City of Knoxville were parked in the path of parking lots and roadways to block drivers, including potential attackers, from entering the parade route. 
"We went through the police department and they gave us the diagrams where the trucks needed to block the traffic off to keep any traffic from coming through the parade," Greg Hudson, who helps supervise construction for the City of Knoxville, said. 
History of Pridefest: 
With the intention of providing a safe and public event for the LGBTQ+ community in Knoxville, Pridefest began in 2006. By the fall of 2009, the Knoxville Human Rights Group had hosted four Pridefests in Market Square. 
The festivals became more and more popular and by 2010, the East Tennessee Equality Council, Inc. formed as a non-profit. In 2012, the festival moved from Market Square to the Performance Lawn at World's Fair Park. 
Pridefest organizers decided to move the festival once more to the Mary Costa Plaza as participation continued to grow. 
Now in its 13th year, Pridefest has connected members of the community near and far. 
New Knoxville resident Brian Prout brought his kids with him to this year's festival to experience their first Pridefest together. 
"I just want them to see that these are people celebrating being together," Prout said. "Especially in these times, it's important to show unity and show our support of everybody around." 
Pride festivals are planned across the country this weekend, with cities Nashville celebrating today and Seattle, Washington celebrating tomorrow. 
Chair of the Knox, Anderson and Blount County Tennessee Equality Project Sterling Field has participated in pride festivals across the U.S. including two in Knoxville, Ohio and Detroit. 
"It's seeing our community together, actually seeing everyone together and also being encouraging Knoxville's exploding growth in sections of our community here," Field said. "Five years ago, it was just a small group in Market Square, then went to Worlds Fair Park and now it's here, filling up a huge, huge street as well as the Colosseum." 
Kylie Hubbard (Editor-in-Chief), Tyler Wombles (Managing Editor), Allie Clouse (Staff Writer) and Eric Bailes (Staff Writer) contributed to this story.