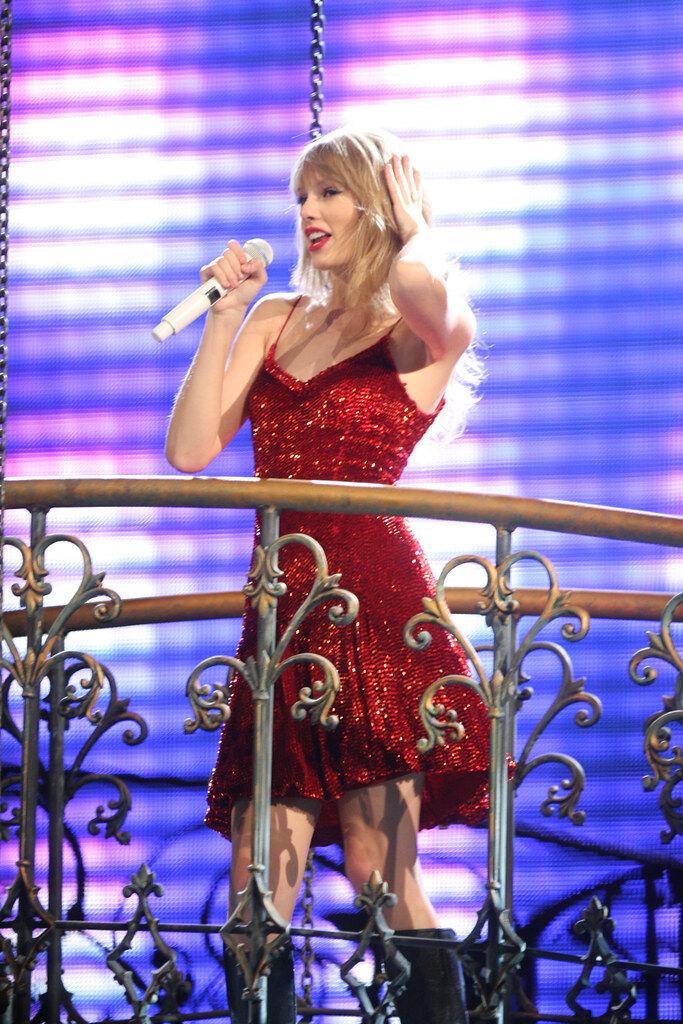 On Nov. 1, after securing all 10 slots on the Billboard top-10 chart with her new album, "Midnights," singer-songwriter and global superstar Taylor Swift announced that she would be going back on tour.
Titled "The Eras Tour," the 11-time Grammy-winning artist will take her famously loyal fanbase on a trip through the many iconic stages of her nearly 20-year long career. This will be the first time she has done so since 2018 for her sixth studio album "reputation," and has since released four new albums and re-released two.
On Nov. 15, presale tickets became available, and rumblings of The Eras Tour made their rounds swiftly throughout campus.
For the Swifties of UT, it was a hectic day to say the least.
"The Taylor Swift ticket presale is proof that the hunger games could actually happen in real life," one Twitter user said.
Here in Knoxville, alarms were set early, and laptops in lecture halls and classrooms all over campus had a split screen between Ticketmaster and schoolwork side by side – the difficulty lying in identifying which was more important than the other. There were even desktop monitors in Hodges Library with the waiting room opened.
Long-time Swiftie and junior Allie Goodman has been a fan of the singer-songwriter since the "Love Story" music video came out in 2008.
"I remember watching it on my parents' super old desktop and immediately loving any music she released," Goodman said.
Goodman began waiting for her tickets at 9:30 a.m., 30 minutes before tickets went on sale, to prepare for the mayhem. She was also willing to make sacrifices. When it came to the decision of going to class or monitoring the waiting room, she decided on Swift. Due to technological troubles as well, her only means of internet access was an iPad, and thus was unable to do homework while she waited to reserve her ticket.
Still, it was all worth it.
"After starting to lose hope and a seven and a half hour wait, I got my tickets," Goodman said.
Of the eras the singer will be throwing it back to, Goodman is most excited to experience "Speak Now" and "reputation" again – her favorite songs are among the two records.
Senior Swiftie Emma Kelley shares the same favorite eras as Goodman. Having always enjoyed Swift's music, Kelley identifies "1989" as the album that solidified her as a Taylor Swift fan.
With eight years of loving Swift's music under her belt, Kelley went into the day prepared with her payment information pre-saved on the website and arrived at the waiting room the second it opened. However, Kelley was still waiting for her tickets after she had been waiting online for over five hours – experiencing a nightmare scenario no Swiftie would wish upon their worst enemy.
"My computer backed out of the queue after I had been in it for two hours. Ticketmaster kept crashing," Kelley said.
At 1 p.m., Ticketmaster posted to twitter giving the world an explanation for the madness.
"There has been historically unprecedented demand with millions showing up to buy tickets for the TaylorSwiftTix Presale. Hundreds of thousands of tickets have been sold. If you have already secured tickets, you are all set. If you are currently in a queue, please hang tight," Ticketmaster said.
Senior Jillian Collins describes herself as a late-bloomer in her journey to being a Swiftie, but her dedication today did not waver. She described the process as "scary." After selecting her tickets quickly, the website crashed for Collins too.
"I nearly sobbed," Collins said.
However, after four stressful hours of panic and holding back tears, Collins and her friends claimed tickets for Swift's show in New Jersey.
Brooke Livesay had to put her fate in the hands of her sister – a responsibility she said she would only hand off to "a seasoned pro."
"I gave my sister my Ticketmaster account and credit card and said 'do the best you can.'" Livesay said.
At around 2:30 p.m., her sister, who will be attending the show with her, reported back with the tickets.
Tickets for The Eras Tour were within reason for college students with prices ranging from $49 to $499.
"I have plenty of leftovers and snacks to get me through the week, and this is an experience that I'll never get the chance to see again," Goodman said.
"I was literally willing to liquidate my assets for this concert, so if it came down to this or groceries, I would eat the crumbs off my floor," Collins said.
The Swiftie community on campus is strong. Livesay believes she could likely identify three in each of her classes. However, for each Swiftie, there is a Swiftie hater. So how do these die-hards deal with those that just don't get it? Those that scoff at the hundreds of thousands in the waiting rooms? Livesay is accustomed to this sort of conversation.
"I tell people who claim that she's untalented that one: they probably only listen to her singles on the radio, and two: that if she is as untalented as they say, then they have to admit she is one hell of a businesswoman to sell music the way she does," Livesay said.