Since Taylor Swift's "Reputation Tour" in 2018, the singer has released four albums and re-recorded two others, so it is safe to say there is a lot to catch up on. The "Eras Tour" offers the unique opportunity for fans to experience Taylor Swift's 10 studio albums.
The "Eras Tour" consists of 52 dates and 20 stadiums starting at State Farm Arena in Arizona. From April 28-30, Taylor Swift visited Mercedes Benz Stadium in Atlanta to perform three sold out shows to nearly 300,000 people over the span of the weekend.
Walking into the stadium, the energy was high. The lines for merchandise seemed endless. People complimented outfits and costumes. A community was brought together by a love for Taylor Swift.
The opening acts featured up-and-coming artists Gracie Abrams and Beebadoobee who performed as people filed into the stadium.
Everyone anxiously awaited as a countdown was shown on the screen as the timer ticked down until 7:51 p.m. — seven plus five plus one equals 13, Taylor Swift's lucky number.
For over three hours, Taylor Swift had everyone on their feet to celebrate her past 17 years of music. Every audience member was given a wristband that lit up, and the entire stadium was connected in a brilliant light show.
Starting off with hits from "Lover," including "You Need to Calm Down" and "The Man," Taylor Swift made a statement with bedazzled Louboutin boots.
Moving into a forest scene with fake trees and cloaks, Taylor Swift performed hits from "evermore." The album was created during the pandemic, and Swift expressed how much she had hoped to perform live again.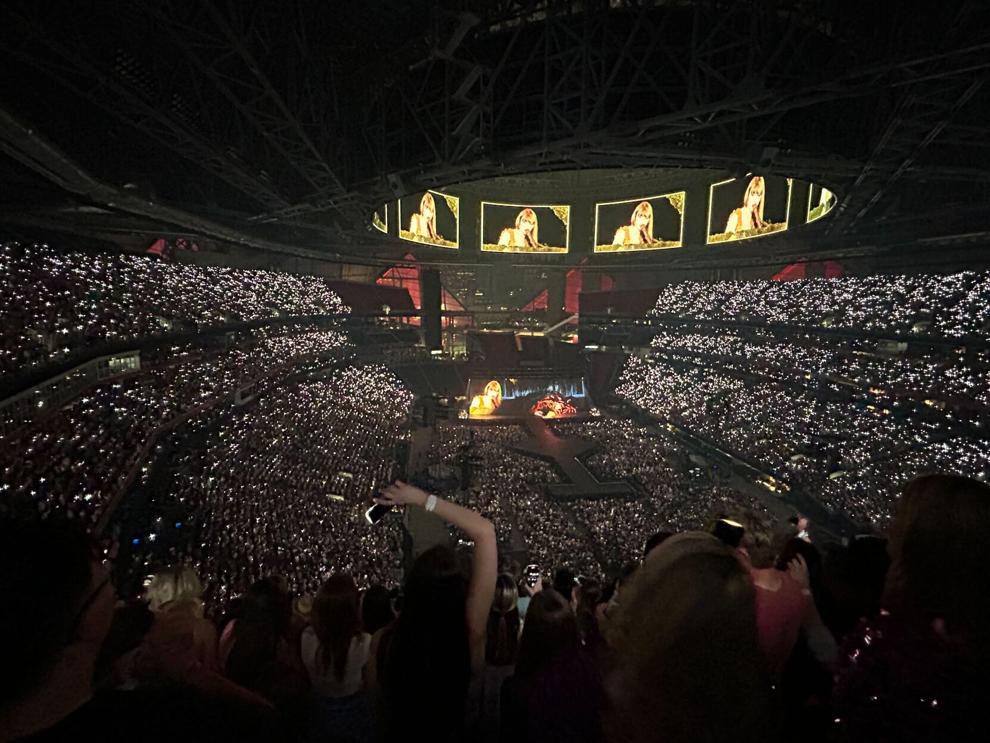 "During the pandemic, no one knew what live music was going to look like … And especially while writing this song, I wanted so badly to sing it to you all," Swift said before signing "champagne problems" and playing the accompaniment on the piano.
While singing "champagne problems," the audience lit up the stadium with phone lights. Swift was taken aback by the gesture.
"Did you guys plan that?" Swift said.
The concert continued with captivating dances and visual effects. During performances of "Look What You Made Me Do," the different versions of Taylor Swift were re-enacted, hinting at the song's music video. There were pyrotechnics used during "Bad Blood" as the screens showed the "Eras House" burning down. The finale songs from "Midnights" included fireworks in the experience.
Swift's outfits ranged from sparkly bodysuits to a ball gown as well as the iconic T-shirt for "22" and gold fringe dress for "Fearless." Audience members' outfits are also worth noting, often featuring sequin, costumes from the music videos and the occasional play on words based on song lyrics.
With every performance, Swift performs two "surprise songs" that are only performed in that particular show. Many audience members were guessing which songs she would choose.
"I think it'll be a song from her original album, like 'Teardrops on my Guitar,'" one audience member said.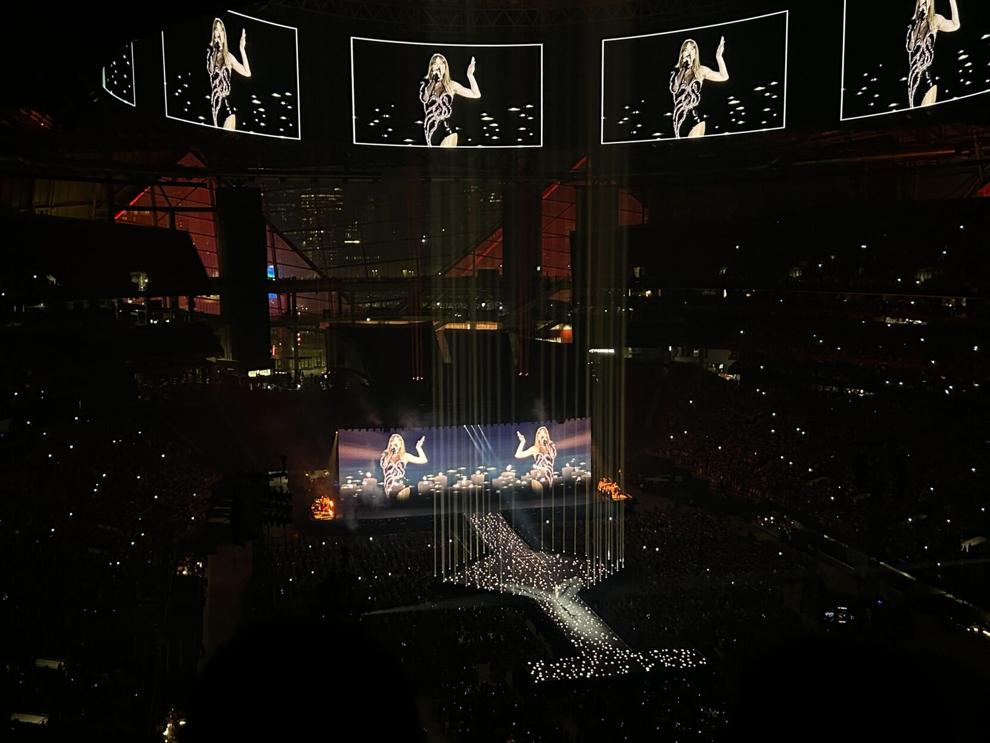 For this performance, the surprise songs were "The Other Side of the Door" from "Fearless" and "Coney Island" from "Evermore."
"I can't believe you guys actually know this song," Swift said while performing "The Other Side of the Door."
As Swift performed the full 10-minute version of "All Too Well," many audience members were vocal about their disliking of Swift's ex, Jake Gyllenhaal, who the song is rumored to be about.
"Give her the scarf back, Jake!" One near-by audience member shouted.
Overall, the vast range of music genres and styles appealed to a diverse community that were all brought together by Taylor Swift. The show was nostalgic and fresh at the same time and will likely continue breaking records as the tour continues.