For the first time since April, the Tennessee Vols football team took the field in front of a decent crowd in Neyland Stadium on Sunday afternoon.
The practice, open to fans, was perhaps the longest look to be had of Tennessee until its season-opening contest against West Virginia on Sept. 1, just a few short weeks away.
"We look forward to coming out here," tight end Austin Pope said. "Especially today. Today's the first day in pads, so we're looking forward to coming out here and competing."
Quarterback race becoming clearer?
Head coach Jeremy Pruitt has been pretty mum about the quarterback race, and has provided only stark details.
"It's been a lot of good, and a lot of bad," Pruitt said about the quarterbacks. "I think they wouldn't be here if they didn't have ability. Two practices in, it's really hard to tell."
Despite Pruitt's mystique, redshirt sophomore Jarrett Guarantano looked like the top quarterback out there on Sunday, and he got a majority of the reps with what could easily be seen as the "starting" offense. Guarantano looked like a natural surrounded by that cast, and he may have placed himself in the lead for the starting quarterback race.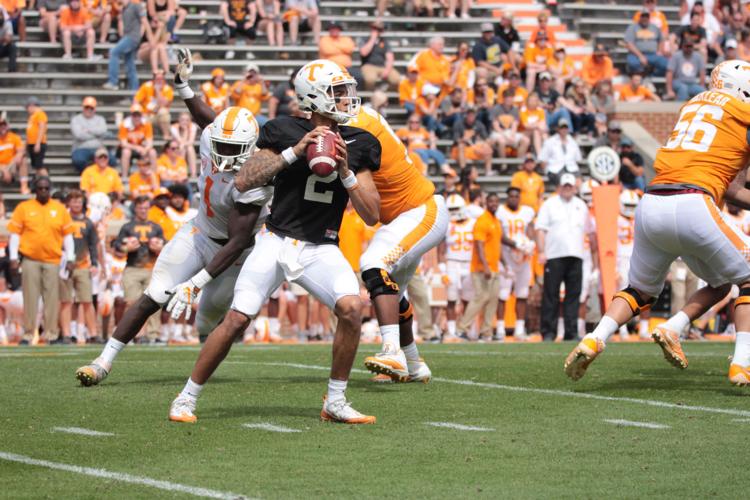 Guarantano certainly looks the part, gaining nine pounds of muscle in the offseason to now stand at 6-foot-4, 209 pounds. He looked crisp throwing the ball and showcased some obvious arm talent when throwing down field.
He completed a nice deep throw to wideout Jordan Murphy in tight coverage, placing the ball where only Murphy could make a play for it. He also went through his progressions well, delivering the ball on time to both receivers downfield and running backs in the backfield.
Keller Chryst, his presumed competition in the race, struggled a fair amount on making reads, overthrowing receivers on some underneath routes. While there were a few dropped balls from receivers and tight ends, Chryst struggled with consistency throughout the day, completing some tough passes while messing up on easier ones.
It's obvious Chryst has a lot of talent, but he did not look as sharp as Guarantano did on the field Sunday. With consistency being one of the things Pruitt has harped on, Guarantano may currently be the top candidate to take that first snap against West Virginia.
Newcomers make a name for themselves
Tennessee may have to rely heavily on new faces to the football team this year, with a new coaching staff and completely new schemes. By all accounts, the Vols have stepped into these roles well.
"It was tough at first, especially with the new strength staff," Pope said. "They just expect a lot out of us, but I think everybody has adjusted well."
A lot of these newcomers had standout performances on Sunday, some at big positions of need for Tennessee.
Arguably a weak spot on defense, the ability of Tennessee's corners to cover receivers consistently has been questioned quite a bit. The Vols may have found two young answers to this problem, however.
Freshman Alontae Taylor, ranked highly as a wide receiver out of Coffee County High School, seemed to be the most impressive corner on the field Sunday. He intercepted two passes, one from Chryst and one from Guarantano, and had multiple pass deflections and defenses.
Though he let Josh Palmer slide past him for a long touchdown, Taylor may have been the best defender on the field Sunday.
Bryce Thompson, another freshman, showed out at corner as well. He had a single interception in one-on-one coverage against Jauan Jennings, in which he high pointed the ball on the sideline; it was one of the better efforts on the day.
It would not be surprising to see both young athletes play a significant amount early, with both showcasing starter potential.
Dominick Wood-Anderson, a junior college transfer, looks to be making the transition into Tennessee's program seamlessly. At 6-foot-4 and almost 260 pounds, he is the prototypical pro-style tight end, one that can catch and block.
He showcased his catching ability Sunday, bringing down a couple of tough throws. Though he didn't look to have blazing speed after the catch, a tight end of his size will be a tough tackle for smaller defensive backs, and even linebackers.
The Vols appear to be settling into the changes brought by the new coaching staff, and they provided a good amount for the fans to be excited about on Sunday.