On a relatively young and inexperienced Lady Vols roster, the foundation of this particularly successful 16-3 season thus far has been built on the efforts of seniors' Jaime Nared and Mercedes Russell.
Russell and Nared were the two shoo-ins to be starters during the preseason, expected by many analysts and fans to play a large number of minutes every game due to their experience.
Russell has played a prominent role on the team since her freshman year with the Lady Vols. The only season in which she did not appear in over half of the games was her true sophomore year, in which she took a redshirt season due to injuries to both feet that required surgery.
Russell has been a starter for the Lady Vols since her sophomore season, averaging almost 12.5 points per game since that campaign.
Nared has played prominently in her four years as a Lady Vol as well. She didn't fully emerge until her junior year, when she burst on the scene averaging 15.6 points per game for the 2016-2017 season.
Both players have captured the attention of the national media due to their respective performances on the court and have been mentioned as high picks in the 2018 WNBA Draft.
In a recent mock draft by DraftSite.com, Russell is projected as the seventh-overall pick, while Nared is projected as a second round, 13th-overall pick.
And one could argue that both Lady Vols have improved their draft stock this season.
Russell has been a dominant presence for Tennessee. At 6-foot-6, she is an imposing figure in the post. Not only does she perform well against around mid-major opponents, but she has thrived in the SEC as well. Russell's size and physicality are two attributes that likely have the attention of pro scouts.
Russell has a way of outmatching and towering over her opponents, but she thrives in situations when she's up against a post player closer to her height.
"I think she plays better against people her height," head coach Holly Warlick said, "Because when they're smaller they kind of get under her and crowd around her."
Russell has yet to score below double digits in terms of points this season. The center from Springfield, Oregon, has scored 20-plus points on five occasions, including a career-high 33 points against Vanderbilt.
Russell currently sits at 10th in the SEC in terms of points per game, averaging almost 17. The redshirt senior's most impressive stat is her field goal percentage, though. She is second in the SEC and fifth in all of NCAA women's basketball in shooting percentage, converting 64 percent of her shots from the field.
Analysts have praised Russell's footwork for such a tall player, and her hook shot towards the basket can be tough to defend. The only knock on her so far has been questions about her toughness and athleticism.
Still, it is not hard to envision Russell being at least a top-five pick in the WNBA Draft.
Nared, meanwhile, has been described as a leader for Tennessee, and her impression on the younger Lady Vols can be seen in their game. Freshman Rennia Davis has a very similar jump shot to Nared, and all of the freshmen on the team have praised Nared's ability to lead.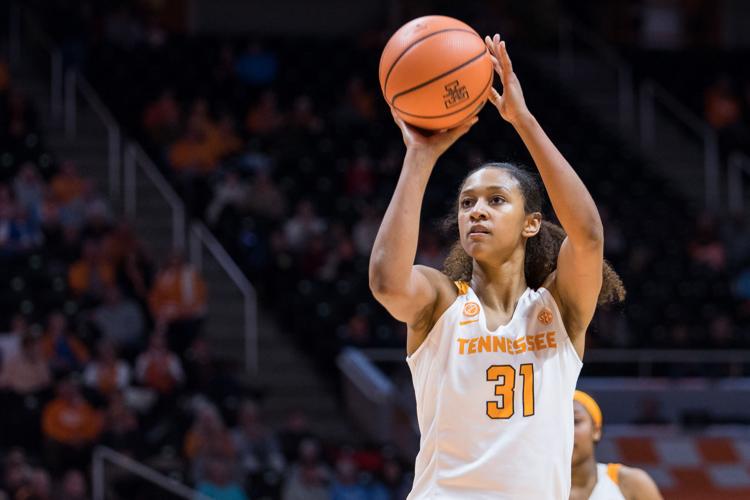 "For me, I see little things in them (Nared)," freshman Evina Westbrook said. "We all just want to win."
The senior from Portland, Oregon, has been an incredibly dynamic player for Tennessee this season. She has demonstrated the ability to play both guard and forward, showing flashes at both positions.
Nared leads the Lady Vols in scoring, averaging 17.1 points per game, which is also good for eighth overall in the SEC. She is also an effective glass cleaner, coming in at second on the team and ninth in the SEC with 8.4 rebounds per game.
On the season, Nared has achieved seven double-doubles and is close to averaging that mark per game. She has also been a relentless presence on defense for the Lady Vols. Nared has recorded 42 total steals through the first 19 games, leading the team and good for fifth in the SEC.
However, Nared also tends to force shots. She has the lowest shooting percentage out of all the Lady Vols that have played significant minutes, at just under 38 percent.
A large amount of Nared's production has come off of her ability to get to the charity stripe. She has gotten to the line 123 times this season, making an impressive 82.9 percent of her free throw attempts.
Thus far in the season, Nared might have done enough to at least be in the conversation for a first round draft pick. Although her decision-making can sometimes be spotty, she boasts high athleticism with raw potential at the next level.