In their first game back in the top 25, the No. 23 Tennessee women's basketball team played host to the Stetson Hatters in Thompson-Boling Arena on Tuesday.
 The Lady Vols were able to grab the 73-46 win to improve to 5-0 on the season, prevailing behind behind strong shooting, controlling rebounds and quality production from their roster depth.
 Strong shooting
Tennessee was highly accurate throughout the game, opening the game with three straight successful three-pointers by Lou Brown and Jordan Horston.
 In the first half, the team combined to shoot 46.7% from the field, while Horston led the first half with 14 points and 50% shooting. Rennia Davis was just behind her, netting 11 points, and 55.6% shooting from the field.
The second half was not as king for the Lady Vols, but they still shot 39% from the field. A solid performance during a period when the second unit got the bulk of the minutes.
 Jazmine Massengill led the scoring in the third quarter with 12 points and 75% shooting from the field. The most efficient player of the second half was Cassie Kushkituah. The junior managed seven points on three attempts, a perfect 100% on field goals.
"We all stay in the gym" Horston shared postgame "working on our craft. So, that's something I really took pride in; wanting to be better at. I would say I'm surprised… It's about repetition, so just getting those reps."
 Controlling the boards
Tennessee physically controlled the boards, pulling down 48 rebounds to Stetson's 32.
 Rae Burrell led the team with 11 rebounds with Massengill and Kushkituah tied for second with six rebounds. Right behind them was Davis, Brown, and Horston, who all tallied five rebounds for the Lady Vols.
 The Hatters' rebounds were much more spread out, with every player getting at least one. Kennedi Colclough was far and away Stetson's best rebounder, pulling down 11 boards.
Tennessee head coach Kellie Harper talked about how quality rebound helps shooters.
 "When you rebound the ball as well as we have been rebounding the ball," Harper said after the game "it opens it up a little bit. You're maybe a little freer to take those shots cause you know you got people crashing the boards as well."
 Sharing the minutes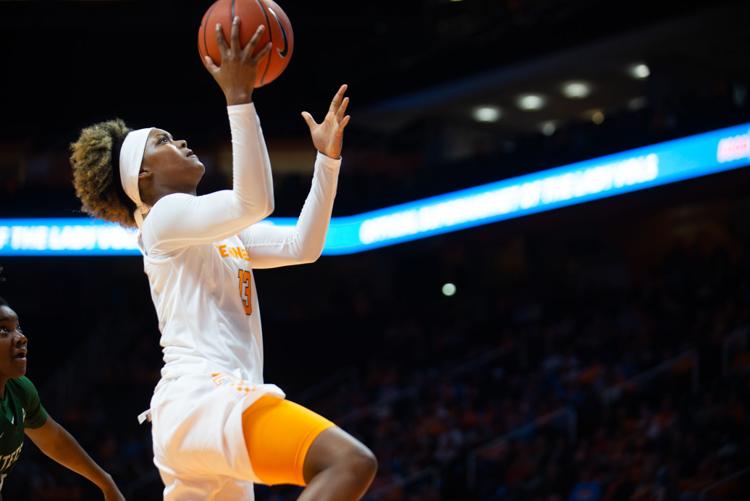 Tennessee came into the game with ten healthy players and everyone of them played at least a quarter of the game, tallying a positive +/- rating.
 Massengill, Horston, Brown, Davis all started and played over 22 minutes, with Brown leading the team in a +/- rating of 22 and Horston and Massengill right behind her at 21 and 20, respectively.
 In the second half, Burrell and Jessie Rennie both played over twenty minutes off the bench. Kushkituah led the reserves in +/- at 15, with Rennie and Burrell close behind at 14 and 13, respectively.
"It's good to get production from multiple people." Harper said. "I think it give gives us options. If you're getting it from one or two players, you may be limited down the road. So, like to see a shared fastball, we've done that, and different people are contributing. You know, different people are contributing in more than just point category, and we've got a lot of folk making little plays, as well. And that's good to see."
 Up Next
The Lady Vols' next game is next Tuesday when Arkansas-Pine Bluff comes to Knoxville. Tip-off is scheduled for 7:00 pm at Thompson-Boling Arena.