The Tennessee women's basketball team defeated Tennessee State, 73-43 on Thursday night in Thompson-Boling Arena.
The Lady Vols improved to 4-0 on the season while Tennessee State fell to 1-1.
Here are the takeaways:
Jekyll and Hyde
Lady Vols vs. Tennessee State
Tennessee's offense to open up the game started off slow. 
The team as a whole shot 35.3% from the field and only 16.7% from behind the arc. Kasiyahna Kushkituah led the offense with four points on 2-3 shooting. Tamari Key and Lou Brown both tacked on three points of their own.
Turnovers were a problem to start out as they gave the ball away seven times. 
"I think at times, we play to far out ahead of ourselves," Rennia Davis said. "Us trying to play fast has kinda caused us to commit those unforced turnovers and that is on us. 
In the second quarter, the Lady Vols started to find their form as they improved both their field goal percentage and their three point percentage to 46.7% and 20.0%, respectively. 
Davis, the SEC Player of the Week, found her form as she dropped her first 9 points on 2-3 shooting. She also went a perfect 5-5 at the charity strip.
Jordan Horston continued to be the offensive focal point as she scored 7 points on 3-4 shooting and even hit a three before the quarter ended. Tennessee was able to cut the turnovers down to four. 
To open up the second half, Tennessee scored four points rather quickly, but soon experienced a 4:37 minute drought and went 0-6 during that span. 
The Lady Vols' scoreless stretch was stopped by a Kushkituah layup. The offense continued to sputter. As a collective unit, Tennessee only shot 33.3% from the field and 20.0% from three.
Turnovers proved to be a problem in the third quarter as well as the Lady Vols coughed up the ball 5 times. 
"We just want to continuously get better," Brown said. "Coming off a big win against Notre Dame, was huge but at the end of the day we need to get better. Tonight we didn't really do that but over the season, we will continue to improve and get better, which is our main goal."
The final quarter was Tennessee's best of the game from an offensive perspective. As a team, the Lady Vols shot 50% and hit 2-of-3 from three point land. Rae Burrell carried the offense in the fourth as she scored eight points on 3-of-5 and 2-of-3 from three. Tennessee also recorded seven assists as the team in this quarter, their most in any quarter on the night.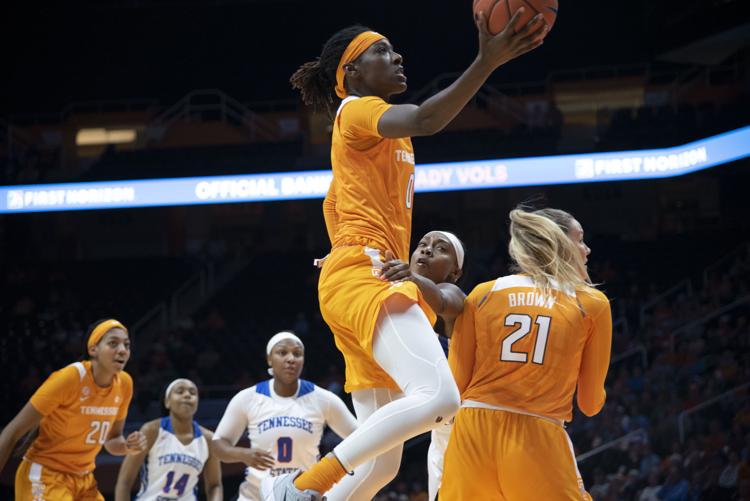 "What you get with Rae is someone who is gonna come in and make a play," Tennessee head coach Kellie Harper said. "She is gonna come in and give us something and I love that and we need that. Especially coming off of the bench.
"As she continues to get more minutes and continues to get more comfortable than you will see her get even better."
Dominant Defense
In the first quarte, the Lady Vols held Tennessee State to a 19.0 shooting percentage. Only two Lady Tigers starters scored in Taylor Roberts and Jaden Wrightsell, who had 2 and 5, respectfully. Tennessee also smothered Tennessee State at the three point line as they were only able to sink 2-of-7.
Tennessee's defense continued to produce in the second quarter, holding Tennessee State to a 25.0 shooting percentage. While the field goal number improved the Lady Vols continued to press the outside shooting of Tennessee State as they shot a pultry 14.3% from three. 
Tennessee went into the half having produced five turnovers, which helped to contribute to their 35-22 lead. 
The second half started just like the first half ended, with defense. Tennessee State only shot 5.9% from the field, 1-of-17. The Lady Tigers missed all six shots from three. Despite the poor shooting stats, Tennessee State only gave the ball up four times and recovered 13 rebounds to Tennessee's 15.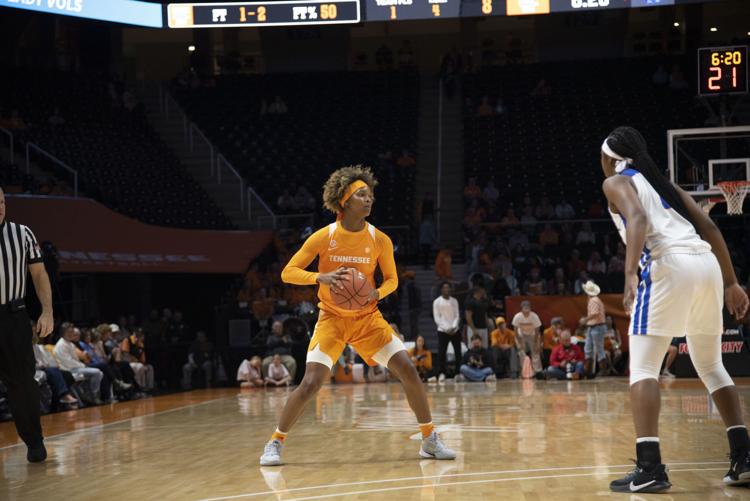 Tennessee State could only muster 5 points. Roberts and Takya Bennet combined for three made free throws and Deaja Richardson made the lone basket of the quarter for the Lady Tigers.
"Our defense was really good in the third quarter," said Harper. "We had a group come in and gave us great energy. We held them to just 5 points and that is just where our energy came from for the second half."
Tennessee State also played at their best in the final 10 minutes of play. They shot 31.6% and 20% from deep. Roberts scored eight points and Richardson knocked down 2 shots for six points. 
Up next
Tennessee will play host to Steton on Tuesday, Nov. 19.
The Lady Vols came from behind to beat the Hatters last season, 65-55 in Knoxville.
Tip-off is set for 7:00 p.m. at Thompson-Boling Arena and will broadcast on SEC Network plus.