The University of Tennessee women's basketball team defeated Stetson on Tuesday night at Thompson-Boling Arena, 73-46. Tennessee improved to 5-0 on the season, while Stetson falls below .500, now sitting at 2-3. 
"I'm proud of our team for the win," Tennessee head coach Kellie Harper said. "I think our team performed better than it did last week and that growth was great to see. Our practices were better, they were sharper, and they were really motivated. It definitely showed in our play."
Tennessee opened up the game with a Lou Brown three from the corner. Tennessee took a quick 9-2 lead after two threes from guard Jordan Horston. The Lady Vol's three-point barrage continued as Rae Burrell and Jessie Rennie each made the next two Tennessee threes. 
In all, six of Tennessee's seven makes came from behind the arc. Stetson was led by Kendall Lentz who contributed five points and took advantage of her time at the charity strip as she made three of her four free throws. 
"We all are in the gym working on our craft," Horston said. "My three point shot is something that I really took pride in wanting to improve on. We put a lot of time in our outside shooting. I wasn't surprised that we shot so well because we have just been in the gym working hard at it."
The second quarter started with Stetson closing the gap to just four points after a Day'Neshia Banks three pointer. Two more minutes went by with Stetson only down by three after another Banks basket, this time from within the paint. She ended the quarter scoring all but two of her teams 13 points and she did that on a perfect 4-for-4 shooting, while also pulling down three rebounds. 
Tennessee kicked it in gear as they went on a 13-1 run during the final 4:32 of play. Kushkituah began the run with a layup. 
Davis shouldered most of the offense in the second quarter. She scored her first 11 points in the game during this frame and snagged two rebounds.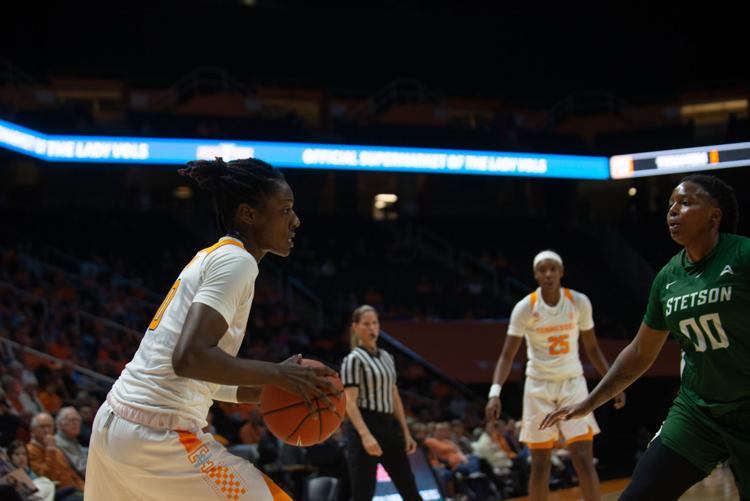 "It's good to get production from multiple people because it gives us options," Harper said. "If we only get points from one or two players we may be limited down the road, so I love that we share the basketball. It is great that people are contributing and having people contribute outside of scoring.
Halftime began with Tennessee up 39-24. Stetson's Kimia Carter opened up the scoring with a wide open layup. 
Lady Vol Jazmine Massengill immediately followed that up with two straight made mid-range jumpers. Both Massengill and Kushkituah provided Tennessee with the offensive spark as they combined for 11 points on a perfect 5-5. The two Lady Vols scored as many points as the entire Stetson unit did in the quarter. 
For Stetson, Banks continued to be their offensive focal point as she dropped 4 points on 2 of 4 shooting. 
The final stanza began with a three-point play from Stetson's Kennedi Colclough. Burrell followed that up with a jumper just outside of the paint.
Massengill was the next to add on as she pulled up from three point land to make her first three point shot of the game to push the score to 63-38, Tennessee.
The offense ran through Massengill this time around as she scored 8 points after making a three and going 5 of 6 at the line. 
"I feel a lot more comfortable, especially with this team," said Massengill. "Coach Harper makes it so easy to get comfortable with everyone and she just does a really good job letting us know what we need to work on. We have all the pieces and we just all feel really comfortable with this team."
Up next for Tennessee, the Lady Vols welcome Arkansas-Pine Bluff to Thompson-Boling Arena on Tuesday at 7 p.m.