Tennessee (2-0) welcomed Central Arkansas (0-1) to Thompson-Boling Arena Thursday night for the home opener of the Kelly Harper area. After a close first half against an inspired Sugar Bear team, the Lady Vols were able to wear down the visitors and grab the 63-36 win. 
Horston's stellar debut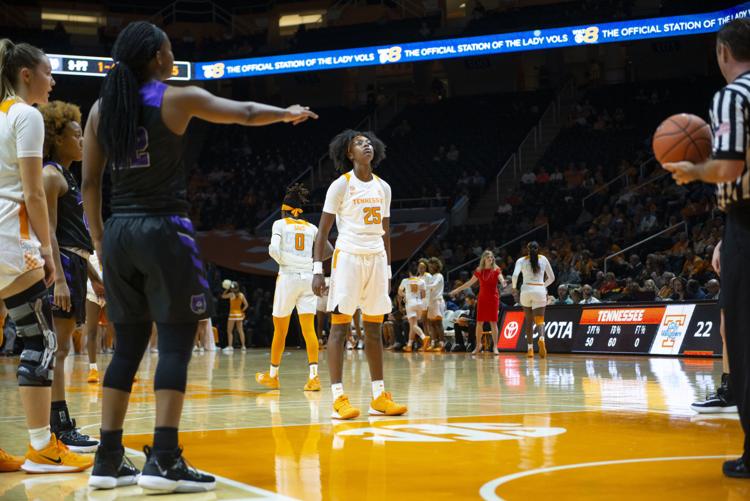 Freshman Jordan Horston shined in her regular season home debut. The freshman from Columbus, Ohio was a perfect 5-for-5 and 2-of-2 on threes, accounting for 13 of her team's 33 points in the first half. 
Horston also grabbed two rebounds and got three blocks. Horston would go on to add four more points and three additional rebounds for a solid home debut.
Horston's play even grabbed the attention of opposing coach Sandra Rushing.
"She's going to be fun to watch," The Sugar Bear head woman said. "I had up close and personal view, but she's a tremendous, tremendous player." 
Davis and Green's slow night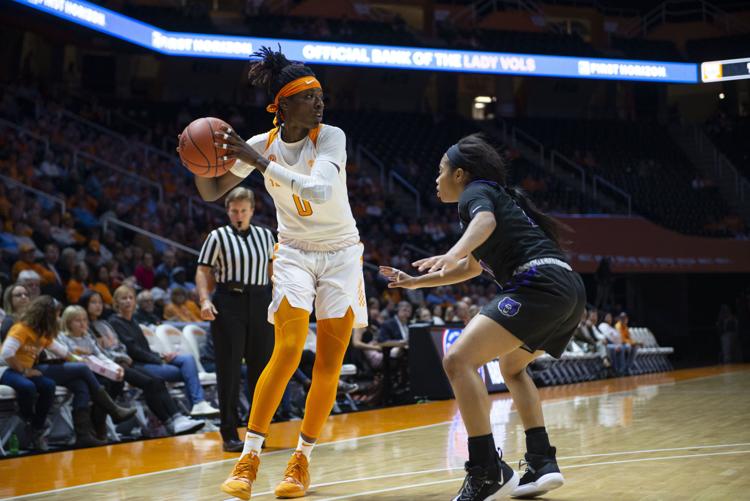 Rennia Davis, the returning All-SEC player, and Zaay Green had tough first halves. 
Davis ended the period scoreless after three shots and also turned the ball over on a questionable travel call. Green managed only three points off a single competed shot.
They were able to find the scoresheet in other ways, Davis grabbing two rebounds and Green grabbing three. The pair played better in the second half, Davis ending with four points and Green finishing with nine points.
"I though Rennia took some good shots early and they didn't fall," Harper said. "She's got to keep shooting. We've got to find her some good looks and we'll be a little more creative in finding those."
"I thought Zaay was, I thought she passed too much tonight. I thought she had some opportunities to get the ball all the way to the rim, get the ball in for some nice short jumpers and she just kicked it out and found some teammates."
Formidable opposition
The Lady Vols vs. Central Arkansas
The Lady Vols took on Central Arkansas at Thompson-Boling Arena on Thursday, November 7, 2019 winning 63-36.
Central Arkansas entered the game physically outmatched, but the Sugar Bears didn't back down. They managed to keep close, with the visitors scoring in 18 against Tennessee's 20. 
In the second quarter, the Lady Vols started to pull away, outscoring Central Arkansas 13-7. Ayanna Trigg and Taylor Sells were the co-scoring leaders, both registering six points in the first half. 
The second half was a bit of a different story with Tennessee outscoring the visitors 30-11. 
Sells finished the game as the Sugar Bears top scorer with 10 points.
"What a great experience, for my young team. Coming in such an amazing atmosphere." Coach Rushing said. "I was pleased with our first half, with our effort, with our energy. But I think just their size and the physicality just really took a toll on us in the second half. Our focus was not where I wanted it to be, in the second half." 
Coach Harper's first win at home
Coach Harper earned the first official home win of her Tennessee coaching career but didn't seem too focused on that fact. 
"I think I've done this long enough now that I don't get too uptight," Harper said. "I don't, you know, I'm pretty even-kill. That was me as a player and that's me as a coach. And really, I was hoping I would kind of be able to take it all in a little bit more, but I kind of just go right to task mode. You know, what needs to be done."
However, she did make sure to add "It will never get old walking out to Rocky Top. Ever."
What's next
The Lady Vols' next game will be a tough test against No. 16 Notre Dame in South Bend this coming Monday, November 11. Tennessee's next home game is next Thursday, Nov. 14, when Tennessee State comes to Knoxville.