On Tuesday the Lady Vols Basketball team opened their season with an exhibition game against Carson-Newman from nearby Jefferson City, Tennessee. 
Despite a shaky third quarter, the Lady Vols were able to grab a win 70-44 in first-year head coach Kellie Harper's debut.
Tennessee was led in scoring by Rennia Davis with 20 points and Rae Burrell with 15 points. In total, nine different Lady Vols notched a point in the game. Burrell was the team leader in rebounds with 9 followed closely by Davis with 8.
The starting five for Tennessee were Davis, Kasiyahna Kushkituah, Jazmine Massengill, Zaay Green and Jaiden McCoy. Every player on the roster, however, played at least ten minutes.
McCoy, the junior transfer from the Knoxville area, opened the scoring with the first points of the year for the Tennessee. The Lady Vols went on a 12-0 run to start the contest. 
Lady Vols vs. Carson-Newman
Towards the middle of the first quarter, the Lady Eagles were able to go on a 9-4 run, tightening up the matchup. Tennessee turned up the heat, scoring straight points to end the quarter 26-9.
The second quarter was a much more defensive one. The two teams combined for only 14 points with the Lady Vols edging out Carson-Newman, 10-4. Braekyn Wykle was the only Lady Eagle to score, registering both of her team's buckets.
Carson-Newman came out of the half looking to match the tempo of the Lady Vols, and were able to do just that.
 Coming of the half, the two teams both scored five points. Carson-Newman would go on to notch 18 points in the third, beating the Lady Vols' 16, which included Massengill's layup as time expired. The shot seemed to embody the third quarter as Wykle's scored a bucket with 28 second left. The Lady Eagles' 5-foot-5 freshman sunk a shot over the seemingly caught off-guard 6-foot-5 McCoy.
Tennessee opened the fourth quarter strong, going on an 8-0 run, extending their lead to 29 points. The Lady Eagles continued to fight, putting up 13 points, including three 3-pointers, compared to the Lady Vols' 18 total points in the quarter.
In her opening statement to the media,  Harper spoke of excitement for this game.
 "I'm excited that we're finally here," Harper said. "We're playing games. That's what we're here to do. And I know our players were excited about getting a uniform on, getting to play against someone else. So, we were really looking forward to this evening."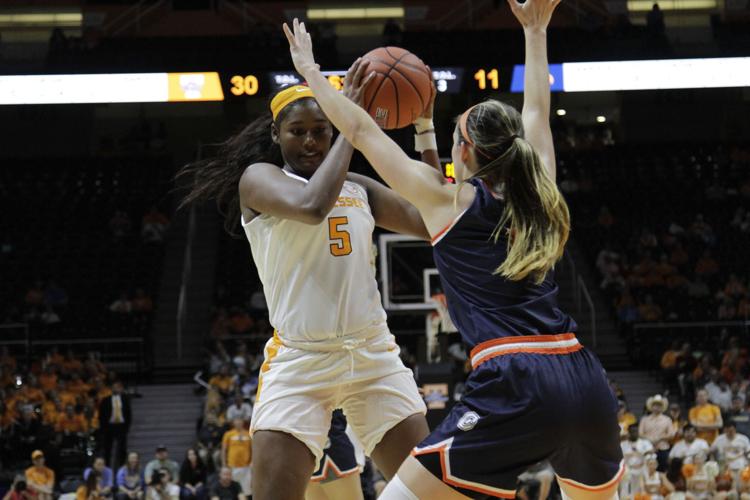 Harper also recognized the need for improvement going forward, especially with a daunting non-conference slate looming on the horizon.
"I thought we had good effort," Harper said. "I think there are a lot of things that we have to learn and there's a lot of things we can still clean up, both offensively, defensively, and some little more discipline on the box outs and board play, but we knew that coming in."
Washington State graduate transfer Lou Brown, who missed all of last season with an ACL injury, talked after the game about her warm reception on Rocky Top.
"It was quite astounding," Brown said. " It was surreal, it was pretty surreal to be honest. I didn't expect that at all from the crowd but I kind of have already figured this is a home away from home now, so it just added to that even more. It made my first game back even more special."
The Lady Vols will look to improve when they open up the regular season in one week on the road at East Tennessee State. Their next home will be two days later on November 5 against Central Arkansas at Thompson-Boling Arena.