After finishing 1-1 at the Baylor Invitational last weekend, the Tennessee volleyball team returned home to Thompson Boling Arena Friday night defeating East Tennessee State University 3-0 (25-23, 25-12, 25-13) in the first game of the Tennessee Classic.
The first set started off slower than expected for the Lady Vols when a couple of service errors and net violations put ETSU ahead early, but it wasn't long before an offensive run from Tessa Grubbs tied the Tennessee back up. Ava Bell also produced the key kills needed to get some momentum going and take back the lead.
After an intense back-and-forth towards the end of the first, the Lady Vols snagged the set, 25-23.
"They were putting some pressure on us from the service line and their attackers were doing a nice job moving the ball around," explained head coach Eve Rackham. "We also gave them a number of unforced errors which made their lives a little bit easier. They did a nice job putting pressure on us and we didn't do as well as I would have liked handling it."
Tennessee continued to overpower the Buccaneers throughout the second, with an end score of 25-12. Grubbs completely dominated offensively and finished the set with 16 kills. Grubbs is now in the top-15 for Tennessee kills with an overall 1,111 kills in her career. She is preceded by Erica Treiber who finished with 1,097.
"A lot of this game goes to our discipline," explained Grubbs. "We haven't been playing extremely disciplined against the other teams and we realize that our errors are going to affect the game. They can win us a game, they can lose us a game, so limiting that and just playing volleyball is definitely something that helped us."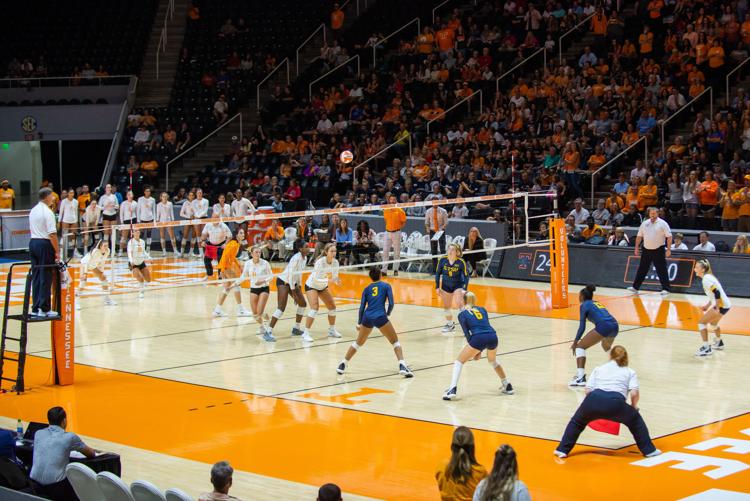 Giana Pellizzon also had a record-breaking night, as she put up 17 digs, a career-high for the sophomore.
"The block was putting up great funnels to me, so it was easy to read around them," stated Pellizzon. "When the ball comes over it's great to just get a dig and make sure our hitters are out there getting kills."
The third was the more of the same for Tennessee as they took the lead fast and held it throughout the set. Veteran players Alyssa Andreno and Bell continued to put the pressure on the Buccaneers, and Madison Coulter remained steadfast in her on-court encouragement, resulting in a final score of 25-13.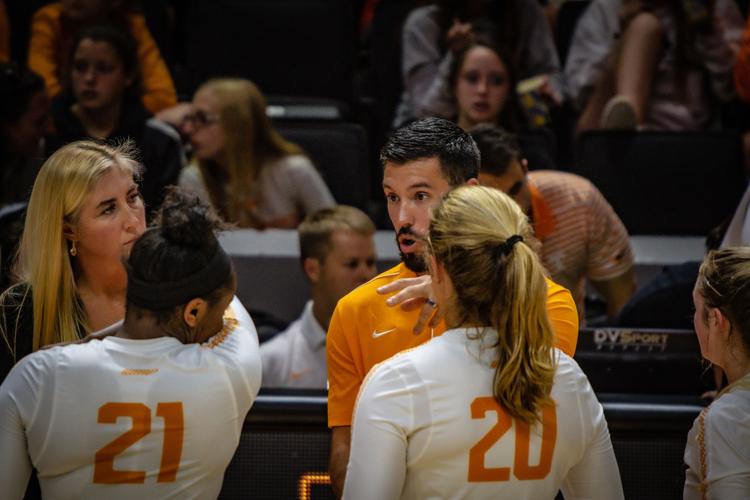 "I'd love to see us play consistently," stated Rackham. "This group, as I've just told them, we have a lot of potential and we've got a great ceiling, but we've got to continue to play consistently and be able to string positive performances together."
The Lady Vols will remain at home for the rest of the weekend where they'll take on Georgia Southern and North Dakota State on Saturday starting at 12:30 p.m.